Printed Matter Spring Benefit Events
Honoring Jenny Holzer, Online Auction + Benefit Bash!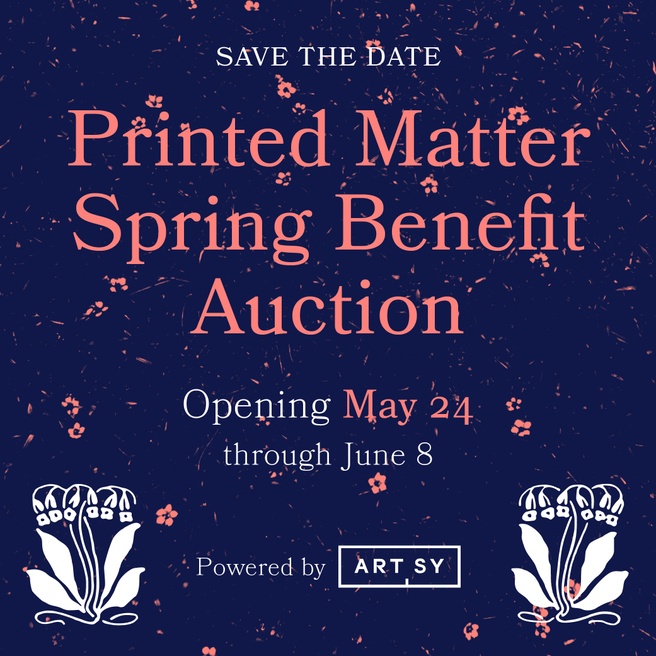 We are thrilled to announce our Spring Benefit events and Auction! We hope you will join us as we gather across three events to raise crucial funds for our year-round work on behalf of artists and artists' publications.
✽
Our annual Spring Benefit Auction returns with an exciting array of artworks by contemporary artists, open for online bidding May 24 through June 8. Powered by Artsy.
With works by: Cory Arcangel, Richard Artschwager, Fiona Banner aka The Vanity Press, Jennifer Bolande, Lizzi Bougatsos, Jeffrey Cheung, Ryan Travis Christian, Ann Craven, Sara Cwynar, Agnes Denes, George Dureau, Nicole Eisenman, Jason Fox, Mary Frank, Jonah Freeman + Justin Lowe, Simon Fujiwara, Piero Golia, Joanne Greenbaum, Mimi Gross, Wade Guyton, Reggie Burrows Hodges, Jenny Holzer, Roni Horn, Alfredo Jaar, Emma Kohlmann, Justine Kurland, Louise Lawler, Israel Lund, Allan McCollum & Matt Mullican, Adam McEwen, Marilyn Minter, Azikiwe Mohammed, Ben Morea, François Morellet, Bruce Nauman, Shirin Neshat, Tammy Nguyen, Jack Pierson, Richard Prince, Eileen Quinlan, Walid Raad / The Atlas Group, Walter Robinson, Giangiacomo Rossetti, Ed Ruscha, Maja Ruznic, Max Schumann, Dana Schutz, Paul Mpagi Sepuya, Cindy Sherman, Taryn Simon, Devin Troy Strother, Tabboo!, Fred Tomaselli, Betty Tompkins, Devon Turnbull / OJAS, Fredrik Værslev, William Wegman, James Welling, Letha Wilson, Jonas Wood.
✽
On June 7 Printed Matter will host an intimate picnic-style benefit dinner at the New York Marble Cemetery to honor Jenny Holzer and her contributions to the field of artists' books and editions. Capacity is limited; please contact krista@printedmatter.org for ticket and donation levels.
✽
Later that night (8PM–12AM), join us for Printed Matter's Spring Benefit Bash at Ukrainian East Village Restaurant! With drinks, Ukrainian treats, and dancing until midnight to sets by Spencer Sweeney, duo dj flakka & dj janusz, and Sanna — plus special toasts by special guests in celebration of outgoing Printed Matter Director Max Schumann. Presented with Existential Advisors Lizzi Bougatsos and Spencer Sweeney.
Tickets start at $30 (includes one drink ticket). Join at a higher ticket level to provide increased support and receive special perks, too! Purchase tickets here.
Facebook
Tweet