Anita Di Bianco: The Terror is Regretted
A Reading & Presentation at Printed Matter Chelsea
6-8PM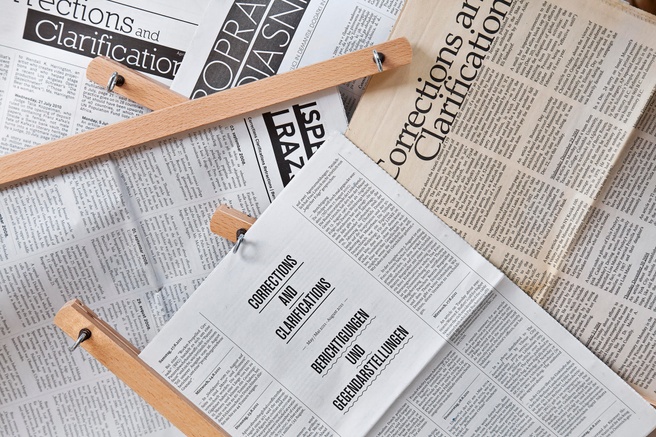 Join us for The Terror is Regretted, a reading and presentation at Printed Matter Chelsea with Anita Di Bianco, Lara Fresko Madra, Francesco Gagliardi, and Ulrike Müller. Featuring The Error is Regretted, the 20-year anniversary edition of Anita Di Bianco's publication Corrections and Clarifications, with text contributions by Anna Bromley, Francesco Gagliardi, and Florian Wüst.
Corrections and Clarifications is an intermittent newspaper without headlines, an edited compilation of daily revisions, retractions, re-wordings, distinctions and apologies to print and online news from September 2001 to the present. A catalog of lapses in naming and classification, of tangled catchphrases, patterns of mis-speech and inflection, connotation and enumeration.
Editions of Corrections and Clarifications have been produced, exhibited, and distributed in numerous cities, languages, formats, and art institutions since 2001, including Kuntwerke Berlin, Kunsthaus Zürich, Kunsthalle Nürnberg, Springerin Magazin, Extra City Antwerp, collectorspace Istanbul, the IMPAKT Festival Utrecht, and the Museum of Contemporary Art Chicago. Held in the archival collection of Sammlung KIOSK Kunstbibliothek Staatliche Museen zu Berlin and the MOMA Library.
Anita Di Bianco's works in film, video, and print take up, modify and re-work existing and re-imagined patterns and characterization. Her work involves the imitative act, a taste for the possession and expulsion of narratives, the appropriation and accumulation of familiar texts and writing styles, using widely varying sources – from theatrical and historical texts to oft-quoted cinematic clips and thematic references. She lives in Frankfurt am Main.
Lara Fresko Madra is an art historian, writer, and curator from Istanbul, living and working in New York. Her research investigates artistic practices that offer alternative modes of encountering and engaging the past, particularly as a challenge to state sanctioned historiography. She is the incoming Assistant Professor and Luma Fellow at the Center for Curatorial Studies at Bard College.
Francesco Gagliardi is a performance artist and occasional filmmaker based in Toronto. His work deals with histories of place, impressions of movement, translation, displacement, weather conditions, landscape and architecture, the appearance of rooms, geography, theatre, notation, repetition, night travel, illness and death, collection, classification, superstition, and sleight of hand. He teaches in the Department of Philosophy and at the Centre for Drama, Theatre, and Performance Studies, University of Toronto.
Ulrike Müller's work complicates conventional expectations. Her paintings and works on paper destabilize concepts such as originality, autonomy, and authorship. Müller shifts her formal vocabulary between material and affective states and makes use of a variety of materials and techniques. Alongside small-scale paintings in baked enamel, she also produces expansive wall paintings, publications, prints, and textiles. She lives and works in Brooklyn.
Images courtesy Sevim Sancaktar and The Green Box, Berlin.
Facebook
Tweet