AIR
Book and Record Launch and Listening Event
6-8PM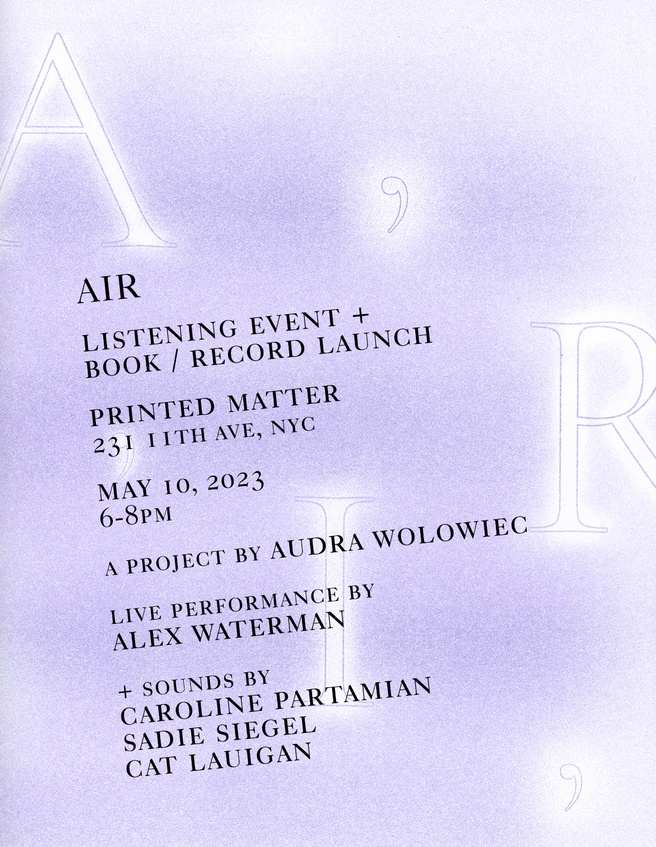 Join us at Printed Matter Chelsea for the launch of Audra Wolowiec's AIR, a sound score with vinyl record, published by Gravel Projects. The 7-inch record features sonic interpretations of the score by Caroline Partamian, Alex Waterman, Sadie Siegel (Seth Weiner), and Cat Lauigan. Each artist was invited to create a musical composition in response to the commas, or breath marks, in the notational score and corresponding recordings by various breath practitioners.
The listening event will feature a live performance by Alex Waterman followed by the accompanying sounds on the record.
Audra Wolowiec is an interdisciplinary artist whose work explores sound and the material qualities of language. She is interested in how sound can create spaces of listening and connection. Her work has been shown at MASS MoCA, CCS Bard Hessel Museum, ICA at Maine College of Art, Print Center New York, and Art in General. She founded and directs the publishing platform Gravel Projects as an extension of her print-based work and as a platform to invite collaborations.
Alex Waterman is a composer, performer, producer and scholar, exploring how social bodies can live and interact with one another musically. His installation works, films and music productions have been exhibited at the ICA London, The Kitchen, Miguel Abreu Gallery, Tanya Bonakdar Gallery, Serpentine London, White Columns, Swiss Institute, and film and music festivals internationally. He worked collaboratively with and produced three operas by Robert Ashley, notably at the 2014 Whitney Biennial.
Caroline Partamian is a sound and visual artist influenced by her training in dance. She works closely with the concept of abreaction—the extraction and activation of dormant memory stored within a muscle that resurfaces with physical movement. Her work has been exhibited and performed at ISSUE Project Room, Anthology Film Archives, Compound Yucca Valley, Marfa Open, and AIR Krems (Austria). She directs the publishing platform Weird Babes in Yucca Valley, CA, and co-founded Armenian Creatives.
Sadie Siegel is a musician whose work defies categories, based in Vienna, Austria. Named after his paternal great-grandmother, artist Seth Weiner chose Sadie as an alter-ego to explore sound as an extension of touch, expression of space, and a way to create impossible places. Siegel/Weiner has exhibited and performed work at the Vienna Biennale-MAK Museum, Pacific Standard Time Performance Festival (Los Angeles), Kunstraum Niederösterreich Vienna, and the CAC at the University of CA, Irvine.
Cat Lauigan is a Filipina-American interdisciplinary artist working with sound, sculpture, performance, wearable clothing and costumes created using natural pigments. Her work is often collaborative and investigates the symbiotic parallels between self and nature, history and place. Lauigan is part of the collaborative duo BODYWORKBODYWORK creating publications, sound and listening events, and is the co-founder of the record shop, art gallery and performance space CONE SHAPE TOP in Oakland, CA.
Facebook
Tweet