Transcendent Waves
Lavender Suarez and Bibbe Hansen
6-8pm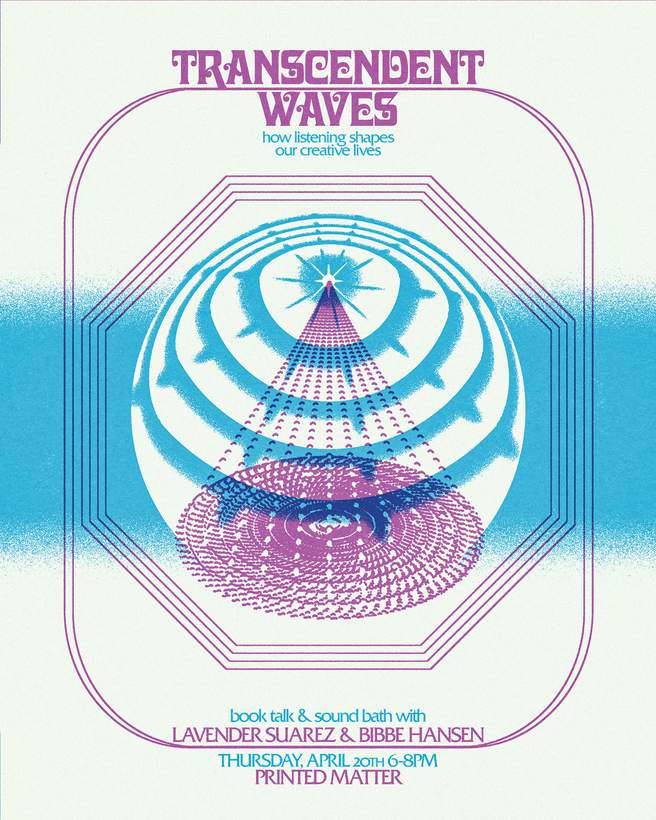 Note this event takes place at Printed Matter 231 11th Avenue
Join us for a program with Lavender Suarez around their book Transcendent Waves: How Listening Shapes Our Creative Lives, published by Anthology Editions. The event will feature a conversation between Lavender Suarez and artist Bibbe Hansen, a sound bath (live meditative music), and a brief book signing.
How can thoughtfully and intentionally listening to our world inspire our creative practices? What insights can we gain when we delve into the immersive world of sound, which permeates our every moment? In Transcendent Waves, sound healing practitioner, meditation teacher, and artist Lavender Suarez outlines how listening can unlock moments of creative spark, self-awareness, and mindfulness in a work that is equal parts how-to guide and contemplative artist's workbook. Suarez's illustrated meditations combine the open-ended freedom of Yoko Ono's Grapefruit with the profound psychological insights of Oliver Sacks to offer a modern take on the impact of listening in a world that gets louder every day. Featuring an introduction by Bibbe Hansen―artist, Warhol star, and daughter of Fluxus co-founder Al Hansen―Transcendent Waves compiles scientific evidence, anecdotes, and thoughtful prompts for readers to manifest a sense of wonderment and appreciation for the intricacies of listening and the new perspectives it can bring to our daily creative worlds.
Poster Graphic by Robert Beatty
Lavender Suarez is a sound healing practitioner, meditation teacher, musician, and artist. She has hosted workshops and performed at numerous museums and artistic institutes including MoMA, the Guggenheim, the Whitney, the Hirshhorn Museum, and the Rubin Museum of Art, providing educational and meditative listening experiences. She performs and releases music under the name C. Lavender. Transcendent Waves is her first book. www.clavender.net www.lavenderhealer.com
Bibbe Hansen is a writer, performer, visual artist, and veteran of Andy Warhol's Silver Factory and the 1960s NY experimental theater and film underground. She is the daughter of Fluxus and Happenings artist Al Hansen, and the mother of visual artist Channing Hansen and pop musician Beck.
Facebook
Tweet