Newspaper — Book Launch with Primary Information
at Printed Matter / St Marks
5PM - 7PM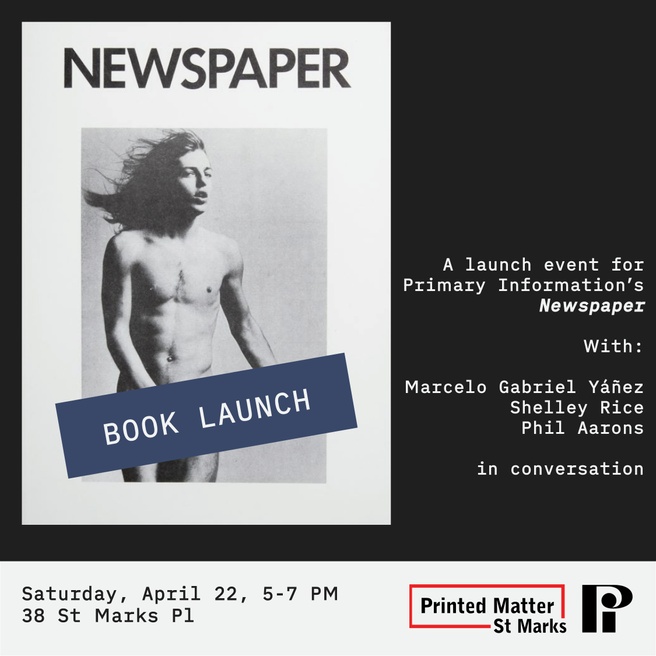 Join us at Printed Matter / St Marks on Saturday, April 22, for an event celebrating the launch of Primary Information's newest publication, Newspaper, edited by Marcelo Gabriel Yáñez. We will be joined by Yáñez, Shelley Rice, and Phil Aarons, who will give a talk at 5:30.
This event takes place on the rooftop of 38 St Marks Pl, which is accessible by elevator.
---
Published by Steve Lawrence, edited alongside Peter Hujar and Andrew Ullrick, Newspaper was issued in New York City between 1968 and 1971.
A wordless, picture-only periodical that replicated the scale of the New York Times, Newspaper ran for 14 issues and featured the disparate practices of over 40 artists. With an editorial focus on placing appropriated material alongside new artworks, the periodical sought to codify a visual language of high and low culture that represented contemporary society in the late 1960s. While largely overlooked in art-historical discourse, Newspaper showcased many of the most revered artists working in the United States at the time, as well as an emerging coterie of queer artists.
The mid-to-late sixties was a flourishing period for artists experimenting with new media formats such as books, records, and magazines to create or distribute their work. Newspaper was one of the first artist-published tabloids of its era, preceding Andy Warhol's Interview and Les Levine's Culture Hero, both of which debuted in 1969. However, in contrast to other tabloids, Newspaper focused strictly on images.
At a time when photography was not being exhibited regularly in galleries, Newspaper provided an alternative exhibition space for the medium and some of the era's greatest photographers. The publication's large size and unbound format encouraged readers to take it apart and hang its pages, which was how Newspaper was installed at the Museum of Modern Art's influential Information show in 1970.
All issues of Newspaper are collected and reprinted here for the first time.
---
Marcelo Gabriel Yáñez is a photographer and art historian living in Brooklyn, NY with stints in the Bay Area. He is currently a Ph.D. candidate in the Department of Art and Art History at Stanford University. He is at work on a dissertation about artists on Fire Island, NY in the 20th century. Chapter focuses include the work of Betty Beaumont, Alfred Leslie, PaJaMa (Paul Cadmus, Jared French, and Margaret French), and Paul Thek.
Shelley Rice is an Arts Professor at New York University, with a joint appointment between the Photography and Imaging Department, the Art History Department and the Institute of Fine Arts. She is the author of Parisian Views, the editor of Inverted Odysseys: Claude Cahun, Maya Deren, Cindy Sherman and the co-author of numerous books and catalogs like The Book of 101 Books, Paris et le Daguerreotype, Jacques Henri Lartigue: D'air et d'Eau and, most recently, ORLAN EN CAPITALES. In 2010 she was named a Chevalier in the Order of Arts and Letters in France.
Phil Aarons is a retired real estate developer and together with his wife, Shelley Fox Aarons, he is a supporter of the arts and a collector of contemporary art and artist publications of all kinds. He is on the Board of MoMA PS1, Creative Time, Friends of the High Line and is the longtime Board Chair of Printed Matter.
Primary Information is a non-profit organization founded in 2006 to publish artists' books and artists' writings. The organization's programming advances the often-intertwined relationship between artists' books and arts' activism, creating a platform for historically marginalized artistic communities and practices. Primary Information facilitates intergenerational dialogue through the simultaneous publication of new and archival books, providing a new audience for out-of-print works and historical context for contemporary artists.
Facebook
Tweet