Tamar Ettun: Texts from Lilit
Game Show and Book Launch
6-8PM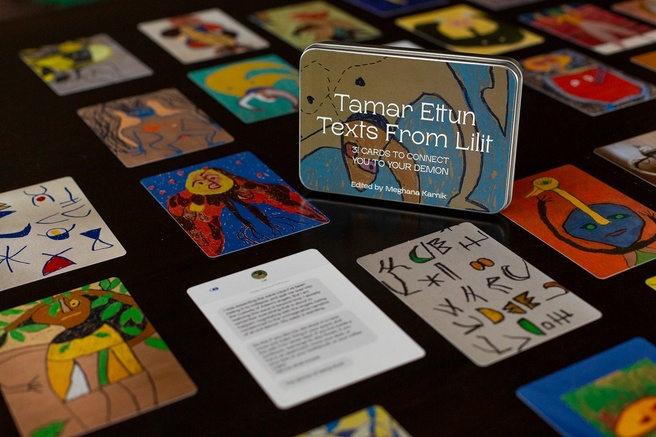 Texts from Lilit is an artists' book and interactive game show designed to elicit demons of the world's collective consciousness. The demon Lilit (Lillith) will come from the dark side of the moon to lead participants in locating contemporary feelings using ancient Babylonian iconography. Five players perform with demon cards and prompts from the book, while the audience votes and players can earn bonus points for revealing emotional truths.
The event will begin with a reading by Meghana Karnik, and conclude with a collective somatic exercise designed to trap demons.
With Ayana Evans, David Everitt Howe, Jeff Rubin, Meghana Karnik, Noa Osheroff, Maya Benton, and Rose Nestler.
Tamar Ettun (she/they) uses textile, sculpture, and performance to examine somatic empathy, trauma-healing modalities, and ritual. Ettun has had exhibitions and performances at The Chinati Foundation, Pioneer Works, The Watermill Center, Art Omi Sculpture Garden, PERFORMA, The Barrick Museum, Fridman Gallery, Uppsala Museum of Art, Bryant Park, Sculpture Center, Madison Square Park, Socrates Sculpture Park, Indianapolis Museum of Art, The Jewish Museum, among others.
Ettun received awards and fellowships including The Pollock Krasner Foundation, Chinati Foundation, Stoneleaf Retreat, Moca Tucson, Marble House Project, Franklin Furnace, MacDowell Fellowship, Windgate Fellowship, Iaspis, The Lower Manhattan Cultural Council, Abrons Art Center, Triangle Arts Association, Art Production Fund, and RECESS. Ettun founded The Moving Company, an artists collective creating performances in public spaces and a social engagement project with Brooklyn teens hosted by The Brooklyn Museum. Ettun is working on an outdoor sculpture that will open at the Shelburne Museum in spring 2023.
Ettun received her MFA from Yale University in 2010 where she was awarded the Alice English Kimball Fellowship. She studied at Cooper Union in 2007, while earning her BFA from Bezalel Academy, Jerusalem. Ettun teaches at Columbia University School of Arts, and Parsons School of Design.
Meghana Karnik (she/her) works across modalities as a curator, arts administrator, and writer; exploring paradoxes between art and social change, belief and technology, lived experience and institutional process. For Meghana, curating is shaped by relationships—to people, infrastructures, and resources.
Her recent independent curatorial projects include Tamar Ettun: How To Trap A Demon (2022), presenting the artist's research into somatic empathy, talismanic objects, and astrology as storytelling; and TITLE TBD (2020), a group exhibition which viewed failure as a seed to reimagine artistic communities, emphasizing peer support and the solidarity economy.
From 2021-2022, Meghana was Manager, Grants & Artist Initiatives at Art Matters Foundation (New York) supporting Artist2Artist, a grant program that shifts philanthropic power to artists. From 2019-2020, she was Associate Curator for FRONT International 2022 (Cleveland). From 2015-2019, she was Program Manager and later, Associate Director of The Elizabeth Foundation for the Arts Project Space (New York), a curatorial incubator presenting exhibitions and SHIFT: A Residency for Arts Workers.
Maya Benton is a museum curator and art historian based in New York City. From 2008 to 2019, Maya was a Curator at the International Center of Photography (ICP) in New York, where she established a major archive and organized the most widely traveling exhibitions in ICP's history. She has held positions in museums for more than twenty-five years, including the Getty Museum, RISD Museum, Jewish Museum of Florence, Italy, and Harvard University Art Museums, and has served as curator-in-residence at several international galleries and cultural institutions.
Maya recently organized Southern Rites, an exhibition of photographer and filmmaker Gillian Laub's contemporary images of racial segregation in the American South, that is traveling through 2025. Her next book, on Jews and Photography, will be published by Aperture.
Maya is a graduate of Brown University, Harvard University, and the Courtauld Institute of Art in London. Last year, she was a Visiting Professor at Yale University, where she is currently a Visiting Fellow.
Ayana Evans is a NYC-based performance artist. Her guerilla-style performances have been staged at El Museo del Barrio, The Barnes Foundation, The Bronx Museum, Crystal Bridges, Newark Museum, the Queens Museum and a variety of public locations. Her performances have been reviewed in The New York Times, Bomb Magazine, ArtNet, Hyperallergic, Bitch Media, and New York Magazine's The Cut. Her international work includes participation in the FIAP performance festival in Martinique, The Pineapple Show at Tiwani Contemporary in London, and Ghana's Chale Wote Festival, which drew 30,000 people. Evans was a 2018 Fellow in the Studio Immersion Program at EFA's Robert Blackburn Printmaking Workshop, a 2018 resident and grant recipient at Artists Alliance Inc (NYC), 2017-2018 awardee of the Franklin Furnace Fund for performance art, a 2018 New York Foundation of the Arts Fellow in Interdisciplinary Arts, and a 2021-2022 Jerome Hill Artist Fellow. In 2015, she received the Jerome Foundation's Theater and Travel & Study Grant for artistic research abroad. Her past residencies include Yaddo, Skowhegan School of Painting and Sculpture, and the Vermont Studio Center. She is an adjunct lecturer for graduate studies at Brooklyn College. Before coming to Gallatin at NYU, Evans was Professor of the Practice at Brown University.
Evans was also featured in or edited of the following publications: "We Are Here: Visionaries of Color Transforming the Art World," by Jasmin Hernandez with forward by Swizz Beats, 2020 - features interviews with 50 contemporary artists of color, "Institution as Verb," Edited by Elizabeth Lamb, Ayana Evans (myself), Esther Neff and Tsedaye Makonnen, "Volume 11 Friend of the Arts" Edited by Thomas Flynn II, and "Re-Envisioning The Contemporary Art Cannon: Perspectives in a Global World" Edited by Ruth Iskin, 2017.
David Everitt Howe is Senior Arts Editor at the Pioneer Works Broadcast, where he commissions essays, short stories, and poetry around visual art and time-based media. His writing has appeared in Artforum, Art in America, BOMB—where he's a contributing editor—Broadcast, frieze, and The Village Voice, among other outlets. He has organized exhibitions and performances by Patty Chang, Jimmy DeSana, Doreen Lynette Garner and Kenya (Robinson), Gerard & Kelly, Nan Goldin, and Dynasty Handbag, among others, at spaces including Abrons Arts Center, The Kitchen, MoMA PS1, Participant Inc, and Pioneer Works. He was curator-in-residence at Abrons Arts Center from 2011-2012 and at Artis in 2021. and has been a visiting critic at Art Omi, Elizabeth Foundation for the Arts, ISCP, Rhode Island School of Design, Parsons, and School of Visual Arts.
Rose Nestler is an interdisciplinary artist and educator making sculptural and video based work. She received her BA from Mt. Holyoke College and her MFA from Brooklyn College in 2017 where she was awarded a Graduate Teaching Fellowship. Nestler has exhibited in the United States and internationally, including exhibitions at Public Gallery, London, UK; König Galerie, Berlin, Germany; Projet Pangée, Montreal, QC, Canada; BRIC, Brooklyn, NY; Mrs., Hesse Flatow and Perrotin, New York, NY. She was an artist in residence at the Joan Mitchell Center in New Orleans in 2022. Nestler has also conducted residencies at The Fores Project, London, UK, and The Lighthouse Works, Fishers Island, NY, among others. Her work has been featured in the Brooklyn Rail, Art21, BOMB magazine, Hyperallergic, The Art Newspaper, Artnet, and New York Magazine. Nestler is preparing for a solo show with Pangée in Montreal later this year. She is represented by Mrs. in Maspeth, Queens and is part time faculty at CUNY and The New School.
Noa Osheroff is a New York-based filmmaker and producer. As a writer and director, her most recent short film, "Sofa So Good," starring Hiam Abbass (Succession), has been screened at numerous film festivals and was released by The New Yorker in 2021. Additionally, her short film "Date. Interrupted" was selected to be screened at Central Park as part of the Rooftop Films Summer Stage series. Noa is also the founder and host of two highly acclaimed shows: "Speak American," a monthly stand-up comedy show in Brooklyn that focuses on recent immigrants to the US and their stories, and "Make it Shorts," a screening series at Littlefield that presents the best short films coming out of the festival circuit.
Jeff Rubin is the host of The Jeff Rubin Jeff Rubin Show, a podcast that features unusual interviews. He recently released his first game, Believable Lies, which anyone can play at www.liesgame.com.
Photos by Yann Chashanovski.
Facebook
Tweet