Art and Publishing
Printed Matter / St Marks x dieFirma Spring 2023 Classes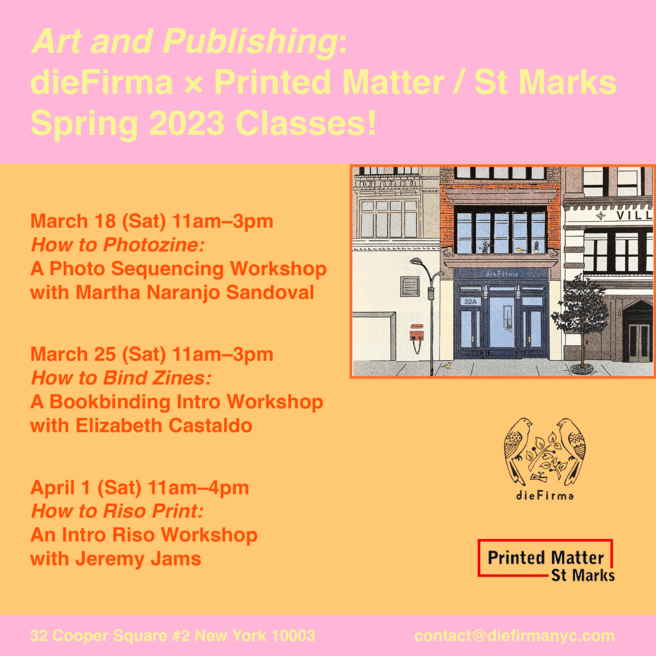 Printed Matter / St Marks is launching Art and Publishing, a three-part workshop program co-presented with dieFirma Print Room. Designed to be taken either as stand-alone classes or as a series, each workshop offers a different entry point into the many-faceted world of print and artists' books. Together, the workshops' common themes of visual conceptualization and storytelling build upon each other to offer participants a cogent overview of the bookmaking process from conceptualization to binding. Art and Publishing aims to bring together artists at all stages of their careers and practices to explore the challenges and possibilities of sustaining a creative life through publishing.
All classes will take place at dieFirma Print Room located at 32 Cooper Square #2, NYC. Email us at eva@printedmatter.org for any questions.
---
How to Photozine: A Photo Sequencing Workshop with Martha Naranjo Sandoval March 18 (Sat) 11am–3pm $125
Join photographer Martha Naranjo Sandoval for a photo zine workshop that inspires creativity and helps bring your photographic ideas to life. Bring your own images from family albums, Instagram posts or any other source of your choosing, and leave with a physical dummy of your own photo zine. Explore the visual language of photography, the importance of layout and sequence, and learn how images can work together to tell a unique story.
Register for How to Photozine here
---
How to Bind Books: A Book Binding Intro Workshop with Elizabeth Castaldo March 25 (Sat) 11am–3pm $125
Artist and bookbinder Elizabeth Castaldo will teach how to create basic book structures such as single-sheet zines, pamphlet binding and drum-leaf bindings. Through hands-on instruction, participants will gain valuable insights into the bookbinding tools and techniques as well as the importance of paper grain direction and paper selection. This workshop is a perfect complement to How to Photozine and How to Riso Print and will equip you with the skills and knowledge to transform ideas into a finished artists' book.
Register for How to Bind Books here
---
How to Riso Print: An Intro Riso Workshop with Jeremy Jams April 1 (Sat) 11am–4pm $125
Join multimedia artist Jeremy Jams for a Riso printing workshop and learn to transform your favorite photos, drawings or collages into a truly unique two-color print. Perfect for every type of creatives, Jeremy will guide through the fascinating process of Riso printing suitable for all experience levels. Each participant will leave the session with a small edition of 10-20 prints of their own creation.
Register for How to Riso Print here
---
You can register for the 3 workshops as a bundle for $300 here
Facebook
Tweet