Sami Reiss' Sheer Drift: The Snake America Newsletters (1-100) Book Release
at Printed Matter / St Marks
6 - 8 PM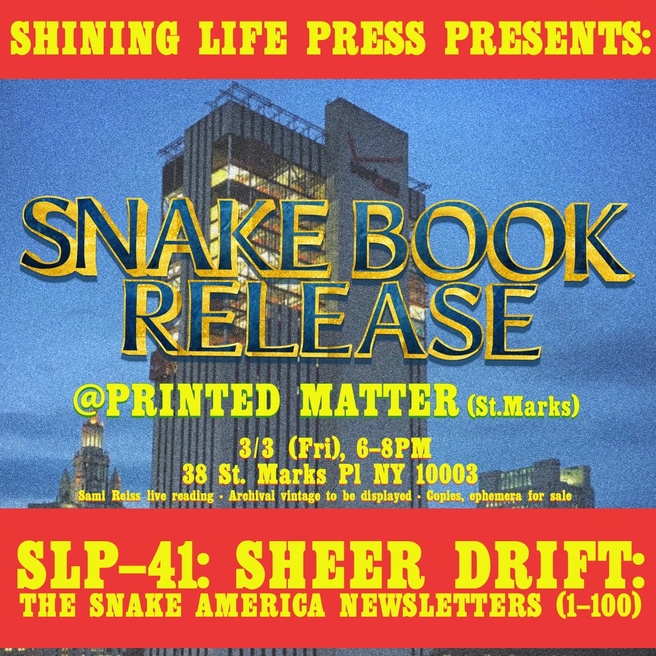 Join Sami Reiss and Shining Life Press at Printed Matter / St Marks for the official release of SHEER DRIFT: The Snake America Newsletters (1-100). Snake was and is a series of dispatches, published in an e-mail newsletter, about vintage clothing that moved its writer; the first 100 primarily dealt with eBay, and vintage American clothing from the 1930s through the early 1990s. Sami Reiss will be reading an excerpt from the book, and an installation of key vintage items and ephemera on loan from Reiss' collection and others will be displayed.
Copies of the book, Snake merchandise and books and zines from the Shining Life catalog will be available for sale.
*About the book: *
Sheer Drift is a collection of the first 100 Snake America newsletters, beginning in 2014 and going until 2018. The letters cover valuable or rare things (about 400 eBay auctions for vintage clothes, furniture and similar) ; auctions are researched and reported on. In some ways, the book is a vintage reference; in others it is a set of dispatches from a broken marketplace and economic hall of mirrors.
Sheer Drift is a visual updating of the Snake corpus, with every website linked in the original newsletters reproduced as a screen capture. The book was laid out, originally, by the artist Nathaniel Matthews, to open as a double bound edition—like crab claws, or a W, with separate bindings—with one margin for footnotes and the other for endnotes. Matthews conceived the layout to recreate the experience of viewing the email newsletters and to equalize the footnotes and hyperlinks found in the email with the writing itself—a very crucial style of the development of the newsletter. The book revises the original shaggy, researched black hole experience into something much richer than the emails. Even if the writing sucked ass, this thing would be great.
-Sami Reiss
---
Sami Reiss advises on design and strength training and contributes stories on these and other topics for non-fiction publications including GQ, the Wall St. Journal and ESPN. He began writing his Snake newsletter in 2014 about vintage clothing. A writer in residence at Centre Les Récollets Paris, he is from Ottawa, Ont. and otherwise lives in Brooklyn, N.Y.
Facebook
Tweet