Expanding the Web: Lukaza Branfman-Verissimo, Ayana Zaire Cotton, and Kamra Hakim in conversation
A virtual event on the occasion of Lukaza Branfman-Verissimo's recent Printed Matter publication, we web keepers
7 PM EST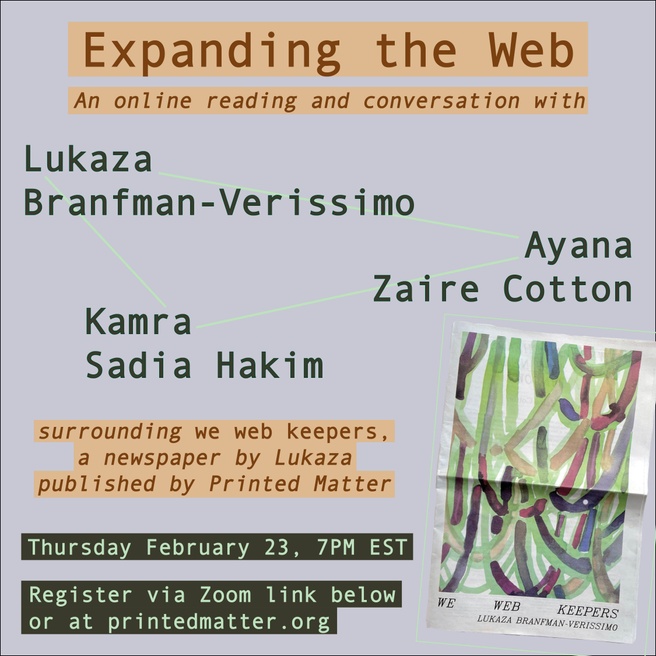 Join us for a virtual event surrounding and inspired by we web keepers, Lukaza Branfman-Verissimo's newspaper publication published this past fall by Printed Matter on the occasion of their window exhibition of the same name at Printed Matter / St Marks.
Register for the Zoom event here.
In we web keepers —both the publication and exhibition— Lukaza explores and interrogates the interconnected practices of collective survival and mutual aid that hold and sustain Black, Indigenous, queer, trans, non binary, people of color. Over the past two years, Lukaza has been weaving patterns, words, collected stories, brightness, modes of broadcasting and communication, and systems of organizing. Their window paintings reflect this: nets, roots, and mesh interlock with text to create moments of both legibility and chaos, imploring the viewer to slow their looking and take time to parse through the web of meaning both visual and semantic.
We will open with a reading by Ayana Zaire Cotton of the essay they wrote for we web keepers, followed by a discussion between Ayana, Lukaza, and Kamra Hakim. Each of these artists' practices involve weaving: of stories, of communities, of sound, and of networks of care.
---
Lukaza Branfman-Verissimo (they/them/Lukaza) is an artist, activist, educator, storyteller & curator who lives/works between Lisjan Ohlone Land [Oakland, CA] and Powhatan Land [Richmond,VA]. With roots in storytelling, Branfman-Verissimo's work is informed by their commitment to craft and community, engagement with society, and interests in preserving and broadcasting B.I.Q.T.P.O.C. stories. Their work has been included in exhibitions and performances at Konsthall C [Stockholm, Sweden], SEPTEMBER Gallery [Kinderhook, NY], EFA Project Space [New York City, NY], Leslie Lohman Museum [New York City, NY], Yerba Buena Center for the Arts [San Francisco, CA] and Berkeley Art Museum and Pacific Film Archive [Berkeley, CA], amongst others. Their artist books and prints have been published by Endless Editions, Childish Books, Press Press, Sming Sming and Night Diver Press, and a forthcoming project with Printed Matter Inc. Lukaza was recently included in the Corita Center's 'New Rules Next Week' podcast, which invited notable artists and cultural workers to dream up the future of 'Corita Kent's Ten Rules for Teachers and Students'.
Ayana Zaire Cotton (she/they) is a black feminist, anti-disciplinary artist and cultural worker from Prince George's County, Maryland. They are currently based in Dawn, Virginia — tucked in between the ancestral lands of the Mattaponi and Youghtanund — answering the call to return to land that has been stewarded by their family for four generations. Braiding code, performance, and material research Ayana speculates and worldbuilds alongside science and technology. Awards and residencies include the Ginkgo Bioworks Creative Residency, the Recurse Center Fellowship, and the Wherewithal Research and Project grants, amongst others. Ayana has worked with Are.na, The Hirshhorn Museum, and Seeda School to share their research practice. They are the founder and teacher at Seeda School, a skill building platform for teaching code through a black feminist lens, where she publishes a newsletter and podcast titled Soft, Where?. Through engaging with language, technology, and ecology, Ayana is cultivating a practice of remembering and imagining alternative modes of being and interspecies belonging.
Kamra is a writer and performer based in New York. They wrote their first record, Verdant Banks (2021), in bedrooms and at dinner tables working through narration formation, abundance play, and the lessons a soul learns in a lifetime as nature's elements. In the process of writing and producing their second record, Kamra explores the sporic quality of creativity, softwares of expression, and singing as an oral culture, a cultural lymphatic system holding communal interiority while braving imagination wars. Kamra's transdisciplinary practice mimics a rhizomatic lifestyle relying on the relational. Heavily influenced by their father's Montell Jordan DJing and Norah Jones on repeat, Kamra weaves poetic singer-songwriter motifs, bluesy operatic vocals, and acoustic driven pop atmospheres together. Kamra is known for their work in SoMad's Activation TV, as the founder of Activation Residency, and as the author of Care Manual and Care Ecology. Kamra has been written about in The Creative Independent and Deem Journal. Read about their single, 'Pass Me By' and watch their 'Hear My No' music video. All relevant links here.
Facebook
Tweet