All The Things I Know
Book Signing + A Press Conference With Hamburger Vampire
6-8 PM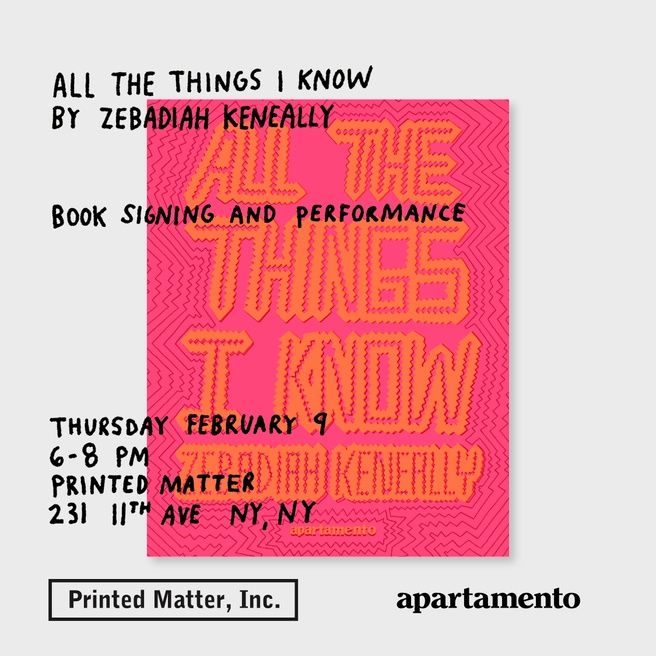 In a world where people are people, animals are people, hamburgers and hot dogs are people, an irresistible spirit-slumber has seeped through the collective consciousness, nearly snuffing out the soul of the living, breathing world. Nearly inaudibly, heart song echoes through this fog of confusion; time has folded in on itself, allowing not only God but Jupiter, Neptune, Pluto, and Hera to enter the waking realism, where they vie for power and sway over the fate of the planet.
This is the story that New York-based artist Zebadiah Keneally has set himself the task of reciting in his first ever (but nonetheless epic) graphic novel, All the Things I Know. This 380-page saga is contained within a softcover book with pink PVC dust jacket and comes after publishing two of its chapters in issues #27 and #28 of Apartamento magazine.
Join us for a book signing with Zebadiah and a special press conference Q&A with none other than the star of the graphic novel, the world renown Hamburger Vampire.
Hosted by Printed Matter with Apartamento magazine.
Zebadiah Keneally (b.1984), also known as Hamburger Vampire, is an interdisciplinary artist based in New York City, his drawings offset by painting sculpture, video, performance and book projects. When asked to describe his work he says, "Lunch is very important." His intricate vignettes use metaphor, humor, and symbolism to create compelling visual narratives. Zebadiah presented his first solo show in 2016 and has published his drawings with a long list of independent publishers. His work can also be found in the collections of the MoMA Library, the Thomas J. Watson Library at the Metropolitan Museum of Art and the New York Public Library Special Collections. Apartamento published his debut graphic novel, All the Things I Know, in 2022.
Bobby Panza is a reporter covering uptown news in Manhattan. You can typically find him walking the streets looking for his next story or maybe he's just stretching his legs. In 2019, Panza led a viral crowdfunding campaign to save the venerable Westsider Rare and Used Books from going out of business. Raising more than $50,000 in just four days, the campaign got coverage in the New York Times, NBC and more. Panza is also known to perform as characters in the stand-up comedy scene. His most popular, CHEESEBURGER!, is best known for his wild stage antics like bringing a tank of nitrous oxide (laughing gas) onstage. Panza also writes children's poetry under the pen name Bobby Slam.
www.hamburgervampire.com
Instagram @hamburgervampire
www.apartamentomagazine.com
Instagram @apartamentomagazine
Facebook
Tweet