we web keepers Book Launch and Closing Celebration
with Lukaza Branfman-Verissimo at Printed Matter / St Marks
3 - 5 PM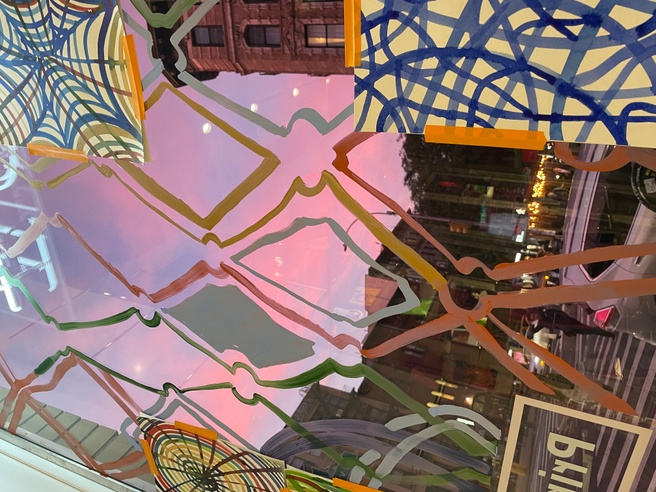 Join us at Printed Matter / St Marks for a sidewalk closing celebration of Lukaza Branfman-Verissimo's window exhibition we web keepers and launch of a new publication of the same name published by Printed Matter.
Within we web keepers, Lukaza explores and interrogates the interconnected practices of collective survival and mutual aid that hold and sustain Black, Indigenous, queer, trans, non binary, people of color. Over the past two years, Lukaza has been weaving together patterns, words, collected stories, brightness, modes of broadcasting and communication, and systems of organizing—all ways that we need each other in order to continue.
The installation contained two layers of work: the first was a large-scale window painting depicting both written text and drawn patterns (abstracted roots, nets, webs, knots, mesh) superimposed against each other. This overlapping formed moments of both chaos and clarity, legibility and camouflage, inviting viewers to parse the text with a slowness and intentionality that honors the density of the ideas themselves.
The second layer was a series of works on paper added periodically to a second window over the course of the installation. The works are double sided with painted text (including contributions from both Lukaza and others listed in the bibliography below) facing the street and patterns facing into the bookstore. Printed Matter staff put up the works at random, creating a knot of unsequenced text—phrases discernible but the entire passage obscured—that looked out onto the East Village.
This publication untangles that knot. Here, Lukaza's paintings are presented in their original order: unfurled, sentential, and sprawled across newsprint like the morning paper. Extending the functions of the bulletin board, a newspaper is a tool to disperse stories quickly and widely within communities. we web keepers opens with a new essay by Ayana Zaire Cotton.
Saturday, November 19, 3 - 5 PM, 38 St Marks Pl.
---
Lukaza Branfman-Verissimo (they/them/Lukaza) is an artist, activist, educator, storyteller & curator who lives/works between Lisjan Ohlone Land [Oakland, CA] and Powhatan Land [Richmond,VA]. With roots in storytelling, Branfman-Verissimo's work is informed by their commitment to craft and community, engagement with society, and interests in preserving and broadcasting B.I.Q.T.P.O.C. stories. Their work has been included in exhibitions and performances at Konsthall C [Stockholm, Sweden], SEPTEMBER Gallery [Kinderhook, NY], EFA Project Space [New York City, NY], Leslie Lohman Museum [New York City, NY], Yerba Buena Center for the Arts [San Francisco, CA] and Berkeley Art Museum and Pacific Film Archive [Berkeley, CA], amongst others. Their artist books and prints have been published by Endless Editions, Childish Books, Press Press, Sming Sming and Night Diver Press, and a forthcoming project with Printed Matter Inc. Lukaza was recently included in the Corita Center's 'New Rules Next Week' podcast, which invited notable artists and cultural workers to dream up the future of 'Corita Kent's Ten Rules for Teachers and Students'.
Ayana Zaire Cotton (she/they) is a queer, Black feminist, anti-disciplinary artist and cultural worker from Prince George's County, Maryland. They are currently based in Dawn, Virginia — tucked in between the ancestral lands of the Mattaponi and Youghtanund — answering the call to steward land that has been in their family for four generations. Braiding language, performance, and craft Ayana speculates and worldbuilds alongside science and technology. Sankofa is a word and symbol of the Akan Twi and Fante languages of Ghana which translates to, "go back and get". Centering a sankofa sensibility, they build databases as vessels holding seed data and experiment with shuffling algorithms to spin non-linear narratives. Ayana calls this methodology "Cykofa Narration", generating new worlds using the digital and social detritus of our existing world — resulting in a storytelling form that embodies circular time and troubles human authorship. Through engaging with language, technology, and ecology, Ayana is cultivating a practice of remembering and imagining alternative modes of being and interspecies belonging.
Facebook
Tweet