Storytelling in Catastrophe, the launch of Six Endings and Some Beginnings by Oreades Press
6-8pm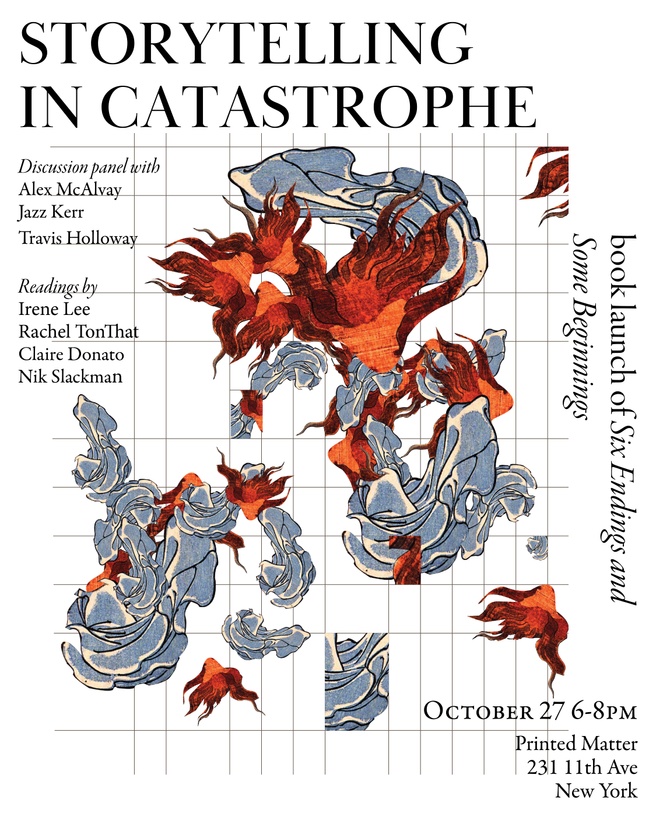 Six Endings and Some Beginnings uses research of ancient myths of world changing events and destruction by the elements to create six original stories aimed at addressing current environmental decline. To celebrate the launch, Oreades Press has invited participants from the NYC area working in diverse fields to represent a broad range of perspectives on the topic of climate and storytelling. The talk will begin with a conversation around climate policies and action and how storytelling is utilized, or can be utilized to shape them. The second half of the discussion will focus on how people can individually take action within their communities. Participant bios below.
Oreades Press is the art book collective of Rachel TonThat and Irene Lee that publishes handbound books of literary works woven with visual art to discuss social and environmental themes.
Rachel TonThat
Rachel TonThat is a Zurich based conceptual artist and writer working with narrative structures around the themes of climate change, memory, and space-time. She was selected this year for the inaugural SWHNM writing mentorship through the Diasporic Vietnamese Artists Network. Her project, Impermanent Earth, received funding from the 2022 International Project Fund of ZHdK, where she recently completed an MA in Fine Art.
Irene Lee
Irene Lyla Lee is a writer, publisher and educator dedicated to storytelling and the places where land and imagination meet. Irene's writing has appeared in Visitant, The Rumpus, The Brooklyn Rail and more. She is also founder of the small press, ilylali, and co-founder of Boar Hair Books with Debo Mouloudji. She organizes with the Brooklyn Women's Writing Group. Irene holds an MFA in Writing from Pratt Institute. She is teaching herself to dance on unceded Lenapehoking, Brooklyn, NY.
Jazz Kerr (All Pronouns)
Is a communications professional working at Farm School NYC. After a lifelong journey both fostering and engaging in learning, Jazz is excited to continue exploring how to tell the stories of this incredible community. Before starting communications work Jazz was a youth educator for 3 years at Sadie Nash Leadership Program to encourage girls and gender expansive youth to understand and resist systems of oppression. With a background in gender studies, Jazz has learned how to navigate these large structures and how important people power is when creating new and better systems. Storytelling is an integral part of movement work that Jazz is passionate about and honored to be a part of.
Alex McAlvay
Alex McAlvay is the Kate E. Tode Assistant Curator in the Institute of Economic Botany at New York Botanical Garden. He is also a board member for the Herbal Anthropology project and Associate Editor for the Journal of Ethnobiology. His research focuses on the reciprocal impacts of humans and their environments, especially traditional plant management, agrobiodiversity, and domestication. His current projects combine ethnographic interviews, ecology, genomics, and GIS to investigate these issues in Indigenous communities in Mexico, Canada, and Ethiopia. He plans to carry out LICCI crop diversity protocols in Ethiopia as soon as conditions allow for it.
Travis Holloway
Travis Holloway is author of How to Live at the End of the World: Theory, Art, and Politics for the Anthropocene (Stanford University Press, 2022). He is Assistant Professor of Philosophy at SUNY Farmingdale, a Visiting Lecturer in Cultural Studies at the Pratt Institute, a translator, and a poet and former Goldwater Fellow in Creative Writing at NYU. He grew up queer and working-class in a rural factory town heavily affected by free trade and globalization. He completed his graduate studies in France and Germany on various fellowships, including a DAAD and a Fulbright. Holloway is co-translator of two books and several articles by the French political philosopher Jean-Luc Nancy, including The Possibility of a World (Fordham, 2017) and What's These Worlds Coming To? (Fordham, 2014). He is also an activist and co-author of Occupying Wall Street: The Inside Story of an Action that Changed America (OR Books, 2011). He is currently writing a book on democratic procedures for a new era of climate change and guest editing a special issue of Philosophy Today on climate change.
Claire Donato
Writer, multidisciplinary artist and teacher Claire Donato's chapbook Woebegone is forthcoming in 2023 from Theaphora Editions. She is also the author of Burial, a novella, and The Second Body, a collection of poems. Currently, she is the Assistant Chairperson of Writing at Pratt Institute, where she received the 2020-21 Distinguished Teacher Award.
Nik Slackman
Nik Slackman is a writer and editor living in New Jersey. He is the co-founder of Bard College's Meme Lab, and served as managing editor for The One on Earth: Selected Works of Mark Baumer. Currently, he edits for Fence and The Clegg Agency.
Facebook
Tweet