Launch for First Rate Second Hand Calendar
6:00-8:00 PM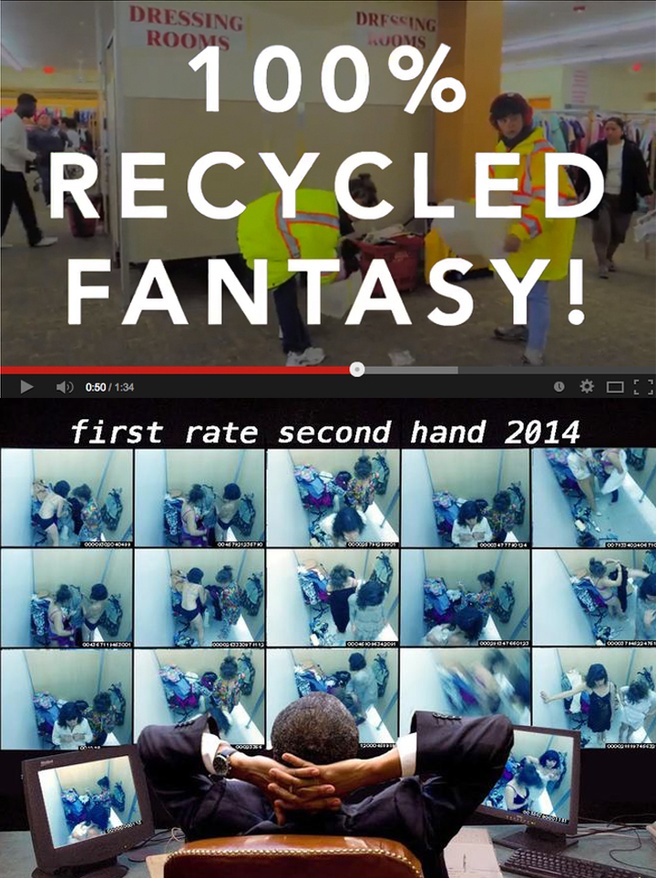 Printed Matter is pleased to announce the launch of the 8th First Rate Second Hand calendar by Sophy Naess and Carmelle Safdie. Join us and the artists for a reception on Friday, December 13th, from 6-8 PM.
Since 2006 Naess and Safdie have mined secondhand stores for props and outfits for their full fantasy montages, which they distribute annually in wall-calendar format. The artists perform peculiar seasonal sitcoms in the material theaters of the Thriftstore and then Photoshop themselves into backgrounds found through Google image search to produce 12 humorous and topical collages for organizing the days of our lives. Their 2014 calendar explores recurring themes of domestic surveillance, waste management, mainstream and underground entertainment, animal life, and more.
First Rate Second Hand 2014 is a full color, heavy stock, spiral bound wall calendar.
Artist Jessie Stead has created a TV commercial for this year's calendar:
Sophy Naess and Carmelle Safdie met at Cooper Union in 2000. They have exhibited together at Soloway Gallery and The Fruit And Vegetable Stand, New York, NY; Franklin Street Works, Stamfort, CT; New Capital Projects, Chicago, IL; The Green Gallery East, Milwaukee, WI and The Fresh Up Club in Austin, TX. Naess and Safdie have performed in various musical constellations and staged the experimental video course The Artist At Work at Recess Activities, in collaboration with the Bruce High Quality Foundation University. In 2013 Naess and Safdie held artist residencies at The Shandaken Project, Shandaken, NY.
Sophy Naess teaches in the Brooklyn Museum's Gallery/Studio Program. She received her MFA from Rutgers University in 2013 and currently lives and works in Queens, NY.
Carmelle Safdie's work is currently on view in Repertory—the inaugural exhibition of One Torino—at Palazzo Cavour in Turin, Italy. She received her MFA in Painting from Bard College in 2012 and lives and works in Queens, NY.
harryhoudini.me/firstratesecondhand.html www.carmellesafdie.com www.sophynaess.com
Facebook
Tweet