SE IMPRIME:
DOCUMENT FOR THE FUTURE
10am - 12pm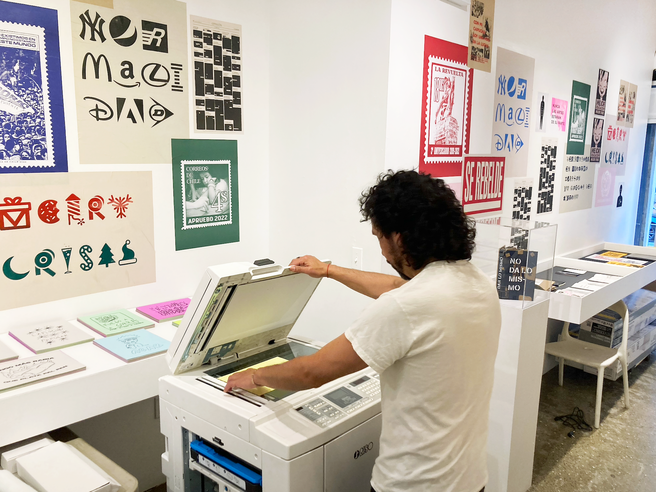 As part of SE IMPRIME: EVERY CONSTRUCTION LOOKS LIKE A RUIN AT FIRST, a presentation of poster and ephemera coming from the Chilean popular riots from 2019, Pablo César Castro Zamorano presents a set of Risograph workshops in the exhibition space at Printed Matter, along with peers Terri Gordon-Zolov & Eric Zolov, and Sokio of New Latin Wave.
DOCUMENT FOR THE FUTURE is a hands-on workshop to visualize and print participants' graphic and literary expression of ideas, desires and wishes for the world we want.
Participants will be provided with two simple materials, a marker and paper, to write and draw whatever they want in relation to the theme of creating a document that expresses desires for the future of our planet. These finished hand-drawn documents will then be reproduced on a Riso duplicating machine. The collected Riso-printed works of participants will then be bound into a publication during the workshop.
Friday, October 14 — (general public)
10am - 12pm
Co-presented with Terri Gordon-Zolov & Eric Zolov
Register here
Sunday, October 16 — (teens/students)
10am - 12pm
Co-presented with Sokio (New Latin Wave)
Register here
Sunday's workshop will be dedicated specifically to working with teens/young people. We are interested in exploring youthful minds that are open to the possibilities of the world constructed by adults
On September 3, 2022 a similar workshop was held at SE IMPRIME, Galpón 2 del Persa Victor Manuel in Santiago where a group of 7 teens built the contents of this DOCUMENT FOR THE FUTURE published on-site (pictured left)
Bios
Terri Gordon-Zolov is Associate Professor of Comparative Literature at The New School in New York City. She is former Director of the Gender Studies Program at The New School and sits on the editorial board of WSQ. Her work has appeared in Latin American Literary Review, The Nation, and NACLA, among others.
Eric Zolov is Professor of History at Stony Brook University and was a Fulbright Visiting Professor at the Pontificia Universidad Católica in Santiago in 2019. His most recent book is The Last Good Neighbor: Mexico in the Global Sixties (2020).
Sokio is a composer, producer, music supervisor, and the director of the New Latin Wave, a multidisciplinary platform for Latinx arts and culture that seeks to open conversations about Latinx contributions and identity in the US. . He lives and works in the Lower East Side, New York.
Facebook
Tweet