Pati Hill — One Thing I Know
Book Launch and Reading with Daisy Editions
5-7pm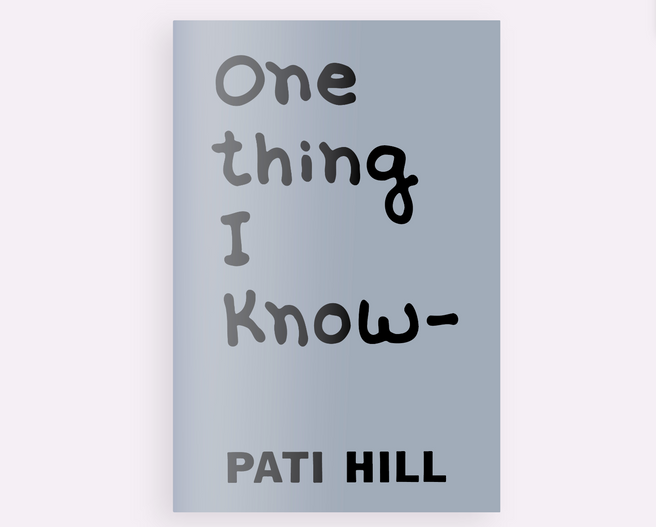 Join us on September 10th for the launch of Pati Hill's novel, One Thing I Know. The event will include a reading of the book by Zoe Beloff, Helena de Laurens & Anne Turyn. The publication will be introduced by Baptiste Pinteaux, publisher of Daisy Editions.
"One thing I know, I will never be in love again," writes Francesca Hollins in her diary. She is sixteen and neither Danny, a young boyfriend already haunted by bourgeois dreams, nor her mother, a woman she believes lacks all imagination, can convince her otherwise. One Thing I Know is Pati Hill's third novel, first published in 1962. Written in the purest tradition of American coming-of-age stories, it follows a sixteen-year-old girl as she discovers an unexpected definition of her independence, something Diane Arbus perceived when she wrote to Hill: ''I am more than ever convinced and maybe [Francesca] is too, that people are born old and that disenchantment is more a beginning than an end in itself… I think life has absolutely to be lived backwards and there is no convenient shortcut like forwards.''
Pati Hill (1921, Ashland, Kentucky – 2014, Sens, France) left behind a literary and artistic output spanning roughly 60 years. After a short but successful career as a model, between 1953 and 1962 she published short stories and five books, many of which were initially excerpted in the Paris Review and met with critical acclaim. Hill published One Thing I Know in 1962 following the birth of her only child, a daughter. She was then forty-one years old and would later claim to have decided at that time to "quit writing in favor of housekeeping." Although she published no work during the thirteen years that followed, Hill continued to write and in the early 1970s began her first experiments with the photocopier. Untrained as an artist, she started using the device as a tool to explore the relationship between image and text. In 1974, Hill published a collection of poems with the unambiguous title Slave Days, in which her first mature artworks appear: xerographs of household objects that seem to float in indistinct space.
Hill continued to employ the machine for 40 years, creating a considerable body of work comprising thousands of photocopies and texts, as well as drawings, etchings, and artist's books, which she exhibited in France and the United States. Three years after her death in 2014, her complete archive was transferred to Arcadia University, Glenside, Pennsylvania, where a survey of the first decade of her xerographs and books was presented in 2016.
Long ignored, the work of Pati Hill now enjoys new critical interest. In the spring of 2020, her first posthumous exhibition in Europe was presented by the Kunstverein München and travelled to the Kunsthalle Zürich coincident with a trilogy of shows organized by Baptiste Pinteaux in 2020 and 2021 at the galleries Air de Paris and Treize (Paris) and at Ampersand (Lisbon).
Daisy is an independent publishing house founded in 2021 by Alice Dusapin and Baptiste Pinteaux, both editors of the magazine octopus notes. Dedicated to arts and literature, Daisy is driven by a taste for research led projects, pursued as much for sentimental reasons as for historical interest.
Facebook
Tweet