Winners Announced! Emerging Artists Publication Series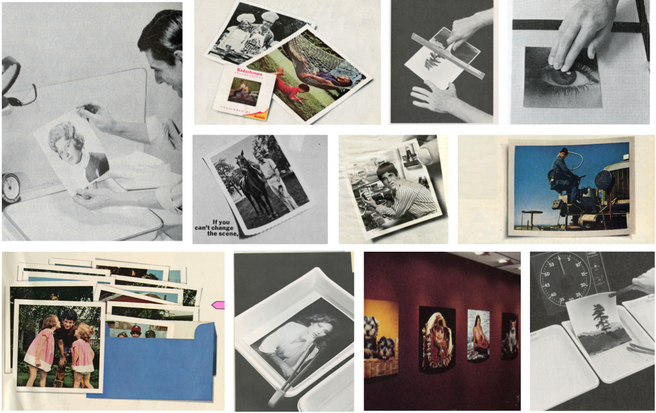 Printed Matter is pleased to announce the winners of our first ever Emerging Artists Publication Series, a program that allows book artists to publish works experimenting with the medium in new and exciting ways. From more than 300 artists' book proposals submitted by artists and collectives based in New York, the six projects selected include those by:
Anne Callahan Sara Cwynar Dawn Kim Clive Murphy & Aengus Woods Chris Nosenzo Max Stolkin
The artists will be working with Printed Matter and designer Garrick Gott to develop their proposed artists' book projects, which will be published individually in a loose serialized format over the next year. In addition to having their work designed and printed, the artists will be given the opportunity to host a book launch and exhibition at our storefront in Chelsea. Congratulations to our Emerging Artists and we look forward to realizing your projects!
We were genuinely excited by the vast range of entries we received from our open call, so many of which we did not have the means to accept despite their merits. The overwhelming number applications we received is a strong indication of the need for such a program designed exclusively for book artists, as well as the growing interest in the medium itself. We hope the Emerging Artist Publication Series will become one of Printed Matter's standard programming activities that help garner an appreciation for artists' publications. Thank you to everyone who submitted.
Proposals were reviewed by a jury comprised of artist Tauba Auerbach, MoMA Library's David Senior, our Consulting Design Director Garrick Gott, and the Executive Director of Printed Matter James Jenkin. The Emerging Artists Publication Series is made possible by the support of the Jerome Foundation.
Be sure to keep an eye out for these six artist books set to be published over the next year. See descriptions of proposals below:
ANNE CALLAHAN
Anne Callahan will produce a lightweight paperback publication that provides an historico-exemplary account of EDITING and/or THE EDITOR: profession, activity, term. The premise in the form of a question: What happened (is happening) to the editor? And come to think of it, Where did the editor come from?
Anne Callahan is an artist and designer born in Youngstown, OH, now working in NYC and Cambridge, MA. She has worked with books and other publication types as designer, production assistant, copy-editor, library clerk, archivist, artist and graduate student. Her recent works include "Come for the Form, Stay for the Content" (2013) and "The Education of Emmanuel Bronner and Other Stories of Origin" (2012).
SARA CWYNAR
Sara Cwynar's Pictures of Pictures will be a taxonomy of images of photographs found in discarded printed matter, based on writings by Roland Barthes which emphasize the "that-has-been" of photography – how a photo palpably brings the past back to life, while also showing you what is no more. Designed in an indexical yearbook form, the book will emphasize death narratives associated with photography – saving and re-presenting a collection of unknown photographic subjects for contemporary viewership.
Sara Cwynar (b. 1985, Vancouver) is a New York based artist working in photography, installation and book-making. She has exhibited in solo exhibitions at the Foam Photography Museum in Amsterdam and Cooper Cole Gallery in Toronto. The publication of her second book, Kitsch Encyclopedia is scheduled for winter 2014 with Blonde Art Books. Cwynar is a former staff graphic designer at the New York Times Magazine.
DAWN KIM
Dawn Kim's The New York Testament will feature a collection of religious tracts found in the New York City subway system. With all text removed, the tracts reveal the aesthetic and editorial decisions that missionaries must make to bring us, potential converts, the Truth.
Dawn Kim is an artist based in Brooklyn. She received her BFA from Art Center College of Design in 2011.
CLIVE MURPHY & AENGUS WOODS
Clive Murphy and Aengus Woods' DIWIF: DEMONIC INTERVENTIONS WITH IKEA FURNITURE will explore the relationship between utopian aspirations and our suppressed primitive selves through the convention of the self-assembly manual.
Clive Murphy is a visual artist. Aengus Woods is a writer and curator. Both are based in Brooklyn.
CHRIS NOSENZO
Chris Nosenzo's Lost Art will present an exhibition catalog of destroyed or lost post-war artworks, and it will be a flat-faced lie. All the works in this "catalog" have been forged by the artist; fiction filed in the non-fiction section.
Chris Nosenzo is an artist based in Brooklyn, New York. In addition to working in a variety of mediums, he produces Packet, a biweekly art publication.
MAX STOLKIN
Max Stolkin's Versions will be a concise treatment of infinite regress that pairs Hubble telescope deep field imagery with modernist stacking tables and several versions of the same story.
Max Stolkin was born in Indianapolis, he studied literature at The Evergreen State College and fine art at Kunsthochschule Mainz. He is a current Swing Space resident with the Lower Manhattan Cultural Council.
ABOUT PRINTED MATTER'S PUBLISHING PROGRAM Printed Matter has a long history of helping artists to produce new and innovative publications. Conceived as both a publisher and bookseller from its founding, the organization has published books with artists Douglas Huebler, Ellen Lanyon, Martha Rosler, Michelle Stuart and Guerrilla Art Action Group, among many others. In the late 1990s, the publishing program was revived to promote a greater focus on emerging artists and publications that fall outside the interest of commercial publishing houses and may not otherwise have the chance to be produced. Printed Matter has since published or co-published over 60 books.
The program is comprised of four elements that offer artists a range of publishing opportunities:
Emerging Artists The newly launched Emerging Artists Publication Series focuses on developing artists whose practice has already demonstrated a commitment to experimentation within the artists' book field. While the projects that fall under this category are wide-ranging, the artists selected show an attention to process and technique by exploring distinct approaches to the medium.
Social Activism Printed Matter provides a forum for critical engagement with works dealing with issues of social, economic, and political justice. These publications, while not necessarily overtly political, address issues around marginalized or underrepresented groups in art and society in general. We seek out artists' projects and writings that advance the democratizing possibilities inherent to the book, including overlooked classics and other projects that are important to the field.
Innovation The Printed Matter Publishing Program also undertakes a series of ambitious projects that showcase the exciting possibilities of technical production in contemporary artists' publications. This includes innovative ways of thinking about the parameters of the book as an editioned object, experimenting with design and printing processes, and bringing together form and content in innovative ways.
Education Our publishing program has recently expanded to include documentation of works from artists and collectives that have demonstrated a commitment to artists' publications, and summarize or focus on an element of a larger practice. With these titles we aim to go beyond the scope of a conventional catalog in both design and content, incorporating new works for the page, re-contextualizing material, and employing various other methods to transform traditional documentation. Importantly, these compendiums also serve as sourcebooks for those interested in learning about the field.
Please note that with the exception of the Emerging Artists Publication Series, the Printed Matter Publishing Program is by invitation only, and we are not able to accept unsolicited proposals.
The Emerging Artists Publication Series is made possible with the generous support of the Jerome Foundation.
Printed Matter has received funding in support of our publishing activities from the following foundations: Harpo Foundation, Furthermore Foundation, NYSCA, Jerome Foundation, Gesso Foundation, The Horace W. Goldsmith Foundation, Andy Warhol Foundation for the Arts and Individuals worldwide.
Facebook
Tweet