Leeza Meksin: Turret Tops and Before Book Launch
6-8pm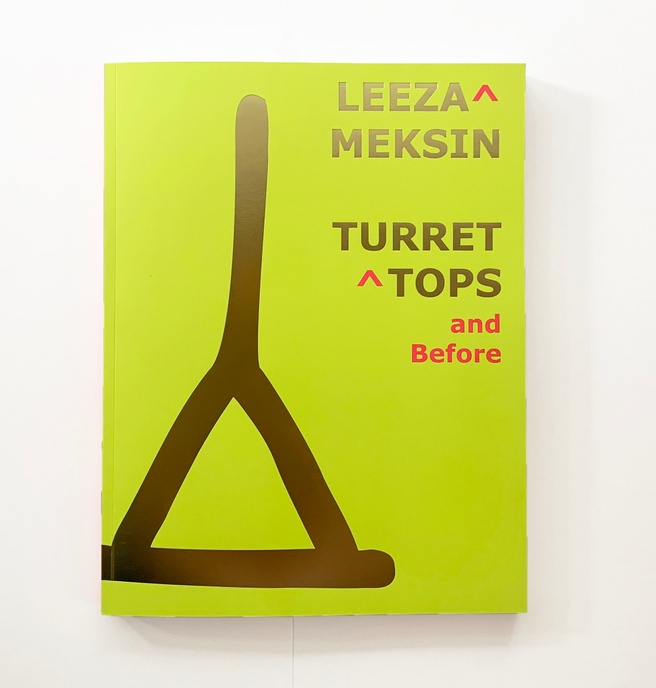 Join Space Sisters Press on Friday, September 9 for the launch of Leeza Meksin: Turret Tops and Before, which chronicles Meksin's site-specific outdoor installation Turret Tops on view at the deCordova Sculpture Park and Museum from 2019-2020, and other textile works and installations. The event will include a conversation between Meksin and catalogue contributors Wayne Koestenbaum and Pamela Sneed.
Participant Bios:
Leeza Meksin is an interdisciplinary artist working in painting, installation, public art, and multiples. Born in the former Soviet Union to Ukrainian Ashkenazi and Uzbek Bukharian parents, she immigrated to the United States with her family in 1989. Her work investigates parallels between conventions of painting, architecture, and our bodies. In 2015, Meksin received the emerging artist grant from the Rema Hort Mann Foundation, and in 2021 she was awarded the New York State Council on the Arts/New York Foundation for the Arts artist fellowship in Interdisciplinary Work. In 2019, Meksin was the artist in residence at The Chinati Foundation in Marfa, Texas. Her work has been featured in BOMB Magazine, The Brooklyn Rail, The New York Times, Hyperallergic, Chicago Tribune, and The Village Voice, among other publications. In 2013, Meksin co-founded Ortega y Gasset Projects, an artist-run gallery and curatorial collective in Brooklyn that she continues to co-direct. In 2021, Meksin joined the faculty at Cornell University in the College of Architecture, Art, and Planning (AAP).
Wayne Koestenbaum—poet, critic, fiction-writer, artist, filmmaker, performer—has published 22 books, including The Cheerful Scapegoat, Figure It Out, Camp Marmalade, My 1980s & Other Essays, The Anatomy of Harpo Marx, Humiliation, Hotel Theory, Circus, Andy Warhol, Jackie Under My Skin, and The Queen's Throat (nominated for a National Book Critics Circle Award). His most recent book, Ultramarine, the third volume of his trance trilogy, was published by Nightboat in February 2022. His first feature-length film, The Collective, premiered at UnionDocs (New York) in 2021. In 2020 he received an American Academy of Arts and Letters Award in Literature. Yale's Beinecke Rare Book and Manuscript Library acquired his literary archive in 2019. He is a Distinguished Professor of English, French, and Comparative Literature at the City University of New York Graduate Center.
Pamela Sneed is a New York-based poet, performer, and visual artist. She is the author of Imagine Being More Afraid of Freedom Than Slavery, KONG and Other Works, Sweet Dreams, and Funeral Diva. Funeral Diva was featured in The New York Times, Publishers Weekly, Literary Hub, Artnet, and more and won the 2021 Lambda Lesbian Poetry Award. She has spoken at the Bard Center for Humanities, The Ford Foundation, The Gordon Parks Foundation, Columbia University, The New School, New York Public Library, the Brooklyn Museum, the Museum of Modern Art, Dia Art Foundation, and New York University's Center For Humanities. She has published in The Paris Review, Frieze Magazine, Artforum, The Academy of American Poets, and more. In 2021, Sneed was a panelist for David Zwirner's More Life exhibition. Her visual work was featured in the group show Omniscient at the Leslie Lohman Museum.
https://www.spacesisterspress.com/
https://www.meksin.com/
https://www.waynekoestenbaum.com/
Facebook
Tweet