Watercolor Monotype Printing with Robert Blackburn Printmaking Workshop
with Raque Ford
1pm - 3pm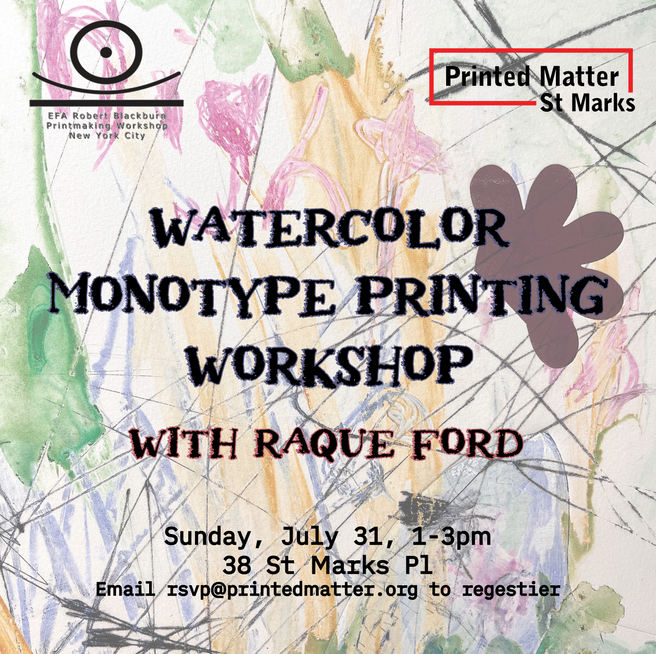 ** This event is at capacity! **
Join us at Printed Matter / St Marks for a watercolor monotype printing workshop led by artist Raque Ford, co-presented with Robert Blackburn Printmaking Workshop.
The process of watercolor monotype consists of painting with watercolor, water-soluble crayon, and/or pencils on a piece of plexiglass and then transferring the image through the press on to paper.
All materials for this class (including Blackburn's mobile etching press!) are provided, but you are welcome to bring your own watercolor brushes or watercolors to try out. Depending on your own image-making process, you might want to come with an idea sketched out, or bring along any references you would like to use to create your prints. Luster handmade watercolors donated by Kremer Pigmente.
Raque Ford infuses abstraction with narrative potential, producing layered works that explore how identity is crafted from the remnants of popular culture. Known for her distinctive way with materials, Ford troubles the line between painting and sculpture, using reflective acrylic and transparent Mylar, welded steel chains and laser-cut text. Her high-gloss surfaces are incised with spidery script that quotes from a range of sources: song lyrics, snippets of conversation, excerpts from fiction and diaristic jottings. An accomplished printmaker, she has been a fellow at the renowned Robert Blackburn Workshop, recombining her signature elements into works on paper both intimate and bracing. Deeply attuned to the history of art, Ford channels the tactics of Minimalist masters like Melvin Edwards, Robert Smithson, and Richard Serra toward her own nuanced project. "That's the interjection of being a woman of color and learning these ways of making sculpture," she has said. "I want to have their energy, their aggressive scale and material…I'm taking all of that and making it my own."
Raque Ford (b. 1986, Columbia, Maryland) lives and works in Brooklyn, New York and is represented by Greene Naftali, NY. Significant group shows include Albright Knox Gallery, Buffalo (2022); MoMA PS1, New York (2021); Morán Morán, Mexico City (2021); Greene Naftali, New York (2020); Kai Matsumiya, New York (2019); Roberta Pelan, Toronto (2017); SculptureCenter, Queens (2016); and Division Gallery, Montreal (2016); and recent solo presentations include Greene Naftali (2022); 321 Gallery, Brooklyn (2019); CAPITAL, San Francisco (2017); and Shoot the Lobster, New York (2017). Ford's work is in the collections of the High Museum of Art, Atlanta, and The Museum of Modern Art, New York.
Facebook
Tweet