Fierce Pussy's For the Record Window Installation
November 23 - December 13, 2013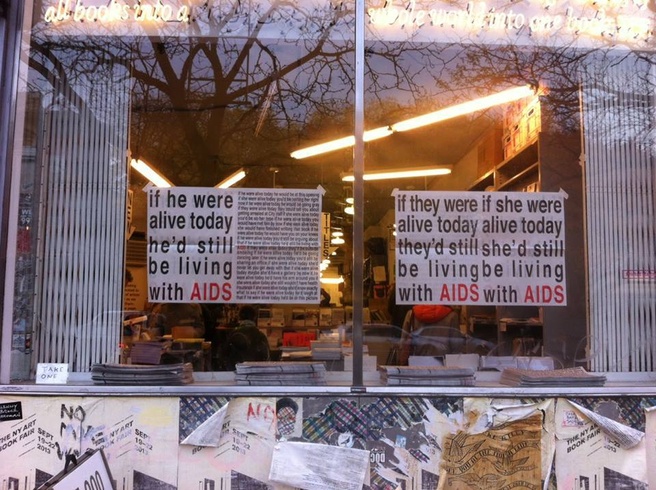 Leading up to Day With(out) Art, World AIDS Day, join Visual AIDS and Printed Matter for a reception.
For The Record fierce pussy Curated by Risa Puleo November 23-December 13, 2013 Printed Matter, 195 10th Avenue, NYC Reception: Saturday, November 30, 5-7 PM with fierce pussy and Cathy Busby (Steve's Vinyl)
For The Record A window installation and set of downloadable posters by fierce pussy for Visual AIDS and Day With(out) Art, For The Record, mourns the loss of friends, family, lovers, artists and activists during the AIDS crisis and engages in a dialogue about the erasure of personal and collective memories from the historical record through this loss. Through poignant and powerful variations of the phrase "If he/she/they were alive today…," fierce pussy explores the daily aspects of living not only with HIV/AIDS, but as a person in the world, and asks viewers to extract their own memories to consider our personal and social relationship to the AIDS crisis in the present.
For the Record, is a new iteration of their 2010 project Get Up Everybody and Sing, originally conceived for the White Columns presentation of the exhibition ACT UP NEW YORK: Activism, Art, and the AIDS Crisis, 1987 – 1993 (Carpenter Center of the Arts, Harvard University and White Columns). fierce pussy has continued to engage in a reclaiming of language and public space with installations and exhibitions in galleries and museums.
fierce pussy's installation at Printed Matter uses the site as a newsstand, a site of information, discourse and exchange to engage in a dialogue about the AIDS crisis past, present and future, displayed the broadsides in Printed Matter's windows as front pages of the daily news. Take-away versions of the broadside as well as a postcard/ sticker version will also be available at Printed Matter. Find out more about the work of fierce pussy on their website.
Steve's Vinyl In 1993, music loving, Steve Busby died of AIDS-related illness, leaving behind a large record collection to his sister, artist Cathy Busby. After 15 years of keeping the collection, Cathy organized a one-night celebration and album give away to benefit a AIDS service organization, as a means of "turning the weight of this collection into lightness, activating it to make something interesting happen, with the funds raised going to continue important work in our community."
The one-night only event is now a book, Steve's Vinyl, with writing from Steve and Cathy, photos from the album give away, and memories of Steve collected the night of the event. It will be on sale at Printed Matter. To learn more about Steve's Vinyl, visit www.cathybusby.com
About Day With(out) Art Visual AIDS launched Day Without Art in 1989 as a day of action and mourning in response to the AIDS crisis in recognition of World AIDS Day. At its height Day Without Art was a collaborative project of an estimated 8,000 national and international museums, galleries, art centers, AIDS Service Organizations, libraries, high schools and colleges. In 1997, Day With(out) Art became a day WITH art, to recognize and promote increased programming of cultural events that draw attention to the continuing pandemic. Though the name was retained as a metaphor for the chilling possibility of a future day without art or artists, Visual AIDS added parentheses to the program title, Day With(out) Art, to highlight the proactive programming of art projects by artists living with HIV/AIDS, and art about AIDS, that were taking place around the world. It had become clear that active interventions within the annual program were far more effective than actions to negate or reduce the programs of cultural centers. As the AIDS crisis and our understanding of it evolve, so must our actions. Visual AIDS continues to produce a year-round program of thought-provoking exhibitions, events and artist editions promoting HIV prevention and AIDS Awareness.
About the Artists fierce pussy is a collective of queer women artists working in New York City. Formed in 1991, the members of fierce pussy came together through their shared involvement in AIDS activism. During a decade of increasing political mobilization around gay rights, fierce pussy brought lesbian identity and visibility directly into the streets with posters, stickers, t-shirts and various public interventions. They have continued to engage in a reclaiming of language and public space with installations and exhibitions in galleries and museums. Originally composed of a fluid and often shifting cadre of dykes, four of the original core members —Nancy Brooks Brody, Joy Episalla, Zoe Leonard, and Carrie Yamaoka— continue to work together. www.fiercepussy.org
About Visual AIDS Visual AIDS utilizes art to fight AIDS by provoking dialogue, supporting HIV+ artists, and preserving a legacy, because AIDS IS NOT OVER. Visual AIDS is the only contemporary arts organization fully committed to HIV prevention and AIDS awareness through producing and presenting visual art projects, while assisting artists living with HIV/AIDS. We are committed to preserving and honoring the work of artists with HIV/AIDS and the artistic contributions of the AIDS movement. www.visualaids.org
Facebook
Tweet