[a partial list of falling] Book Launch at Printed Matter / St Marks with Nathlie Provosty
Featuring a reading by Provosty and a concert with Gryphon Rue, Charmaine Lee, and Lukas Koenig
5PM - 7:30 PM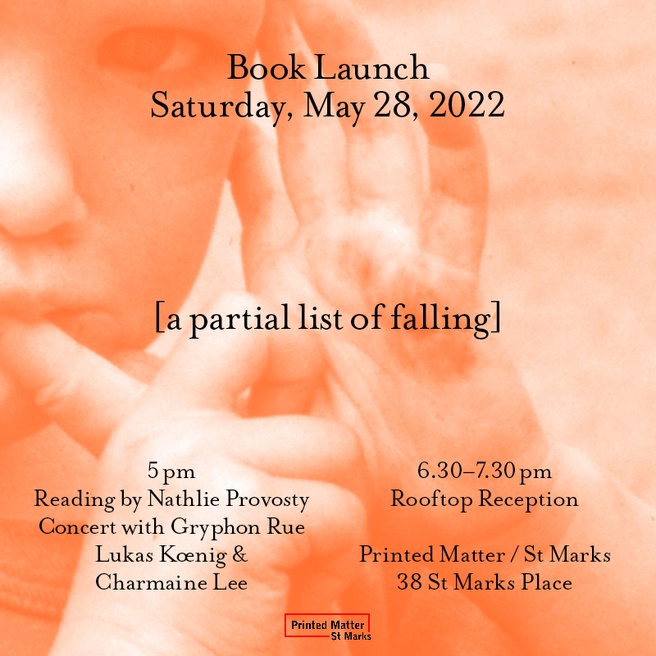 Join us at Printed Matter / St Marks for the launch of Nathlie Provosty's new artist book [a partial list of falling], published by Hassla. There will be a reading by Provosty followed by a concert with Gryphon Rue, Charmaine Lee, and Lukas Koenig. We'll have a rooftop reception following the programming.
[a partial list of falling] recounts an accident witnessed by Provosty. A 112 page artist's book, it reproduces drawings from 2020-2022, together with writing / dreams / photographs, quotes from various books, emails, art historical paintings, and a poem by the writer Charity Coleman. The narrative tells the story of transformation, with a special emphasis on the avant-garde filmmaker and friend Jonas Mekas, and the recurring appearance of a dragon.
Though quite different, the sonic environments of both Lee and Rue combine material found in the environment, from the body, from their synthesizers, and/or acoustically generated in order to hit emotional chords and charge presence. [a partial list of falling] similarly draws on a multiplicity of sources (dream, experience, sensation) to achieve an emotional resonance. The music and book thereby rhyme in their parallels, not through being alike but being akin.
Nathlie Provosty is a visual artist based in New York, whose work is engaged with materiality and perception. The artist uses subtle, highly tactile qualities of oil paint that oscillate visually and conceptually due to the painting's multi-referential imagery, physical interaction with light & the environment, and continuous spacial shifts. Her first one-person exhibition in New York opened in 2012 at an experimental artist-run gallery called 1:1, and she has since exhibited nationally and internationally including solo or group presentations at the Risorgimento Museum in Turin, Italy (2018-19), the San Francisco Museum of Modern Art (2019), Kunsthall Stavanger, Norway (2018), the Santa Barbara Museum of Art, CA (2020), and the Colby Museum of Art, ME, curated by Alex Katz (2017).
Her work is included in the collections of MoMA, SF MoMA, the Baltimore Museum of Art, the Portland Museum of Art (ME), the Albright-Knox Art Gallery, the Olgiati Collection (CH), the Rubell Family Collection, among others. In December 2020 Hassla published a collaboration between Provosty and the legendary New York experimental poet Anne Waldman titled all rainbows in a brainstem / that we be so contained, which coordinated with a solo exhibition at A Palazzo Gallery in Italy (2020-2021). Hassla is publishing the current artist's book in coordination with Provosty's concurrent solo show at Nathalie Karg Gallery (up until June 18, 2022).
Photo of the artist and Mr. Soul by Charlotte de Mezamat.
---
Gryphon Rue is a composer and multidisciplinary artist. A Spirit Appears to a Pair of Lovers will be released summer 2022 on Not Not Fun Records, with ten videos by collaborating artists. Other releases include Foliage of Caves (Soap Library), North of The Future with Merche Blasco (Astral Editions), and Love is a Grasshopper Nearby as Vertical Foliage (CAMP Editions). Rue performs in the light and sound duo Rue Bainbridge (see Wintering, de Young Museum). Rue hosts Earmark, a program of long form conversations with composers and sound artists on Montez Press Radio.
Rue previously created the window collage at Printed Matter/St Marks Clayton Patterson: Beauty Mark and curated the event Buddhist Bubblegum: Esotericism in the Creative Process of Arthur Russell.
Rue's Strange Attractor (Inventory Press & Ballroom Marfa, 2019) is an artist book exploring the uncertainties and poetics of networks, environmental events, and sound. Among its many contributors are Lawrence Abu Hamdan, Channa Horwitz, Bernadette Mayer, Haroon Mirza, and Merlin Sheldrake.
Rue has performed and lectured internationally at de Young Museum, Montreal Museum of Fine Arts, The Hepworth Wakefield, Kunsthalle Düsseldorf, The Shigeko Kubota Foundation, Hauser & Wirth, Pace Gallery, Roulette Mixology Festival, New Media Art & Sound Summit, Take Off Festival, Festival Hongerige Wolf, i = u Festival, Kathy Acker Awards, among others.
Photo by Charlotte de Mezamat.
Charmaine Lee (b. 1991) is a New York-based vocalist from Sydney, Australia. Her music is predominantly improvised, favoring a uniquely personal approach to vocal expression concerned with spontaneity, playfulness, and risk-taking. Beyond extended vocal technique, Charmaine uses amplification, feedback, and microphones to augment and distort the voice. She has performed with leading improvisers id m theft able, Ikue Mori, Sam Pluta, Tyshawn Sorey, Nate Wooley, and C. Spencer Yeh, and maintains ongoing collaborations with Conrad Tao, Victoria Shen, Zach Rowden, and Eric Wubbels. Charmaine has performed at ISSUE Project Room, the Kitchen, Roulette, The Poetry Project, and MoMA PS1, and participated in festivals including Resonant Bodies, Huddersfield Contemporary, and Ende Tymes. She has been featured in group exhibitions including The Moon Represents My Heart: Music, Memory and Belonging at the Museum of Chinese in America (2019). As a composer, Charmaine has been commissioned by the Wet Ink Ensemble (2018) and Spektral Quartet (2018). She was an Artist-in-Residence at ISSUE Project Room (2019) and Van Lier Fellow at Roulette (2021). Charmaine is currently a member of the Editorial Board of Sound American.
Photo by Peter Gannushkin.
Lukas Koenig, born 1988 in Austria works and lives in Vienna. He has collaborated with Klangforum Wien, Audrey Chen, Julien Desprez, Sensational, Elvin Brandhi, Peter. Kutin, Chris Pitsiokos, Jamaaladeen Tacuma, Briggan Krauss, Shahzad Isamaily, Jorge Sánchez-Chiong, Elliott Sharp, Wolfgang Muthspiel, Franz Hautzinger, David Murray, Reggie Washington, Malcolm Braff, Steven Bernstein, Kazuhisa Uchihashi, Koenigleopold, Kompost3, Bilderbuch, Ensemble für Neue Musik Zürich and many more.
Event flyer by Siiri Tännler.
Facebook
Tweet