Art Worker: Doing Time in the New York Art World, book launch with Alan Moore
at Printed Matter / St Marks
5PM - 7PM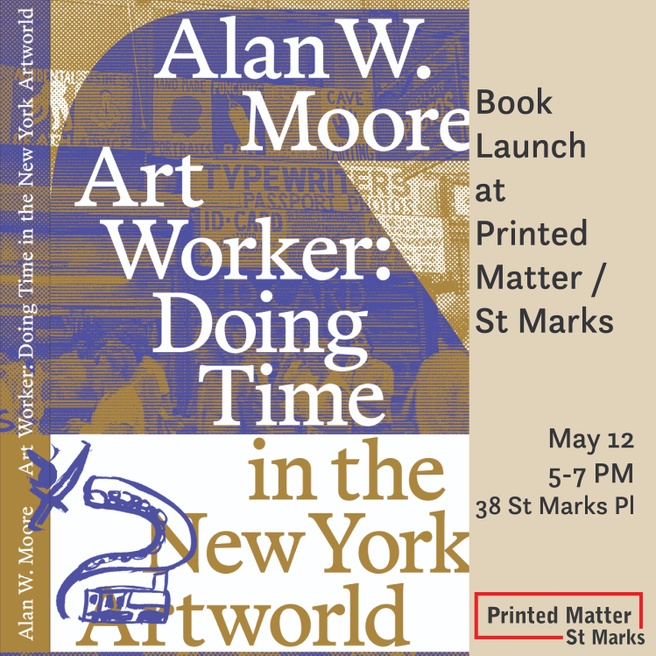 Join us at Printed Matter / St Marks for a book launch of Alan Moore's new title, Art Worker: Doing Time in the New York Art World. We'll have tables set up outside our storefront with Moore's book plus a selection of titles by other NYC artists.
Art Worker is a subaltern memoir that casts a light on a classic period in cultural history: the '70s and '80s in downtown Manhattan. From art critic, to video artist, to radical organizer and then academic, Moore played several roles in the seething scene of art galleries, nightclubs, and small publications.
The book is in three parts:
1 – the author's life as a critic, then as an artist with Collaborative Projects, up to the Times Square Show of 1980.
2 – the author's film and video productions with Colab's Potato Wolf cable TV series, then the foray into artists video distribution with the MWF Video Club
3 – Colab after the Times Square Show, the East Village art gallery movement, related artists organizations like the Rivington School; 21st century coda
Alan W. Moore wrote for Artforum and Art-Rite in the mid-1970s, then joined the artists' group Colab early on. He organized the Real Estate Show and ABC No Rio, and participated in the Times Square Show in 1980. Writing and typing for the East Village Eye, Moore had a ringside seat at the downtown New York art show. As a video artist during the No Wave era and after, he produced numerous shows for Colab's artists' TV series, then launched the MWF Video Club artists' distribution project which persisted until 2002.
In the '90s Moore took a PhD in art history, and published Art Gangs in 2011, a history of NYC artists' collectives from 1969 to 1984. Since 2006, he has been researching squatting in Europe, and lives in Madrid. He published Occupation Culture, detailing these researches, in 2015. Now he is back in the States to face up to the past…
Facebook
Tweet