Book launch for SELF HELP by Michael Welsh
6:00-8:00 PM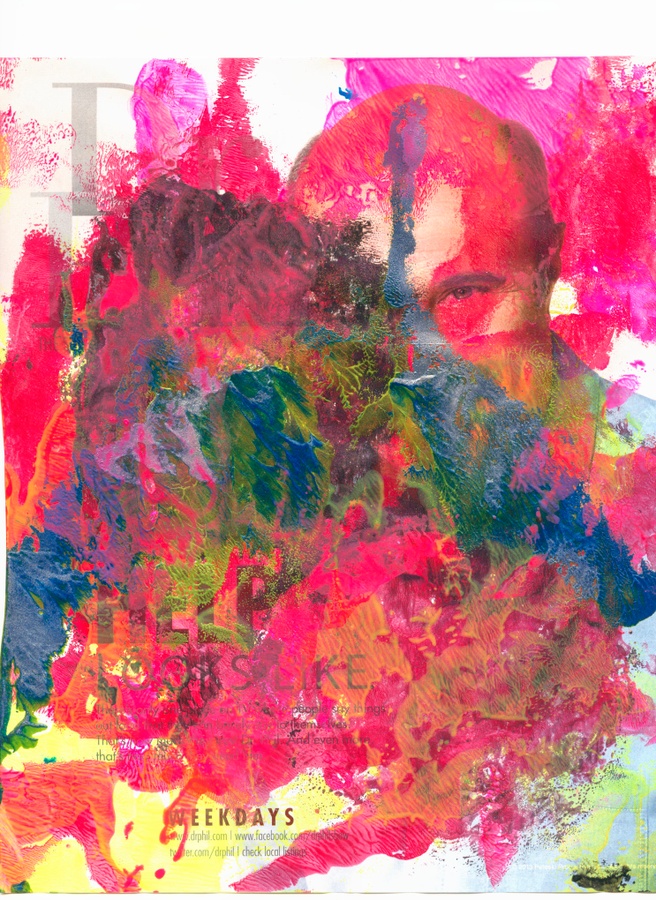 We're pleased to present a launch for "SELF HELP":catalog/28405 from Brooklyn-based interdisciplinary artist Michael Welsh, published by Social Malpractice Publishing and Publication Studio. Michael Welsh and Sean Joseph Patrick Carney (Social Malpractice) will present an in-store performance (or something performative at least) at the event.
SELF HELP (2013) represents the intersection of three discreet interests of the artist: abstraction in painting; selfhelp advice authored by Oprah Winfrey; and magic alchemy. For this publication, Welsh has appropriated advertisements, photo spreads and editorials from O Magazine, a periodical produced by Winfrey, and applied layers of paint to translate these popular media pieces into the language of abstract painting. Accompanying these original works is a loose and surreal poetic narrative—part manifesto, part existential crisis—created by juxtaposing passages from Modern Alchemy and Occult Psychology by D. Lawrence Meredith with inspirational, life-affirming quotes from Oprah Winfrey.
Through this process, Welsh aims to level the teaching of mystic scholars with Oprah's everyday musings on success and the betterment of self, while leveraging both against the motivations behind the production of abstract art. In all three discreet areas, the core theme is the production of something new and profound out of a raw material: precious metals, pigment, the self, etc. SELF HELP communicates a suspicion of the validity of all three, though it aims to illuminate their startling similarities rather than to overtly criticize any of these endeavors. The result of examining these areas in conjunction with one another proposes a view of abstraction as integral to notions of the mental, the social, and the spiritual health of the larger human ecological system.
Born 1983 in Arlington, VA, Michael Welsh now lives and works in Brooklyn, New York. Welsh has exhibited his interdisciplinary work nationally throughout the United States. This is Welsh's third title for Social Malpractice Publishing, preceded by HISTORIC NATIONAL MONUMENT PRESERVATION SOCIETY (2012) in collaboration with Daniel J. Glendening and SWEET TOOTH (2011).
"Publication Studio":http://www.publicationstudio.biz was founded in 2009 and is run by Patricia No and Antonia Pinter in Portland, Oregon. Publication Studio makes books on-demand and publishes original work with artists and writers they admire. Publication Studio is a laboratory for publications in its fullest sense—not just the production of books but the creation of a public by constructing a space of conversation and social gathering.
Social Malpractice Publishing is an artist-run label founded in 2009 by Sean Joseph Patrick Carney in Portland, Oregon. Social Malpractice titles have been featured in numerous exhibitions across the United States, as well as the Los Angeles Art Book Fair and the New York Art Book Fair.
Facebook
Tweet