Printed Matter's 2007 NY Art Book Fair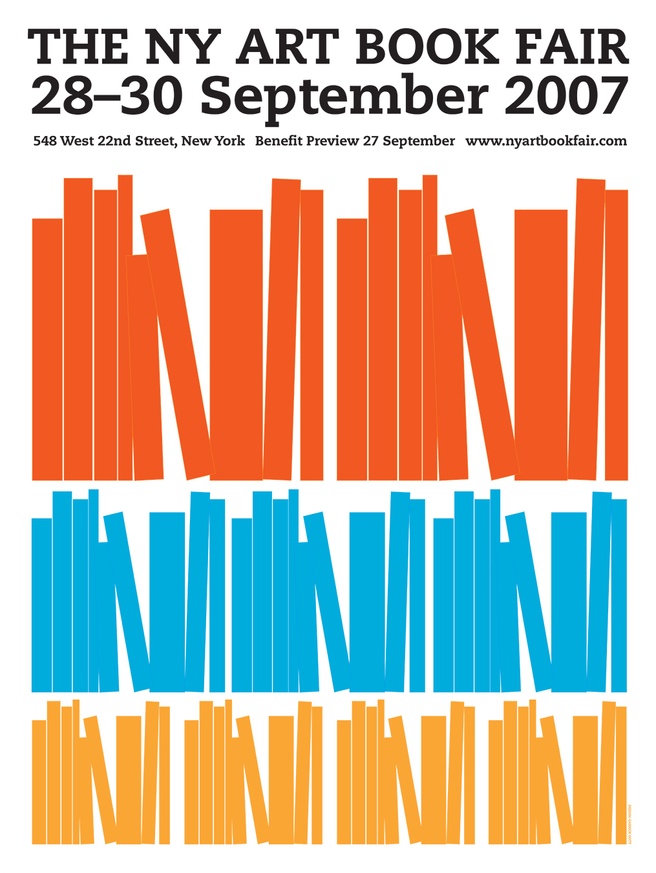 Printed Matter, Inc. presents The NY Art Book Fair, New York City's annual fair devoted to contemporary art books, art catalogues, artists'' books, art periodicals, and 'zines. Over 120 international exhibitors, from major distributors and antiquarian dealers to independent publishers and artists, occupy a dual-level 20,000 square foot space. The Fair takes place 28 through 30 September, 2007, in the heart of Chelsea's gallery district at 548 West 22nd Street. A ticketed Benefit Preview on Thursday, 27 September, 6-9 pm, benefits Printed Matter, Inc. Admission to the fair and events is FREE. See www.nyartbookfair.com
Exhibitors and participants from New York City to Oslo and Moscow to Tokyo are convening to share their involvement and activities with contemporary art books. Back by popular demand, Friendly Fire, a curated zone of artists and independent publishers, features artists and art collectives who self-publish in a free-spirited range of forms from books and 'zines to CDs and DVDs.
Fun and engaging events including book launches, signings, screenings, and music performances take place each day of the fair. Artists present for book signings include Marilyn Minter and Tracey Moffat: see www.nyartbookfair.com for the full schedule. Brooklyn artist j. morrison presents a performative silkscreening station, producing customized bookbags. Performa and ANP Quarterly are all sponsoring publication launches and performances. Lovely Daze is hosting the fair closing party with the launch of the new Numbers issue, a performance by Bec Stupak, and music by Crystal Understanding. Installations include onestar press' Lawrence Weiner bookcase and a massive photographic installation by Dean Sameshima.
Refocus, Re-title, Release: the Books of Martin Kippenberger is this year''s feature exhibition. Curated by Philip Aarons and AA Bronson, this comprehensive exhibition presents over 150 publications by Martin Kippenberger.
Artists Ed Ruscha, Josephine Meckseper, and David Shrigley have created new limited editions for the fair's opening night Benefit Preview. Tickets are available at three price tiers and each level of admission is accompanied by a limited edition artwork. Ed Ruscha has produced a previously unprinted photographic edition for the high-end ticket (price to be announced). Josephine Meckseper has printed two new photographic editions: a choice of one accompanies the $150 ticket. David Shrigley has created a ticket edition available for the $20 friend ticket, as well as for purchasers of the Ruscha and Meckseper editions. See www.nyartbookfair.com for images as they are available.
This is the second year for Printed Matter''s NY Art Book Fair. Last year''s runaway success brought in more than 6,000 attendees, and Holland Cotter declared in The New York Times: "The NY Art Book Fair…is evidence that alternative is still vital, sexy, and free."
Exhibitors: 2nd Cannons Publications; ANARTIST; Andrew Roth; ANP Quarterly; ARTFORUM; Art Metropole; Art Monthly; The Art Newspaper; Art on Paper; A.R.T. Press; ArtReview; Artspeak; Autonomedia; Back East Press (James Prez); Banana Books; Boekie Woekie books by artists; BOOKFORUM; Book Works; Booklyn; Border Crossings; Bread and Puppet Press; Eleanor Brown; BUTT Magazine; Bywater Bros. Editions; Cabinet; Carolina Nitsch Contemporary Art; Centre des livres d''artistes; The Center for Book Arts; Charles H. Scott Gallery; Circuit; Cinders Gallery; Creative Time; DADDY THE MAGAZINE; D.A.P/Distributed Art Publishers, Inc.; Dale Wittig; Dalhousie Art Gallery; Darin Klein; David Krut Publishing; Deep Dish TV; Denis Ozanne; Dexter Sinister; Dia Art Foundation; Dobbin Books; The Drawing Center; Ecart Publications / Villa Magica; Edie Fake; Emily Carr Institute Press; Evil Twin Publications; Exit Art; Eye Level Gallery; The Fillip Review; Fluens Forlag (Jasper Sebastian Stürup); free103point9; FREIGHT + VOLUME; GAGARIN THE ARTISTS IN THEIR OWN WORDS; Galerie A; Hard Hat; Heavy Tapes; information as material; Islands Fold; J&L Books; j. morrison; Jack Hanley Gallery; The Journal; Steven Leiber; Librairie 213; lightreading, inc.; Michael Lowe Gallery; Michalis Pichler; Lovely Daze, (Charwei Tsai); LTTR; Scott McCarney VisualBooks / Keith Smith Books; John McWhinnie @ Glenn Horowitz Bookseller; Marcus Campbell Art Books; The MIT Press; modlitbooks; Mount Saint Vincent University Art Gallery; Nieves; onestar press; Our Mouth; Paper Tiger Television; Parkett Publishers; Passenger Books; Peres Projects; Perro Verlag; PictureBox, Inc.; Plug In ICA/Plug In Editions; Pork Salad Press; Presentation House; The Press of the Nova Scotia College of Art and Design (NSCAD University); PRESSPOP, Inc.; Primary Information; Printed Matter, Inc.; Purgatory Pie Press; r.a.m. publications + distribution, inc.; Sara Ranchouse Publishing; Specific Object; spike Art Quarterly; Red76; Regency Arts Press; Revolver; Retard Riot (Noah Lyon); Saint Mary''s University Art Gallery; Seems; Slavs and Tatars; Soft Targets; Spike Art Quarterly; Specific Object; Spoonbill & Sugartown, Booksellers; stop over press; TASCHEN; TEXTE ZUR KUNST; THEY SHOOT HOMOS, DON'T THEY?; Three Star Books; Torpedo; USELESS; Virginia L. Green Rare Books, Inc., Visual Studies Workshop Press; White Columns; William Allen; World War 3 Illustrated; Yuri Shibuya; YYZBOOKS; Zucker Art Books.
Poster design by "Garrick Gott":http://garrickgott.net/
Facebook
Tweet