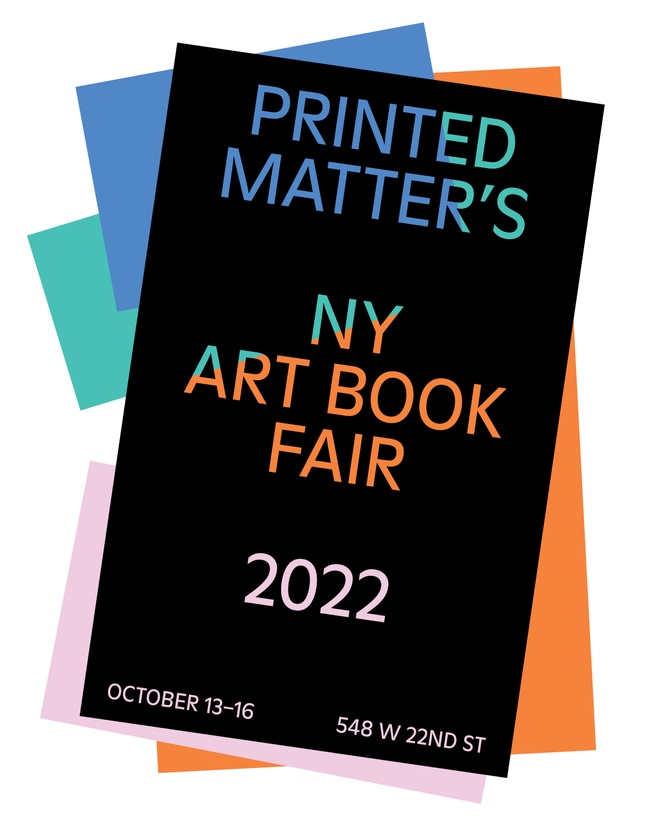 Printed Matter's 2022 NY Art Book Fair
October 13–16, 2022
548 W 22nd St
pmabf.org
Printed Matter is excited to announce the return of the beloved NY Art Book Fair, scheduled to take place October 13-16, 2022, at 548 W 22nd St, the historic location of Printed Matter's very first NYABF and just around the corner from our Chelsea bookstore.
We're planning NYABF 2022 with renewed energy and intention. Our foremost goals are to continue to provide a platform for artists' book publishers through visibility and distribution, to create opportunities for conversation and exchange, and to nurture new and long-standing relationships.
Since the Fair's founding in 2006, this community has come together to celebrate the history and future possibilities of artists' book publishing. Over the past two years, Printed Matter's Art Book Fairs have learned to adapt and take on new forms: an expansive virtual Fair, collaborations with other non-profit organizations, and reimagined interdisciplinary events and programming. Despite so many recent challenges, we have witnessed the resilience of artists and publishers. Today, the work happening in artists' book publishing feels more urgent than ever and we are committed to bringing back the Fair in a way that is meaningful and safe.
We look forward to working with our new venue partners at 548 W 22nd St, and we express our sincere thanks to MoMA PS1, host of the NYABF 2009–2019, for their partnership and commitment to Printed Matter for over a decade.
We can't wait to reunite in October!
Stay tuned for updates and check out the FAQ on our website!
The Volume Grant 2022
The Volume Grant is a new funding opportunity for artists and publishers who identify as Black, Indigenous, or People of Color. Recipients are granted a complimentary table at the Fair and an unrestricted stipend. This grant supports the ongoing creative work happening in marginalized communities through assistance with production, travel, and other necessary expenses. Brown Recluse Zine Distro, Taller California, Kwago, and Further Reading Press are the inaugural Volume Grant Recipients for NYABF 2022.
The NYABF Volume Grant jury included Emmy Catedral, Gee Wesley, and Bilphena Yahwon. Support for the NYABF 2022 Volume Grant is generously provided by: Michi Matter Jigarjian, Studio Cartagena, Jane Hait and Justin Beal, and Center for Art, Research and Alliances (CARA).
The Shannon Michael Cane Award 2022
The SMC Award is granted to emerging artists (artists, artists' book publishers, or collectives in the early stages of their career) who would be first-time exhibitors in a Printed Matter Art Book Fair. Each recipient is provided with an exhibitors table and a stipend to support their participation. The recipients of this year's Shannon Michael Cane Award for NYABF 2022 are Revista Balam, KWY Ediciones, FAR NEAR, and Matarile Ediciones.
Applications were reviewed by a panel comprised of the founders of the Shannon Michael Cane Memorial Fund and Printed Matter Fairs staff. Click here to learn more about the fund.
Shannon Michael Cane (1974-2017) was a pillar of the Printed Matter family and artists' book community, serving as Curator of Fairs and Editions from 2013-2017. Shannon was a champion of emerging book artists and publishers, often providing new voices with their first opportunity to share their work broadly through the NY and LA Art Book Fairs. This scholarship is provided through the Shannon Michael Cane Memorial Fund at Printed Matter, a fund initiated by his closest friends and collaborators, which supports projects carried out in his spirit and memory.
Facebook
Tweet