Printed Matter at EXPO Chicago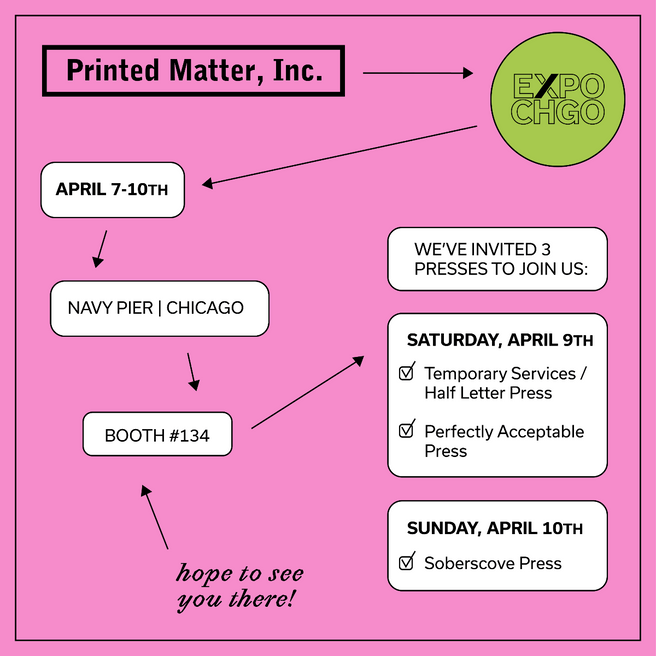 Visit Printed Matter this week in Chicago! We are thrilled to be participating in our first ever EXPO Chicago, April 7–10 at the Navy Pier. We will have a large presentation of artists' books, editions, Printed Matter publications, as well as a selection of Rare & Out of Print materials.
We've invited some of our Chicago-based peers Temporary Services / Half Letter Press, Perfectly Acceptable, and Soberscove Press to display alongside Printed Matter at our Booth #134.
Preview + Opening: Thursday, April 7, 12–9pm
Fair Hours: Friday, April 8–Saturday, April 9, 11am–6pm, Sunday, April 10, 11am–6pm
---
Artist Sasha Phyars-Burgess has produced a new photograph in support of Printed Matter. Black Barbie, Austin, Chicago, 2020 was taken in the West Side Chicago neighborhood of Austin at Moore Park. By photographing Austin, the artist shares powerful and perhaps otherwise unseen images of the Black community that lives there. Within her practice Phyars-Burgess employs documentary photography techniques and at the same time the photographs offer a glimpse into intimate and familial environments.
Learn more and purchase here.
For more information about the special Chicago event we're hosting with Sasha Phyars-Burgess, click here.
---
Artist Ryan Travis Christian has produced a new risograph print edition, HAMMER, 2022, in support of Printed Matter and Perfectly Acceptable Press. Impacted by Chicago-style figuration, Christian's cartoon characters are uncanny and familiar, often conveying ominous messages. Finding inspiration in vintage political cartoons and hand-drawn animation, the artist creates absurd and often personal narratives that reflect on a complicated contemporary existence.
Please note this item is still in production and will ship beginning April 25.
Learn more and purchase here.
---
Friday, April 8: you are invited to a gathering co-hosted by Printed Matter, Buddy, and Co-Prosperity! We'll be in town for EXPO and we'd love to meet up with some of our artists' book colleagues based in and around Chicago.
The evening begins at Buddy, a local shop and community center, from 5–8pm. Later we'll head to experimental cultural space Co-Prosperity in Bridgeport, who is hosting us for an opening and drinks from 8–11pm, with drinks sponsored by Tanqueray & Marz Brewing.
We look forward to seeing you there!
Facebook
Tweet