A new program series on digitally native publishing
January 25 - February 15, 2022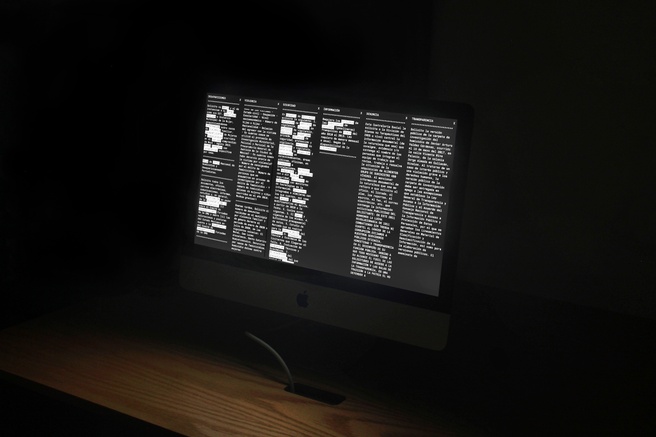 Following an energizing week at NADA Miami 2021, we're pleased to announce a series of four programs that expand upon the commissioned online projects by publishers Anteism Books, Hyperlink Press, TXTBooks Press, and artist Federico Pérez Villoro. Beginning on January 25 and taking place over the course of four consecutive Tuesdays, join us for conversations about the creative development of these digitally native publication projects.
Please note these conversations will be taking place on zoom as well as YouTube Live.
Program Descriptions
JANUARY 25
​​Transparencia Index: Parasitical Research and Access to Information
During this presentation and participatory demo, Agnes Cameron, Tiger Dingsun, and Federico Pérez Villoro will discuss Transparencia Index, a project consisting of a custom-made software that automatically scrapes data from the Plataforma Nacional de Transparencia, a system through which people can request public information from the Mexican government. The software identifies existing requests associated with topics of common interest that were previously denied on the basis of containing information "classified" by authorities. This ever-increasing flow of unanswered civic concerns are organized as an interactive website that aims to register, through labyrinthine hyperlinks, the bureaucratic opacity and strategic silence of the country's administrative institutions. Participants of this event will be prompted to contribute meaningful terms to perform automatic queries, increase the project's database, and to collectively look for possible tactical uses to the tool.
Agnes Cameron is a hardware and software developer based in London, UK. She has a particular interest in simulation, and in distributed/collaborative knowledge systems. She works with the Knowledge Futures Group, developing tools for open data publishing, and as a specialist technician at University of the Arts London's Creative Computing Institute. She is also a resident at Somerset House Studios, and a co-founder of the research studio Foreign Objects.
Tiger Dingsun is a software engineer and graphic designer based in Philadelphia, PA. His work often investigates the intersections between poetics, web technologies, and digital media. He is also a researcher at Other Internet. More can be found here. He graduated from Brown University and Rhode Island School of Design in 2020, with a degree in Computer Science and Graphic Design, respectively.
Federico Pérez Villoro is an artist and researcher living and working in Mexico City. Through texts, performances, and digital artifacts, Federico explores the operational capacities of images as they become data and the ways in which state, corporate and institutional authority is exercised through computational technologies. His work has been exhibited internationally and published by Printed Matter, C Magazine, diSONARE, Gato Negro Ediciones and the Walker Art Center's The Gradient.
FEBRUARY 1 Panel Discussion—afila.si: Black Experience isn't a Spectacle
afila.si [æfilæsi] is a collective digital library anchored in Afro-centered perspectives of history, with aims to fortify the accessibility of these cultural productions through fact-based notes about the othered. In 2020, afila.si organized an exhibition titled Black Experience isn't a Spectacle, which explored the legacy of the voyeuristic gaze in visual representations of the Black body.
In this discussion, curator Venessa Appiah, designer Jesse Katabarwa, and publisher Harley Smart of Anteism Books discuss the context of this exhibition, its iteration as a special online project for Printed Matter + EXILE Books at NADA Miami, and the ways in which the website functions as a repository and resource for the study of Black radical thought.
Venessa Appiah is an Africanist researcher and curator specializing in theoretical understandings within the disciplines of African Studies, Film/ Visuality Studies and Art History. Her graduate studies examine representations of eroticism in Sub-Saharan African cinema. Having worked for the National Gallery of Canada to grassroot independent initiatives, her curatorial practice engages with cultural productions ranging from pre-colonial era to post-digital crypto art.
Jesse Katabarwa is a visual artist who wields image and literary sequencing as a means to generate and excavate living narratives. His works expose the paradoxes and fractures embedded in the contemporary experiences of what is deemed the "other".
Harley Smart is co-founder of arts publishing company Anteism Books and is operator of the commercial bookbindery BookArt inc. 
As a graduate student within Concordia University's Design and Computation Arts, 
his research explores how machine intelligence may transform independent publishing practices. 
He enjoys working with artists, writers, designers and researchers to produce thoughtful, interdisciplinary, and challenging new bookworks, installations, and other markers of progressive, contemporary culture.
Image Credit: Artists Tania Doumbe Fines and Élodie Dérond featuring ibiyanε, debut collection of Bantu sculptural designs. Photography by: Karl Obakeng Ndebele
FEBRUARY 8
How to Emerge: Towards the Emergence of Equitable Zine Fairs
This conversation between Hyperlink Press (Taehee Whang and Jeong Lee) and Yellow Pearls Zine (Samantha Skinner) discusses strategies and tactics for organizing equitable zine fairs, and how these decisions can help define community and care.
Hyperlink Press is a zine/curatorial collective that seeks to distribute work by artists that navigate in-between spaces of the internet, queer communities, and diaspora experiences. Their mission is to uplift marginalized and underrepresented experiences, identities, and histories in the art gallery and technology field.
Samantha Skinner is a multimedia Brooklyn-based producer bringing her experiences in filmmaking, social impact producing, and mental health advocacy to the projects she works on. Samantha created Yellow Pearls Zine for her graduate thesis project at NYU in an effort to guide self-healing, rage, and community care for Asian femmes.
Together, Hyperlink Press and Samantha (Yellow Pearls Zine) devised a zine fair model that redistributed the commission fee to compensate artists/zine makers/vendors/contributors for a fun blast of zines, workshops, panel talks, and music.
Image Caption: Still from howtoemerge.artistsbooksmiami.org.
FEBRUARY 15
Book Fell Into Ocean: Developer's Log
Join Nichole Shinn, Robert Blair, and Kurt Woerpel from TXTbooks to discuss "Book Fell Into Ocean," an in-browser game launched with Printed Matter + EXILE Books at NADA Miami. Featuring 24 artist's works floating off the coast of low-poly Miami, the user pilots a Riso-drone to survey the damage from a container ship crash. The discussion will focus on the development process, game-as-publication, and the collaborative effort that produced the online exhibit.
TXTbooks is an artist-run independent publishing initiative in Brooklyn, NY. Our interest is in self-publishing as a collective while facilitating projects with artists and writers working across many disciplines. Our best case scenario is to publish those who have not yet considered producing a zine, or at least don't consider it their main practice; Our ultimate goal is to create dumb jokes and passion projects with as many people as possible.
Our publications are resolved via Risograph printing for cost-effective self production and as an informal way to aesthetically bind our output. Founded in 2014, TXTbooks is currently maintained by Robert Blair, Thomas Colligan, Nichole Shinn, Rose Wong, and Kurt Woerpel.
Facebook
Tweet