Noisy Autumn Sidewalk Book Launch
at Printed Matter / St Marks
2PM - 4PM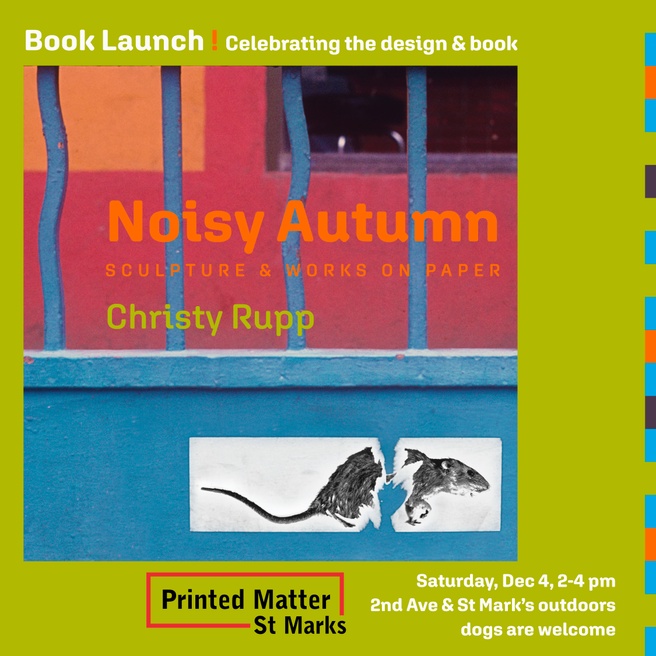 Join us at Printed Matter / St Marks for a sidewalk book launch event for Noisy Autumn by Christy Rupp.
Noisy Autumn is a career survey of sculpture and works on paper by artist Christy Rupp. The book's title pays homage to Rachael Carson's groundbreaking publication Silent Spring on its 60th anniversary, bringing together more than 4 decades of sculpture and works on paper by, an artist working on the front lines of Eco art since the 1970's. Spotlighting the waste stream and its impact on habitat, the work takes aim at consumption and how we form our opinions about nature.
The book is a collaboration with artist and book designer Abby Goldstein, and features essays by Lucy Lippard, Carlo McCormick, Nina Felshin, Amy Lipton and new poems by Bob Holman, as well as 108 color photos of work spanning the past 4 decades. Production management by The Actualizers.
---
Christy Rupp is an American eco-artist and citizen scientist. Growing up in the Rust Belt of upstate NY, she witnessed firsthand the hazards of industrial waste and efforts to disguise the underlying causes of pollution. She moved to NYC in the late 70's as it faced bankruptcy and offered fertile ground for a generation of artists lucky enough to participate in the petri dish of history, culture and nature that was late capitalist downtown. Originating from an interest in urban ecology and the waste stream, Rupp's work taps into universal themes of climate change and justice. Her work has focused on environmental hazards like fracking waste, habitat loss, water quality, and resource extraction.
Abby Goldstein (b. Chicago, IL) received a BFA from Pratt Institute and an MFA from the School of Visual Arts, NY. Ms. Goldstein is a Professor of Art and head of the Graphic Design area of study at Fordham University, NY. She has designed books and catalogs on art and design including the award-winning Helvetica and the NYC Subway. She has exhibited her art in the US and abroad and has received numerous awards, residencies, fellowships, and public commissions. Ms. Goldstein lives and works in Brooklyn, NY. See more at
Published by Mandala Publishing, November 16, 2021, on 96 pages of woodfree paper.
Facebook
Tweet