Buddhist Bubblegum: Esotericism in the Creative Process of Arthur Russell
Book launch, author Q & A, and live musical performance
1 - 4PM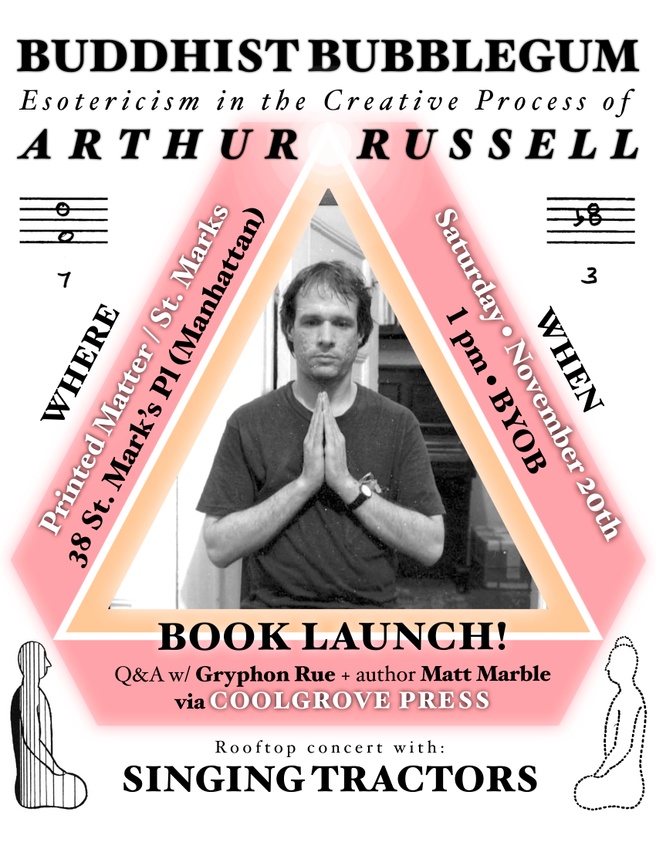 Printed Matter / St Marks is pleased to host the launch of Buddhist Bubblegum: Esotericism in the Creative Process of Arthur Russell by Matt Marble via Coolgrove Press (NYC). The New York Times has hailed Buddhist Bubblegum as "groundbreaking work." Through Marble's exhaustive exploration of the musical scores and personal notebooks of performer, composer, producer Arthur Russell (1951-1992), he reveals the artist's unique fusion of musical and spiritual disciplines. Charting his lifelong Vajrayana Buddhist practice, we learn how Arthur creatively adopted traditional methods of mantra, mandala, meditation, astrology, numerology, and more. This will be a special event for fans of Arthur Russell and those interested in the application of Buddhism and broader esoteric traditions to music and the arts.
The event will take place on the open rooftop of Swiss Institute. It will begin with a Q&A with Marble and event organizer Gryphon Rue, followed by a book signing and rare live rooftop concert by The Singing Tractors, featuring Arthur Russell's friends and bandmates: Mustafa Khaliq Ahmed, Ernie Brooks, and Bill Ruyle, led by Peter Zummo.
Of note, Mr. Zummo will be performing on a Casio CZ-101 synthesizer and reviving his original echo programming, both of which spent a year in Arthur's possession. For Russell, the casio was often used as a drone texture, similar to the tanpura in Indian raga; while echo would become a primary musical and spiritual concept for the artist, culminating in his album, World of Echo, in 1985.
Join us as we celebrate the life and music of Arthur Russell, posthumously echoing from this Manhattan rooftop.
Matt Marble (b. 1979, Mississippi) is an artist, author, and audio producer currently living in Greensboro, NC. Through his own music and visual art, as well as through historical research, writing, and podcasting, Matt explores the inspired intersections of art and metaphysics and the intuitive disciplines they mutually employ.
Gryphon Rue is an artist and composer-performer working across disciplines. Rue records and performs solo, in the audiovisual project Rue Bainbridge, and in duos with Merche Blasco and Vertical Foliage. Rue is the editor and composer of Strange Attractor (pub. Inventory Press & Ballroom Marfa), a book exploring the uncertainties and poetics of networks, environmental events, technology, and sound. Hosts Earmark on Montez Press Radio, a program of long-form conversations with artists working in sound. Films are distributed by The Film-Makers' Cooperative.
More from Coolgrove Press here
This event is first come first served, and will start promptly at 1pm. There is a suggested donation of $20 for the musical performance. This event will take place at Printed Matter / St Marks (38 St Marks Pl) on the Swiss Institute roof, which is accessible by elevator. Proof of vaccination required.
Pictured above: Bill Ruyle, Peter Zummo, Arthur Russell, 1985.
Facebook
Tweet