Associate Director Max Schumann in Norway and Finland – PART 2, Helsinki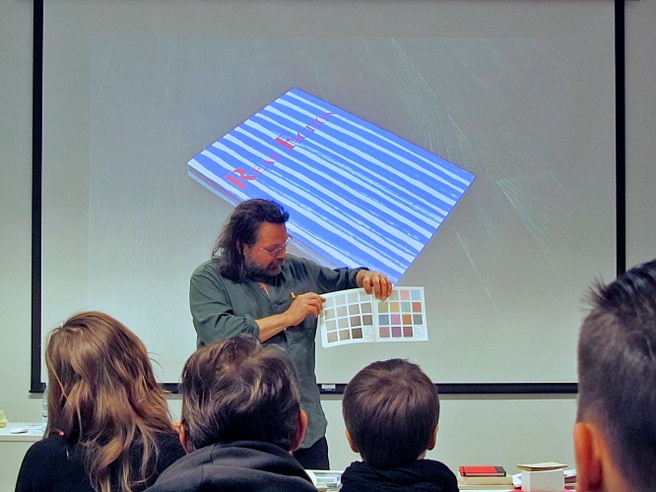 Printed Matter's Associate Director Max Schumann has been invited to give several talks in Norway and Finland this week. Here's a dispatch from his second stop:
Greetings from Helsinki Finland. I've been attending the "Publish! Seminar" which is being held for a first time special interdisciplinary class for graduate (Phd and MFA) and undergraduate students, on artists' books and publishing, at the Academy of Fine Arts, Finland's largest art school. The class has been organized by Professor Päivikki Kallio, the head of the print department, but faculty from most of the other departments are participating as well. It will result in the students (about 40) producing artists' publications of their own. Päivikki attended a talk I gave at last years CAA conference, plus I met with a couple of the other professors from the Academy when they visited Printed Mater last spring.
So far the presentations have been an interesting mix of topics by publishers, artists, designers and other artist publishing enthusiasts from Finland, and other Scandinavian and northern European countries.
Highlights have included Jyrki Siukonen, Finnish researcher and conceptual artist, who gave a fascinating talk on the materiality of both print and concept, by reviewing historical examples of the book as well as manuscripts. Tuukka Kaila, a photographer and artist book enthusiast, gave a presentation on artists books with a broad sampling from his own collection, including many familiar titles by the likes of Linus Bill, Erik Kessels, Urs Lehni, Ari Marcopoulos, Stefan Marx, Erik van der Weijde and others. Indrek Sirkel and Anu Vahtra of Estonia gave a presentation on their publishing imprint "Lugemik", and related practices: design, photography, teaching at the Estonian Academy of Arts, and a just recently opened bookshop in a growing alternative arts complex in a former industrial space. Lugemik was a first time exhibitor at this years NYABF, where I first met them, and I tacked a few more orders of their wonderful tiles for Printed Matter after their talk. And Willem van Zoetendaal of Amsterdam gave an engaging presentation of his own publishing projects. Coming from a background in graphic design, Willem has been publishing very finely produced photo based art and artists' books for decades and has scores of titles under his belt.
Apparently there isn't much of an artists' book publishing community in Finland at present. Päivikki explained that in the 1970's, loosely associated with conceptual and other experimental art movements, there was a Finnish out put of artists books, but that it has since largely dissipated. Finland has a very strong international reputation for design, but the state and corporate support is focused on the industrial and commercial areas. Paivikki said that her hope is to steer some of that attention and support towards the fine arts and artists' book publishing, and that this seminar and class was conceived in part to encourage a new generation of artists' publishing projects.
Facebook
Tweet