Paper Boats Zine Artist Talk
11am EST / 9am MDT / 6pm EEST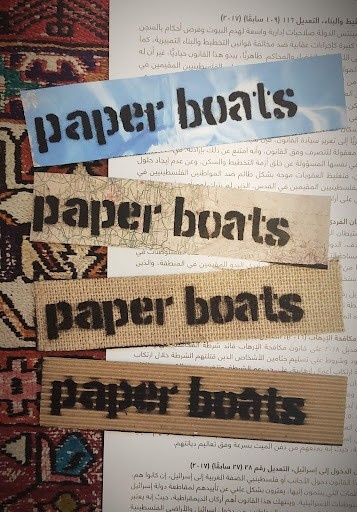 Paper Boats Zine, a collaboration between 17 artists from Gaza and Salt Lake City, is ready to launch at Printed Matter in New York City. Join us for this special event, a virtual artist talk, with Gaza and Salt Lake City co-creators, as they discuss collaboration, dislocation, and the creative process that can defy our geographies and the oppressive structures of an occupation. Hear from the artists about this unique collaboration in a pre-recorded interview, followed by a live Q&A.
100% of profits from the zine sales have gone to the 14 artists in Gaza.
Panelists:
Angela Brown
I visited Palestine in 2019. I could not forget the people I met, the history I learned and the severe oppression I witnessed. It changed me. I felt a strong desire to create based on that experience. Using my skills as a magazine editor, publisher and nonprofit founder, I was invited to join the Paper Boats team where we amplify contemporary Palestinian creative works.
Tamrika Khvtisiashvili
I got my first gray hair while living and working in the West Bank, Palestine. I believe geography defines us, as it has defined me as an immigrant from the former Soviet Union. But I saw how Palestinian identity stretched beyond excepted ideas of borders and ethnicity; how absurd it was that people's existence was questioned in their faces. As an educator and an artist, co-creating Paper Boats was one of many ways I choose to participate in my life long commitment to Palestinian liberation.
Adela Rahmati
"I met my first Israeli checkpoint with a young female soldier, who smiled, in 2018, then held me behind closed doors. I'm honored to be a co-creator of Paper Boats, with women who resist." Adela teaches cultural anthropology at Salt Lake City Community College, and is interested in power, gender, bureaucracy and structural violence.
Hanan Habashi
I first discovered writing as a refuge during the 2008 war on my city. I began to write letters to God to convince Him why I shouldn't die or my family be harmed. They were atrocious days. They exposed us to the wreckage of the human soul. Life as a prayer for survival was very fragile. Not once after all these years did I find out that I reconciled with what had happened to us. I just remember that writing helped me stay sane. This is why I aspire to create safe spaces that help others survive by writing. Hanan teaches writing at the Islamic University of Gaza.
Nour Alsaqqa
Nour is a Palestinian film student studying abroad in Turkey.
Sahar Taiseer Kalloub
Sahar is a Palestinian author from Gaza. She studies English language and literature at the Islamic University of Gaza. She loves life. She dreams to live and tries to create her own world through writing.
Asma'a Mueen Abdu
A spiritual creature living in a human body, celebrating the little wins that she gains tightly from life, appreciating every single morning that holds sun, refusing all the roads that grow her up because she loves the No-GrowUp choice, and finally writing what makes her exhale as she's just got her healing.
Kholoud Balata
This is Kholoud Balata, 22 years old. I'm a writer, translator and lecturer. I grew up in Gaza. As an introvert living in an extrovert environment, writing has always been my only tool to survive. Life goes on after all. It always has. It always will.
Gaza Team
Asma'a Abdu IG: asmaabdu3112
Alaa Alhattab IG: alaa.o.hattab
Nour AlSaqqa IG: nouralsaqqa
Israa Alsigaly
Kholoud Balata IG: kholoud.balata
Dina Erheem IG: dinas21
Hanan Habashi IG: hananhabashi_
Raedah Habboub
Malak Hijazi
Sahar Kalloub IG: saharkaloub
Amena Shabana IG: amna.j.shabana
Haya Sahar Issa
Nadya Siyam IG: nadyasiyam
Malak Zakout IG: malakzakoutova
Salt Lake Team
Angela Brown IG: therealangela
Tamrika Khvtisiashvili IG: tamrikak
Adela Rahmati IG: lil_jujeh
(Note: anyone without a handle listed chose not to share or doesn't have one.)
Facebook
Tweet