Tote Bag Launch and DIY Mail Art Party!
2-4PM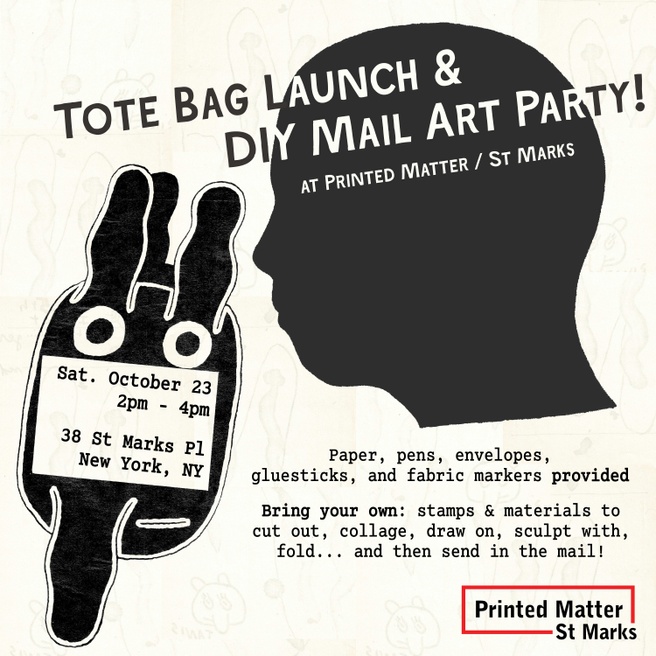 Join Printed Matter / St Marks on Saturday, October 23 from 2-4m for a rooftop mail art-making party and launch of their store's new tote bag! The bag features Ray Johnson's iconic bunny head drawings, some with the names of artists and celebrities that Ray Johnson used in his works; the bag comes with a pen so you can name the rest.
The launch event will include a DIY mail art jam—paper, pens, envelopes, gluesticks, and an array of fabric markers will be available. Bring your own stamps and materials to cut out, collage, draw on, sculpt with, fold up… and anything else you can imagine! For inspiration, check out Printed Matter's mail art page here.
---
Ray Johnson (1927–1995) was a seminal Pop Art figure of the 1950s, an early conceptualist, and a pioneer of the mail art movement, in which networks of artists exchanged works by way of the postal service. Johnson's preferred medium was collage, integrating texts and images drawn from a multiplicity of sources including everything from mass media to recorded telephone conversations.
Printed Matter / St Marks, located in the heart of the East Village, is Printed Matter's second location. Its catalog and programming are curated to highlight the rich artistic worlds of Downtown New York past and present. It is located inside Swiss Institute at 38 St Marks Pl, New York, NY 10003.
The Bunny Heads bag was produced with the support of the Ray Johnson Estate. For more information on Ray Johnson, please visit www.rayjohnsonestate.com or the Estate at 34 E. 69th Street, New York, NY 10021.
Facebook
Tweet