Printed Matter and EXILE Books at NADA Miami
November 30 - December 4, 2021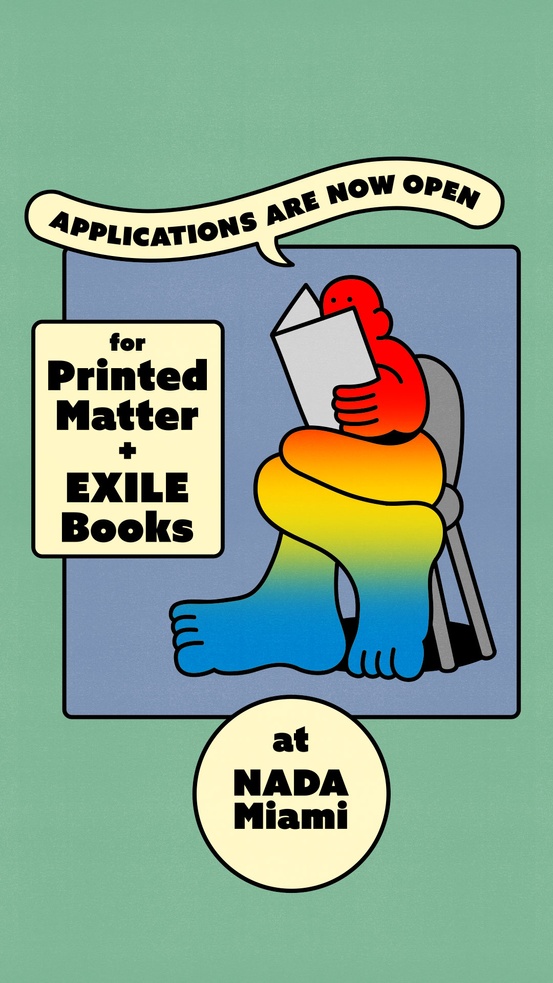 APPLICATIONS ARE NOW CLOSED.
We are thrilled to share that Printed Matter and Miami-based EXILE Books will organize a presentation of artists' book publishers at the 19th edition of NADA Miami at Ice Palace Studios, November 30–December 4, 2021, during Miami Art Week.
This exciting collaboration will host exhibitors featuring new work as well as historical and rare publications, accessible and DIY approaches to bookmaking, and subject matter that engages with varied critical perspectives. The onsite presentation will be accompanied by a digital platform featuring a schedule of free online programs in addition to exhibitor and publication highlights.
Exhibitors will be selected based on the strength of their submitted materials. Artists, publishers, and booksellers are invited to apply with their most recent projects. All are welcome and local Miami applicants are especially encouraged. We are able to accommodate approximately 35 exhibitors in a tented area at NADA Miami's Ice Palace Studios. The space will allow for tables with and without wall display, and exhibitor fees will range between $500–$1200. These fees, as with all of Printed Matter Fairs, will go directly toward the hard costs of producing this non-profit production.
This event at NADA Miami is a unique opportunity for publishers to engage with a large audience of art enthusiasts and launch new projects. Printed Matter partners with a handful of art fairs around the world, allowing us to expand the reach of our mission by representing our communities near and far and sharing a broad range of contemporary art publishing with the public. We're grateful to NADA for this kind invitation.
The deadline to submit the application is Monday, August 16, at 11:59pm EST. As noted above, space is limited. Please email fairinfo@printedmatter.org with any questions. Learn more about what NADA has to offer here.
About Exile Books
EXILE Books is an experimental artist's bookstore and project space located in the Little Haiti neighborhood of Miami. We produce publications and site-specific events such as exhibitions, performances, lectures, fairs, and workshops in order to advance circulation and engagement with artist's publications. EXILE seeks to establish a pervasive print culture in Miami by creating hubs for independent publishing that represent and serve our diverse community.
About the New Art Dealers Alliance (NADA)
Founded in 2002, the New Art Dealers Alliance (NADA) is a not-for-profit 501c(6) collective of professionals working with contemporary art. Its mission is to create an open flow of information, support, and collaboration within the arts field and to develop a stronger sense of community among its constituency. Through support and encouragement, NADA facilitates strong and meaningful relationships between its members working with new contemporary and emerging art. In addition NADA hosts annual art events in Miami and New York, including NADA Miami, NADA x Foreland, and NADA House.
Artwork by Gabriel Alcala
Facebook
Tweet