Clayton Patterson: Beauty Mark
A Window Installation Curated by Gryphon Rue
March 10 - April 25, 2021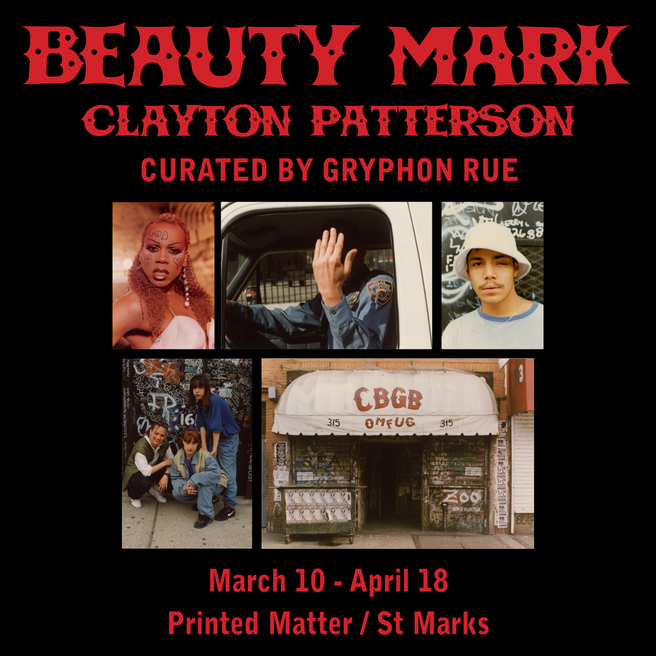 This window exhibition, curated by Gryphon Rue, consists of over 300 of Clayton Patterson's iconic photographs of the Lower East Side tiled on the windows of Printed Matter / St Marks along with three prints from his Pyramid Club portrait series.
"Clayton Patterson's photo archive of the Lower East Side is a living treasure that plays by its own rules and has its own logic. Paddling through can be hairy. The search felt like punching air holes from inside a cardboard box, or digging through the pockets of a ghost. How does one find order in an avalanche of souls?
Clayton gave me permission to dive in, flail for a while. After mapping the cavernous regions, I constructed two groups of images spanning 1985-1999 for the windows of Printed Matter / St Marks, titling the creation Beauty Mark: a plunge into the honest-to-God beauty, ugliness, glory, dignity, innocence, wisdom, sexiness, sweetness, danger, decency, wisdom, brutality, joy, love, warts-and-all of Clayton's LES. It's a place that demands lifeblood and honesty, a keeper of the beating heart of one of the most complex, eccentric, diverse areas of NYC.
There is also a smooth and easy collective body of people gyrating with pleasure and play.
For more than thirty years Clayton has photographed folks from the neighborhood and passersby in front of his door at 161 Essex St. Some of these people are photographed over decades. Many portraits find their way into Clayton's street-facing window. Because of its numerous graffiti tags Clayton's door became the Wall of Fame, and the photos in the window the Hall Of Fame.
All the faces, the stories in the eyes, from skeptical, to wakeful, stricken with emotion, are as widely varied as there are types of people. We can see the moments where souls connected. Souls were saved. The many walks of life, a chain of Hindu gods, gang signs, peace signs, a hand gun, hand signs of children, a constellation of skin colors, eyes, hair, teeth, body languages. Dress, fashion, the youth can tell you the year and season just by the sneakers.
Ordinary life, friendship, lovers, gangs, crews. Babies in strollers in the 80s, teenagers flexing with their poses in the 90s, suddenly adults with kids perched on their shoulders at millennium's end.
The vanished and vanquished clubs and squats. Undercover cops, the DEA busting bodegas, Neighborhood Watch, murals and tributes, rent increases, demolition of community. Men in trench coats carry a white scale model of a city block into a building, try to sell the idea of selling the neighborhood. Not knowing their high-end designers' clothes were not a symbol of sophistication and a good education, rather something closer to an invader's military garb.
Protests in Tompkins: "STOP WAREHOUSING APARTMENTS" … "GENTRIFICATION IS CLASS WARFARE. FIGHT BACK!" … "THE ONLY GOOD RACIST IS A DEAD RACIST. EDUCATE OUR CHILDREN…DON'T PUNISH OUR PEOPLE!"
Little did we know how prophetic the slogans were."
– Gryphon Rue
All photos displayed are for sale as 3.5" x 5" prints signed by Clayton Patterson. Turnaround time for orders is one week.
Facebook
Tweet