Catalog / Artists' Books / Printed Matter / 1976–2020 / $48.66
Book Launch & Conversation with Samuel Bich, Max Schumann, and Regine Ehleiter
3pm EST / 9pm CET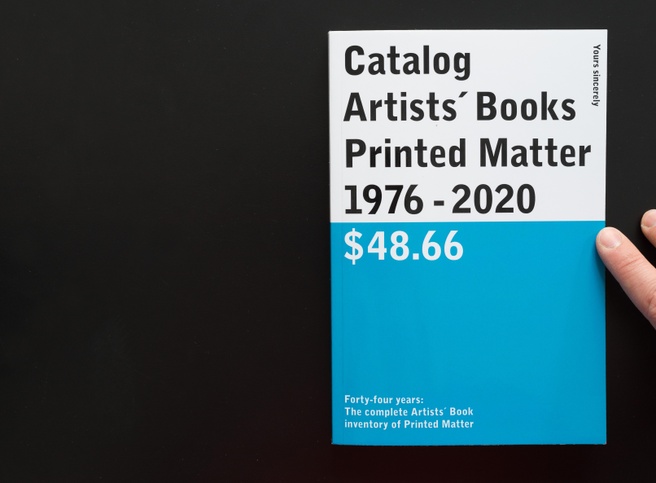 Please join us for the launch of Catalog / Artists' Books / Printed Matter / 1976–2020 / $48.66 with Berlin-based artist Samuel Bich in conversation with Executive Director of Printed Matter, Inc. Max Schumann, and art historian Regine Ehleiter.
This program will take place live on Zoom – click here to register.
For Catalog / Artists' Books / Printed Matter / 1976–2020 / $48.66 Samuel Bich reprinted the inventory of all artists' books distributed by Printed Matter Inc. from their founding in 1976 to the year 2020, thereby creating an invaluable and inspiring resource for anyone interested in the recent history of artists' books. The catalog pays tribute to a large number of artists working in the field of self-publishing who, in many instances, slipped under the radar and can now be rediscovered.
Conceived as a form of documentation-as-art, the catalog consciously inscribes itself into the very archive it contains. As a reproduction of deliberately unedited records and documents, it manifests an alternative history of Printed Matter, Inc. in the form of an artist's book.
Apart from artist names and publication titles, Samuel Bich included the books' retail prices in the catalog, concluding that $48.66 was the average price books were sold for in the period from 1976 to 2020. This figure can both be read as a nod to the precarious economy of self-publishing, as much as it points to the challenging business of running a special interest book shop. The "surviving history of Printed Matter," as Max Schumann so adequately phrased for an earlier exhibition, is one characterized by the need to strike a balance between radical accessibility and economic survival.
In conversation with Max Schumann, we will take a look behind the scenes of Printed Matter Inc. as an institution, and will discuss their economic models, politics of display, ideas of equal representation and larger questions of (gender) diversity over the 45 years of their existence. Samuel Bich's catalog beautifully encapsulates these issues by offering immediate access to Printed Matter's archival records that his own book, distributed by Printed Matter, Inc., has now officially become a part of.
Published by Yours sincerely, Berlin, 2020.
Samuel Bich currently lives and works in Berlin. He is interested in strategies of visualizing memory, experimental presentational practices, such as the exhibition-as-book, and the legacies of institutional critique. For an exhibition in 2018/19, he staged his own retrospective simultaneously at three different artist-run spaces in Leipzig. Samuel was a curatorial member of the artist-run space Foundation Vienna, and in 2020 founded the publishing house Yours sincerely in Berlin. He holds an M.A. from the Academy of Fine Arts Vienna. His work was shown, amongst others, at the Kunsthalle Vienna as part of the exhibition Publishing as an Artistic Toolbox: 1989–2017, and his artists's books are held in the collections of the Volkswagen Library Berlin, the German National Library and the Getty Research Institute.
Max Schumann (Executive Director) has been with PM for over 30 years, and has been Executive Director since 2015. Schumann has played a key role in the development of many of Printed Matter's programs and services over the past four decades. Among many other projects at Printed Matter, Schumann has curated the exhibitions PROTECT ME FROM WHAT I WANT: The Multiples and Editioned Works of Jenny Holzer, 2002; A Show About Colab (and Related Activities), 2011, and Friendly Fire (ongoing), an annual exhibition at Printed Matter's Art Book Fairs featuring politically-minded artists and artist collectives focused on the intersection of art and activism. Schumann is also an artist whose work has been exhibited internationally, and is a member of the loose-knit Cheap Art movement. He serves on the boards of Primary Information, a nonprofit artists' publishing imprint, and the Bread and Puppet Theater, one of the longest running nonprofit experimental theater groups in the US.
Regine Ehleiter is an art historian and curator who recently handed in her PhD thesis on publications as sites of exhibition in the 1960s at the Academy of Visual Arts in Leipzig. In 2015/16, she undertook extensive archival research at MoMA, the Archives of American Art and the Getty Research Institute, and in 2018/19 was a Predoctoral Visiting Scholar at the Courtauld Institute of Art in London. For her exhibition Re: Groups at the 2019 Vienna Art Book Fair, she invited contemporary artists to work with instructions conceived by Printed Matter co-founder Lucy R. Lippard in 1969. Her interest in artists' books first took shape with a zine exhibition (Thanks For Sharing, 2010) she organized at D21 Kunstraum in Leipzig. Regine is currently working for an arts foundation in West Germany, offering artists relief grants to soften the effects of the Covid-19 pandemic.
Facebook
Tweet