Light Journal: A Conversation with Francesca Capone and Charlotte Taillet
2PM EST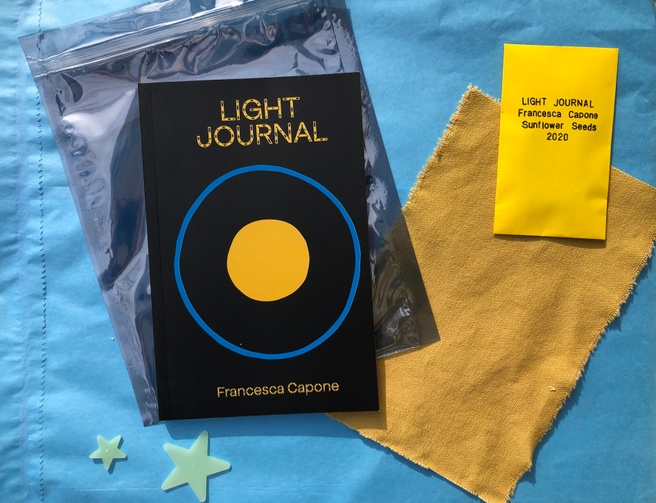 Join us for a conversation with Francesca Capone (Portland, OR) and Charlotte Taillet (London, UK) on their collaboration and process for Light Journal, an artist book which took its final form as a result of their close intercontinental friendship.
The two will navigate across an explorative research of the various forms in which the sun & light appear as focal points. From a record of the light as a journal, it expends to spiral sun petroglyph, neon light, windows to the sky, basketmakers, sundials, sun dance, paintings and maps of the stars, turmeric dye, sun flowers folklore, even synthetic light absorbing plastic.
This program will take place live on Zoom - click here to register!
Light Journal is a conceptual writing project, where daily perceptions of light have been recorded as notes on a smart phone (a source of light unto itself). Similar to the process of weaving on a loom, the book starts at a point in time, and then builds upwards towards the present. The text reads backwards from most present to past, measuring the stormy transition from October 2019 into April 2020. It forms a long and colorful tapestry of text in time, and a soft coping meditation and response to the difficult climate we are living through.
Built into the text are symbolic drawings from petroglyphs rendering light forms, which are scattered all over the Pacific Northwest, where journaling light has some of its most historic roots - measures of time carved into stone by early humans. Accompanying the book are a series of concrete poems: sunflower seeds, a piece of turmeric dyed canvas, a glow in the dark star, and a postcard print of a neon weaving.
Francesca Capone is a visual artist, writer, and materials designer. Her work is primarily concerned with the creation of materials and a poetic consideration of their meaning. She is interested in how tactile forms simultaneously serve as functional surfaces for daily life and as a mode of communication or symbol within the cultural paradigm. Her books Woven Places (Some Other Books, 2018), Text means Tissue (Self Published, 2017), and Weaving Language (information as material 2018, Self Published 2015) focus on textile poetics. They are available for viewing at the MoMA Library and the Watson Library at the Metropolitan Museum of Art. She has exhibited at Whitechapel Gallery in London, LUMA/Westbau in Switzerland, Textile Arts Center in NYC, and 99¢ Plus Gallery in Brooklyn. She has been an artist in residence at the Josef and Anni Albers Foundation and Andrea Zittel's A-Z West. Her academic work includes lectures and workshops at Brown University, Rhode Island School of Design, Reed College, University of Leeds, and Alberta College of Art and Design, among others. Represented by Nationale, Portland, US.
Charlotte Taillet is a London-based designer who explores the social impact of production typologies across print, digital, and product design. Past projects and exhibitions include Map to the Stars, in which she organized a publication of commissioned essays, interviews, and artworks about the history of free-form radio culture in Los Angeles, produced during an HMCT residency at Art Center, Pasadena; Pavillion, an exhibition for which she designed a set of bench-cushions to facilitate lectures and performances at the Werkplaats Typografie, Arnhem, Netherlands; and the creation of an original typeface for Paris fashion house LGN. Taillet received a Masters in Graphic Design and Typography from the Werkplaats Typographie, where she operated the school's long-standing pirate FM station, Phantom Radio, in collaboration with Joel Colover. In 2017 she and Colover created Comet Radio, an independent online transmission broadcast from their home on Comet Street in Deptford, London.
Facebook
Tweet