To the Streets: Art and Activism Today
10:30 AM EST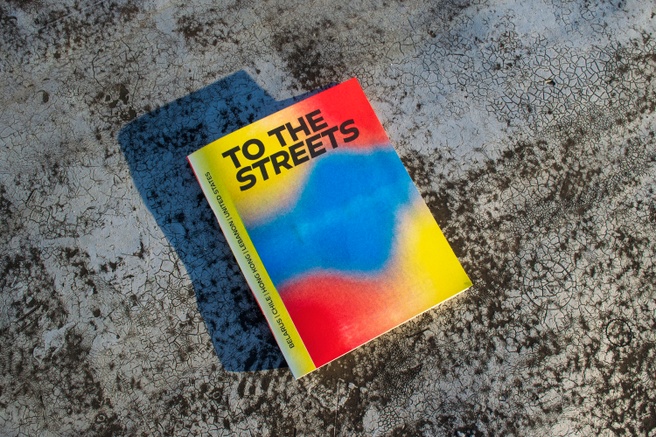 To celebrate the launch of the To the Streets fanzine and Window Installation, we are happy to host a panel discussion with three artists and activists from 3 different parts of the world. Gabriel Ebenperger (Chile), Candy Choi (Hong Kong), and Paola Mendoza (New York) will discuss the role and use of artistic expression as a way of protest and tool for change. From printing to performance and from the streets to social media, we'll discuss the legitimized spaces where art and activism converge. The discussion will be moderated by curator Antonieta Landa.
Click here to register!

Click here to purchase
"To the Streets was originally going to be an exhibition opening on June 1st, 2020, but this year, with all of its surprises, happened. We felt the urge to start the conversation about the global protests wave somehow, and that's how this zine was borne…" - Antonieta Landa, Curator of To The Streets.
This zine is a compilation of illustrated works by eight artists: Ailadi, Carmen Pizarro, Kana Philip, Gabriel Ebensperger, Catalina Bu, Matias Prado, Jana Traboulsi, and Rufina Bazlova. They are from five different parts of the world: Chile, Hong Kong, Lebanon, Belarus, and New York; all places where protesters have taken to the streets. This publication aims to take a look at this global movement and communicate to each other, and to the world, that you (we) are not alone.
Paola Mendoza is a film director, activist, author and artist working at the leading-edge of human rights. A co-founder of The Women's March, she served as its Artistic Director and co-authored the New York Times best seller Together We Rise: Behind the Scenes at the Protest Heard around the World. Paola's most recent book Sanctuary was released to critical acclaim by Penguin. Ms. Mendoza is also a film director whose films have premiered at the most prestigious film festivals around the world. Her films have thoughtfully tackled the complex issues of poverty and immigration on women and children in the United States. She was named Glamour's Woman of the Year in 2017 and one of Filmmaker Magazine's 25 New Faces of Independent Film. She is a co-founder of The Soze Agency and is a co-founder of The Resistance Revival Chorus, the critically acclaimed women's chorus that believes, "Joy is an act of resistance."
Candy Choi is the founder and director of multi-disciplinary international art organization Young Blood Initiative. Choi is a curator and creative originally from Hong Kong. Over the past 12 years, she has been residing in Europe: London, Amsterdam, and Riga. Choi has a background in fashion as an art form where she has worked in Paris and London Fashion Weeks. During the years living in Amsterdam, she founded The Vinyl Art Project - a sound-art focused project and later in 2014 Young Blood Initiative - an art platform and organization for experimentation and collaboration - where she has been curating exhibitions and public programs in Amsterdam, London, and Berlin, as well as collaborated with organizations in Hong Kong, South Korea, and Finland. Her projects are usually in line with current affairs and the mood of the society. In the past year, she has curated "Be Water" and "Silence is Compliance" in support of the social movement in Hong Kong, and most recently "Wake Up and Smell the Tear Gas!" that investigates the role of art in activism.'
Gabriel Ebensperger is a queer Chilean artist known for his colorful and humorous visual world and activism in the local LGBTQIA+ community. His creative body of work moves from graphic design, photography, illustration, humor, and literature. He collaborated for eight years with his illustrations for Paula magazine, where he later worked as art director from 2014 to 2015. His first graphic novel, "Gay Gigante" ("Gay Giant," Catalonia), was an instant hit, becoming a bestseller throughout the Chilean summer of 2016, winning the 2016 iBBy Colibri Medal award for best graphic novel and ultimately getting published by Tusquets in Mexico. His latest work, "El Libro De La Tristeza" ("The Book Of Sadness" 2018, Sexto Piso, Hueders), is a beautiful, minimal, and touching illustrated story around sadness and the pursuit of joy through imagination; it was published simultaneously in Spain, Mexico, and Chile with great success. Throughout 2018 and 2019, he worked with Swatch creating illustrated collaborations with international athletes. Gabriel is currently working on the follow up to "Gay Gigante," a graphic novel about love and cancer called "Just in case", while participating in the strong ongoing protests that ignited a social movement in Chile since last October.
Antonieta Landa is a curator and cultural worker. Landa is the founder and director of AL Works, an organization that brings contemporary Latin-American art abroad based in New York with a presence in Shanghai and Santiago, Chile.
Facebook
Tweet