Laura Raicovich and Seph Rodney in conversation
5 PM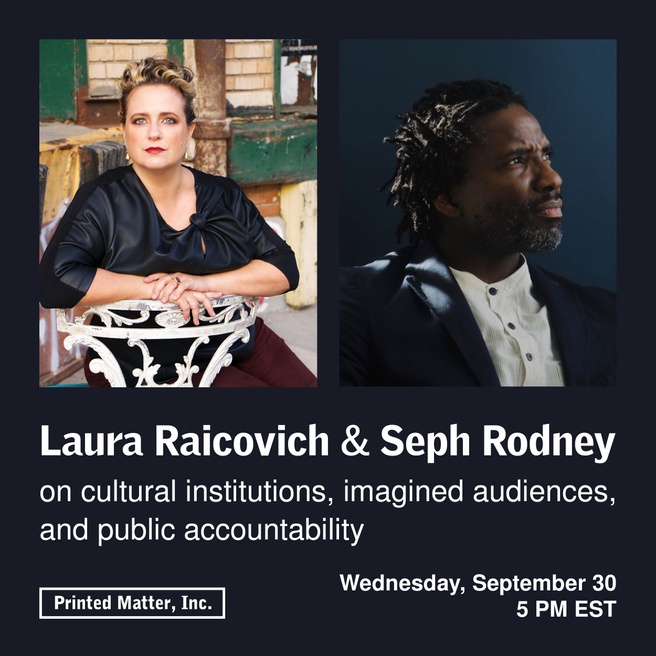 Please join us for a conversation between museum director Laura Raicovich and arts writer Seph Rodney. Drawing from Rodney's recent book The Personalization of the Museum Visit, and Raicovich's forthcoming Culture Strike: Art and Museums in an Age of Protest, the two will look at how publics are imagined for cultural space, how institutions count bodies and conceive of their audiences, and how these assumptions might be remade in a shift toward greater accountability, allowing museums to be better for more people.
This program takes place Wednesday, September 30, 5PM. Tune into the conversation between Laura Raicovich and Seph Rodney on Youtube here
Laura Raicovich is dedicated to art and artistic production that relies on complexity, poetics, and care to create a more engaged and equitable civic realm. She is currently serving as interim director of the Leslie Lohman Museum of Art and is working on a book about museums, cultural institutions, and the myth of neutrality (Verso, 2021). She is the recipient of both the Rockefeller Foundation Bellagio Fellowship and the inaugural Emily H. Tremaine Journalism Fellowship for Curators at Hyperallergic. Until early 2018, she served as President and Executive Director of the Queens Museum where she oversaw an inviting and vital commons for art, ideas, and engagement. That same year, she co-curated Mel Chin: All Over the Place (with Manon Slome and No Longer Empty), the first major presentation in New York City of artist Mel Chin in more than 20 years, which occupied the entire Queens Museum and multiple public sites in the city.
Seph Rodney, PhD, was born in Jamaica and came of age in the Bronx, New York. He became a staff writer at Hyperallergic in 2016 and is now the opinion editor and managing editor for the Sunday edition. He has also written for The New York Times, CNN, NBC Universal, and American Craft Magazine and penned catalog essays for Joyce J. Scott, Teresita Fernandez, and Meleko Mokgosi, among others. He has appeared on the AM Joy show with Joy Reid on MSNBC and on the Jim Jefferies Show on Comedy Central. He can be heard weekly on the podcast "The American Age". His book, The Personalization of the Museum Visit, was published by Routledge in May of 2019. In 2020 he won the Rabkin Arts Journalism Prize.
Facebook
Tweet