Charles Gaines: 'The Theater of Refusal in the Age of Liberalism' Zoom Panel
Co-hosted by Hauser & Wirth Publishers and Printed Matter
7-8PM EST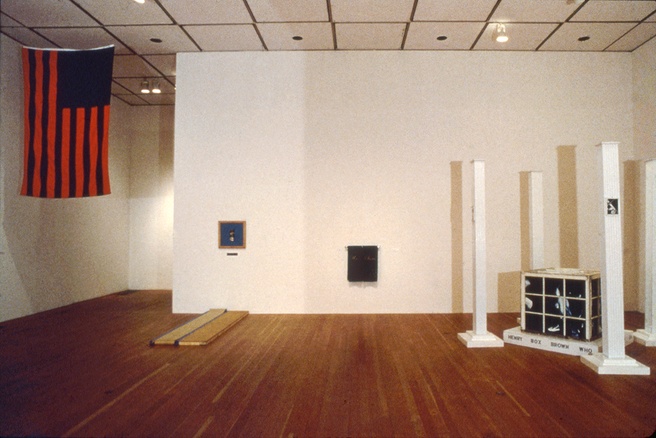 We're pleased to announce an upcoming virtual panel discussion co-hosted with Hauser & Wirth Publishers: The Theater of Refusal in the Age of Liberalism, with artist Charles Gaines, along with Rhea Anastas, Naima Keith, David Platzker, and Cauleen Smith, and introduced by David Senior. This program takes the place of a planned discussion and launch of Gaines's recent monograph Charles Gaines: Palm Trees and Other Works, at the cancelled 2020 LA Art Book Fair.
In 1989, Charles Gaines—alongside Catherine Lord, chair of the Department of Art—curated an exhibition at The Fine Arts Gallery at the University of California, Irvine, titled: Theater of Refusal: Black Art and Mainstream Criticism. The panel discussion takes this exhibition as a point of departure in order to engage a critique of art history and liberalism.
"Up through the early 1980s, minority artists were given very few exhibition opportunities, and those who were faced an audience of mainstream writers, artists and other practitioners who consciously and unconsciously marginalized their work. This marginalization was a product of a white supremacist institutional structure as well as overt racist practices and habits. The critical writing about this work contained language tropes that the mainstream used to separate these practitioners from the mainstream; they were found in critical writings (as well as other institutional settings such as education, museums and galleries) that were informed by a white supremacist ideology and history. White supremacism created a hierarchy of values that were the product of the Enlightenment Project's theory of universal principles. Ideas of taste were informed by these principles, which made these judgments absolute. "Theater" was designed to analyze this language as it was used to speak about the works of black artists by investigating the critical writing about them.
This panel will speak about "theater" and its contribution to the history of the critique of works of art, not as a universalist practice but as a cultural practice that can unpack subjective assumptions about the behavior of the Other. In addition, it will consider the thesis of marginality in this moment of liberal ideology. To this end, we will look at the greater level of diversity in contemporary practice today to see how and if today's world is like or different from 30 and 40 years ago. Is the language that is used in criticism perpetuating new tropes of marginality? When we consider this postmodern and postcolonial moment, are the terms of marginality, new or old, continuing to perpetuate a marginalized population? Is there a new framework from which we should consider what is a marginalizing practice? One point to consider is if white supremacy as a doctrine still informs the language we use to criticize works of black artists notwithstanding if that language is supportive or denigrating, is it still marginalizing? We will consider that if marginality is still a salient dividing construct today, what form is it taking? How is the linguistic structure, not just the meaning of words, dividing and marginalizing the Other by perpetuating a hierarchy of difference, or are newer, more sinister constructs that are in a different way obscuring their white supremacist influence? Or does our present condition show that culture has transcended the hierarchies of absolutist structures and narratives and the greater level of diversity in parts of the art world demonstrate that. These are some of the issues the panel will be discussing." - Charles Gaines.
Installation views from 'The Theater of Refusal: Black Art and Mainstream Criticism', curated by Charles Gaines, Fine Arts Gallery, University of California, Irvine CA, 8 April - 12 May 1993 © Charles Gaines. Photo: Catherine Opie
'Charles Gaines: Palm Trees and Other Works' published by Hauser & Wirth with text by David Platzker and an interview by Cherise Smith. Courtesy the artist and Hauser & Wirth. Photo: Ed Park
Facebook
Tweet