Announcing Printed Matter's Virtual Art Book Fair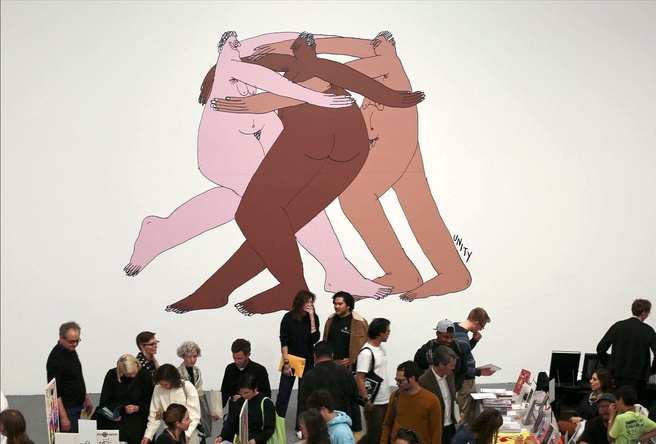 This year will mark the 15th anniversary of Printed Matter's NY Art Book Fair. We have been looking forward to bringing the art and artists' book communities together, and have been hopeful that this year's event might be feasible to realize once again at MoMA PS1.
With the ongoing COVID-19 crisis still a global concern, the health and safety of our staff and community remains our top priority. After much deliberation, we have decided that our forthcoming NY Art Book Fair (Fall 2020) and LA Art Book Fair (Spring 2021) will be produced as a combined online event—Printed Matter's Virtual Art Book Fair—held early next year.
This decision has been a difficult one. While we acknowledge that circumstances may shift, we expect restrictions on high-volume public gatherings and social distancing regulations to be the reality for the foreseeable future. The long lead time needed to produce events on this scale with a small team makes it challenging to proceed without that assurance.
Considering the uncertain economic impacts of the COVID-19 pandemic on the publishing community and beyond, we are positioning Printed Matter's Virtual Art Book Fair to be broadly accessible for exhibitors and audiences across the world.
As we embrace this time of social and political transformation, we feel more than ever that a virtual Fair of this kind can also provide an essential space rooted in connection, expression, and criticality. In an effort towards greater equity, we will prioritize applications from Black artists and publishers, as well as other marginalized identities. We will be curating this year's Fair to foreground these projects and will continue this into the future.
We are beginning to develop an enhanced Fair website, and look forward to showcasing the work produced and presented by hundreds of exhibitors. Printed Matter's Virtual Art Book Fair will feature a full schedule of the live programs that have made the event special in the past — discussions and workshops, interactive book launches, musical performances, and much more. We are hopeful that this Fair, although very different from the previous iterations, will provide a meaningful platform to deepen exchanges within art book publishing with the potential of even wider public participation. We are excited to build something new alongside the growing artists' book publishing community, and we can't wait to share it!
Fair applications will open later this Summer. We will be hosting a series of information sessions for prospective exhibitors prior to the application deadline.
To receive updates on Printed Matter's Virtual Art Book Fair and other news, be sure to join our mailing list and follow @printedmatter_artbookfairs. Please send inquiries to fairs@printedmatter.org.
Image: Mural by Jeffrey Cheung of Unity Press, LAABF 2019
Facebook
Tweet