Methodologies of Care
Poetry, Prose and Discussion
7-9PM EST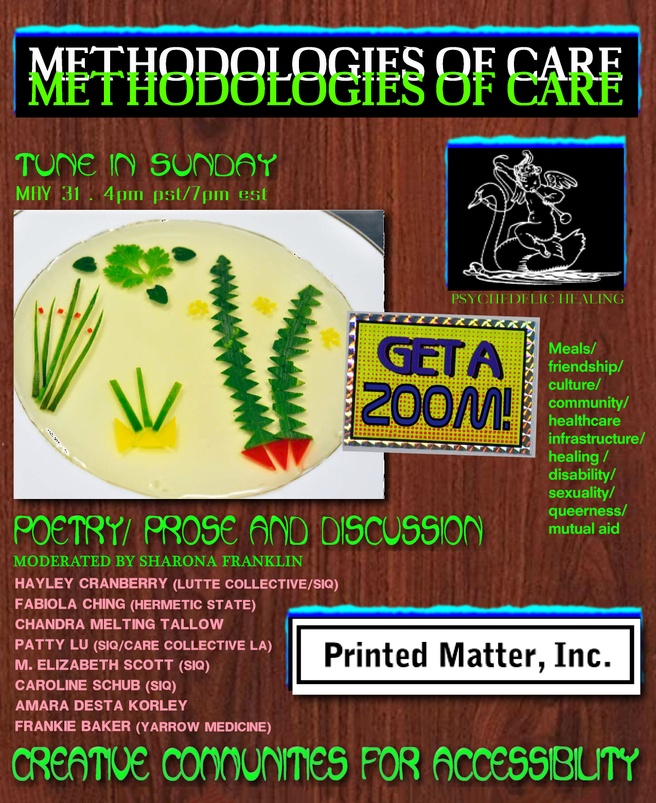 In consideration of the ongoing nationwide protests against police brutality sparked by the murder of George Floyd in Minneapolis, we will be postponing tonight's livestream event, Methodologies of Care hosted by artist Sharona Franklin. We feel it is necessary to give our attention and support to the voices of this important movement against racism and social injustice. We will announce the new date of Methodologies of Care as soon as it is rescheduled.
What can radical health methodologies look like, in artworks and in life? How are the ways we engage with our own health informed by other axes of power and systemic oppression?
Printed Matter/St Marks will host a virtual panel featuring Sharona Franklin, a multidisciplinary artist, writer, and advocate. Her work explores radical therapies, cybernetic craft, bio-ritualism, ecological systems, pharmacological, and social inter-dependency; in order to disseminate mythologies of disability, access, and bio-citizenship. We'll hear from eight artists and organizers whose work engages with, in various ways, disability and different systems of health and care—communal, medical, spiritual, to name a few—within the intersections of care work, the body, food, and poetry.
Our panelists include: Hayley Cranberry Small, a chronically ill ceramist and urban planner who runs Lutte Collective, a community and space for disabled and chronically ill artists; Caroline Schub, an artist whose self portraits, a form of self-preservation and catharsis, act as an unauthorized public record of a chronic illness; Chandra Melting Tallow, an interdisciplinary visual artist, writer, musician, and producer for Mourning Coup, whose practice confronts the ghosts of intergenerational trauma and their relationship to the body, utilizing humour and surrealism to subvert oppressive structures of power; Frankie Baker, an acupuncturist and herbalist based out of New York, who started their practice, Yarrow Medicine, in 2017 and have since been providing accessible, trans-affirming care to their community; Patty Lu, an interdisciplinary artist, writer, designer, and community organizer, whose practice centers on the social, cultural, psychic, and physical effects of chronic illness; M. Elizabeth Scott, a poet and esotericist based in New York and co-founder of arts collective Cixous72 and its derivative imprint, 72 Press; Fabiola Ching, an editor and founder of Hermetic State, a house dedicated to community care via literature and, oftentimes, food; Amara Desta Korley, an Afro-Dane multidisciplinary printmaker, writer, and activist/artist, whose work explores mining her memory and expressions of gratitude: a pre-COVID conceptualization that has taken new meaning in that pandemic era.
After hearing from each panelist, Franklin will moderate a conversation between the artists, exploring both the resonances and variance among their projects.
Please note: this event will have ASL interpreters and will be recorded and uploaded to YouTube with caption functionality.
An artist edition by Sharona Franklin will be announced in conjunction with this event, featuring both digital and physical works.
Email rsvp@printedmatter.org for zoom link and password.
Facebook
Tweet