VARIOUS/ARTISTS #5 & #6 RECORD RELEASE
with live performances by: MSHR, Ka Baird with Chris Corsano & video by Scott Kiernan
7-9PM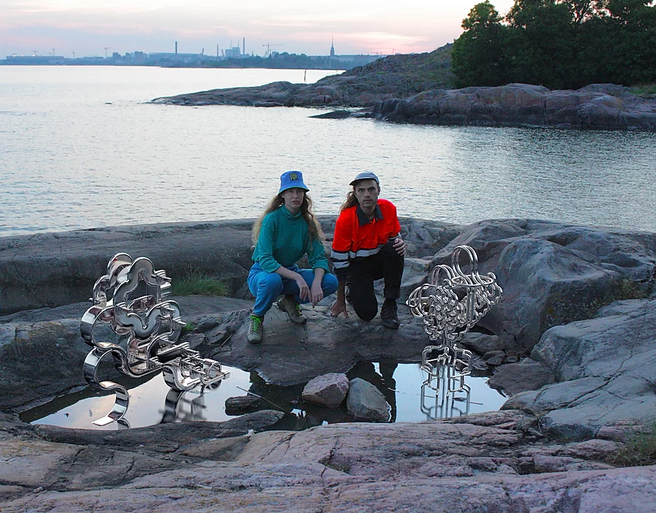 Please join us on March 8 for the release of Various/Artists #5 & #6; MSHR's Cybernetic Coil 7" and Kinematics, a 7" by Ka Baird with Chris Corsano. The night will feature live performances by the artists, as well as a screening of Scott Kiernan's video for Baird and Corsano's A-side track, Ordinate.
Cybernetic Coil is an unedited recording of a self-playing system that employs algorithmic elements along with feedback between MSHR's handmade hardware synthesizers and the computer music environment Pure Data. The central structural element is a low frequency sine wave, which modulates their interactions in a spiral form. Cybernetic Coil is created with the intention of using these feedback exchanges between hardware and software to produce emergent, self-contained forms with sculptural qualities.
Kinematics is the explosive first time collaboration between multi instrumentalist Ka Baird and percussionist Chris Corsano. Side A, Ordinate, is a frenetic weave of bamboo reed pipe, bubbling vocal utterances and drums, sounding much like a cart-full of shimmering dodos on the loose with the wheels flying off. Side B, Abscissa, is a more focused beating drone that mixes layered tones from an Asian battery operated tone generator (used to practice scales) with slide clarinet and homemade timpani-snare.
MSHR is the art collective of Brenna Murphy and Birch Cooper. The duo collaboratively builds and explores systems composed of sound, light, sculpture, software and circuitry. Their practice is a self-transforming cybernetic entity with its outputs patched into its inputs, the resulting emergent form serving as its navigational system. These outputs primarily take the form of installations and performances that integrate interface design with generative systems and a distinctive formalist approach. MSHR's name is a modular acronym, designed to hold varied ideas over time. MSHR emerged from the art collective Oregon Painting Society in 2011 in Portland, Oregon, USA.
Ka Baird is an American recording artist, multi-instrumentalist, producer and performer based in New York City. She is known and heralded for her raw, ecstatic, and boundary pushing live solo performances which often involve energetic and experimental body movements, vocal/mic techniques and flute playing. She is one of the founding and continuing members of the group Spires That In The Sunset Rise that was founded in Chicago in 2001. Her current work explores improvisation, electroacoustic interventions, extended vocal techniques, electronics, beats and various woodwinds that culminates in a vigorous type of "body music" that seeks extreme release through physical exertion. She released Sapropelic Pycnic through independent label Drag City in September of 2017. Her latest release Respires came out through Brooklyn imprint RVNG Intl in October 2019. She has toured nationally and internationally with performances at the Museum of Contemporary Art Chicago, MoMA PS1, Roulette Intermedium, Issue Project Room, The Kitchen, Fridman Gallery and numerous festival appearances including Unsound (Krakow, Poland), TUSK (Newcastle, UK), Incubate (Tilburg, Netherlands), KRAAK (Brussels, Belgium), and Le Guess Who (Utrecht, Netherlands). She has been a music resident at Experimental Sound Studio (Chicago, IL), Pioneer Works (Brooklyn) and was a 2018 Jerome Foundation Artist-in-Residence at Roulette Intermedium.
Chris Corsano is a drummer who defies easy categorization, whose music includes elements that are conceptual, improvisational, collaborative, and visual. He plays with musicians from a wide range of stylistic and cultural legacies, keeping a material sensitivity to his instrumental choices always highly historically attuned. He is a rim-batterer of choice for some of the greatest contemporary purveyors of "jazz" (Paul Flaherty, Joe McPhee, Evan Parker, Christine Abdelnour, Okkyung Lee) and "rock" (Sir Richard Bishop, Bill Orcutt, Jim O'Rourke), as well as artists beyond categorization (Björk, Ghédalia Tazartès, Jandek). Appearing on over 150 albums and touring the world in an wide array of collaborations, Corsano is also a formidable solo performer in his own right, generating new worlds of sound that can be heard on his albums The Young Cricketer, Another Dull Dawn, and Cut.
Various/Artists produces hand-made records and videotapes by artists working across a wide range of media. Recordings by filmmakers, poets, electronic composers, and broadcast artists are being released through the end of 2021, including projects by: E.S.P. TV, Ben Vida, Jill Kroesen, Ian Hatcher, Lary 7 & Leif Elggren, Bradley Eros, Blue Jazz TV, Ka Baird, Victoria Keddie, MSHR, Tidal Channel, MV Carbon and more.
For more information please contact Scott Kiernan, scott@esptv.com or visit https://www.variousartistsrecords.com
Facebook
Tweet