Precog Magazine Issue 5: Bubble Orchestra Launch
Featuring launch of Bubble Orchestra Virtual Space with Virtual Dream Center. Performance by Rosana Cabán and Dani Mari 7pm. Sound installation by Rosana Cabán.
6-8PM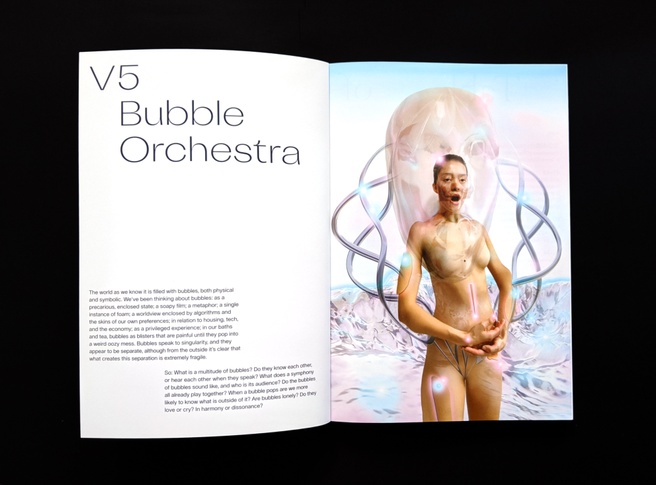 Precog Magazine is an independent, annual publication that explores the intersection between art, science, technology, cyber culture and feminism edited and published by Florencia Escudero, Gaby Collins-Fernandez, and Kellie Konapelsky. Our mission is to provide an experimental print platform which gives artists agency while creating a conversation around relevant contemporary themes, focusing especially on the responses of women, queer artists, and artists of color.
For issue 5, Bubble Orchestra, artists were asked to contribute submissions based on the concept and materiality of bubbles: as a metaphor for thinking through ideas of individuality and group cohesion; echo chambers and their tenuousness; algorithms; and the fragility of identity. Our aim in bringing together this group of "bubbles" is to see how they sing together; what kind of cacophony or harmony is achieved in the proximity of these individual projects.
Simultaneously launched is a virtual exhibition of Bubble Orchestra consisting of an interactive space of different "bubbles" (contributions), made in collaboration with the Virtual Dream Center, an artist-run, downloadable, video-game based virtual exhibition platform that presents non-traditional methods of art-making and viewing led by Nicholas Steindorf and Jean-Baptiste Lenglet.
Included in Bubble Orchestra are: Alex Santana, Alison Kuo & Williamson Brasfield, Amos Frazer, Amiko Li, Amy Brener, Anjuli Rathod, BASE studio, Ben Ross, Carlos Franco, Carlos Irijalba, Choi Dachal, Dante Lentz & Kari Cholnoky, Effie Xiaofu Wang & Simone Kearney, Ellie Krakow, Emma Stern, Florencia Escudero, Gaby Collins-Fernandez, George Heintz, Golnaz Esmaili, Griffin Harrison, Harriet Davey, Heidi Howard & Liz Philips, Jason Scott-Rosen, Jes Fan, Jessica Pettway, Ilana Harris-Babou & Virginia Lee Montgomery, Keiken, Kelly Akashi, Krill Zakomoldin & Vanessa Kowalski, Krystina Miller, Lindsay Lee Long, Lykanthea, Lucas Blalock, Malte Gruhl, Martha Tuttle, Martina Cox, Meena Hasan, Meli Boratyn, Michele Gabriele, Michelle Robinson, Nina Lichtman, Ololade Adeniyi, Patricia Dominguez, Rachel Schmidhofer, Renee Carmichael, Renee Cox, Rodrigo Quintero, Rosana Cabán & Dani Mari, Sara Ludy, Stephen Decker, Tamara Santibañez, Timothy Leung, Umber Majeed, and Virtual Dream Center.
Rosana Cabán is a Puerto Rican born, Brooklyn based artist. She uses sound, sculpture, and performance as mediums to probe and question gender roles and social hierarchies within queer and hetero-normative communities. She toured extensively as the drummer for the band Psychic Twin opening for STRFKR in over 80 rock venues across the US and Canada during 2016 and 2017. She has collaborated with Naama Tsabar to perform at the Kasmin Gallery, the Guggenheim, and the High Line and was an invited collaborator for Xandra Ibarra during her 2019-2020 Montalvo Arts Center fellowship. She was a Marble House Project artist in residency in 2018, and an Ace Hotel AIR in 2017.
Dani Mari: Primitive Heart is a synth-pop project by multi-genre producer & visual artist Dani Mari. The debut album "No Fear In Love" was co-produced by Rosana Cabán (Psychic Twin, Cosas Cosas) and can be compared to the sounds of Sylvan Esso, Mazzy Star, and Beach House. Audiences across the world have gravitated towards Dani Mari's beautifully haunting voice and simplistic elegant lyrics. Dani Mari's ethereal vocals transport listeners to an era of nostalgia which exists within the depths of her soul.
Facebook
Tweet