Printed Matter's Emerging Artists Publication Series — Winners Announced!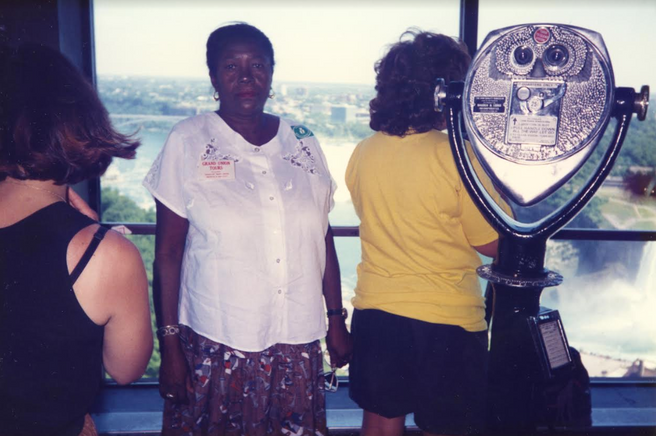 Printed Matter is pleased to announce the winners of two open call cycles for the Emerging Artists Publication Series. The four selected artists will receive editorial and design support to realize their proposed publication projects in 2020 under the Printed Matter imprint. Recipients are awarded a prize of $1,500.
Selected projects include:
1) Catherine Feliz — When Eye Land
2) Rin Kim — Hunters Follow Harpy Shadows
3) Gabriel Pericàs — The History of Lubrication
4) Jessica Vaughn — Depreciating Assets
The Emerging Artists Publication Series is made possible with the generous support of the Jerome Foundation and the Andy Warhol Foundation for the Visual Arts, and by public funds from the New York City Department of Cultural Affairs in partnership with the City Council.
1) Catherine Feliz — When Eye Land
When Eye Land will pull from research archives, family albums and found internet imagery, using the motif of travel ephemera (the letter and the photograph) to explore intimacy, colonialism, memory, and longing. How does land-surveyance, archeology, and map-making play a role in imagining the lives of others and creating an ideological framework for a whole new country? The project borrows passages from Christopher Columbus' diary on his 1492 voyage to the island later named Hispañiola, Andrea Evangelina Rodríguez Perozo's writings from her time abroad in France, and diary entries from the artist inspired by their aunt's experience of migrating to New York in the 1970s and working in the Kodak Factory.
Catherine Feliz is an interdisciplinary artist born and raised in Lenape territory (NYC) to parents from Kiskeya Ayiti (Dominican Republic). They work to reclaim ancestral technologies that have been systematically erased by drawing from multiple disciplines to unearth histories and make space for decolonial futures by creating experimental multidisciplinary works that highlight a process of creation, negation, and assigning meaning and value. In 2017 they received a BFA in Photography and Art History from SUNY Purchase College of Art + Design. Catherine has attended ACRE Residency, Summer Forum for Inquiry + Exchange, and the inaugural Community Fellowship at the International Center of Photography. Catherine is the co-founder of Abuela Taught Me, a pop-up botanica, and a founding member of Homecoming, a QTBIPOC radical care collective. https://catherinefeliz.com/
2) Rin Kim — Hunters Follow Harpy Shadows
Hunters Follow Harpy Shadows is an experimental work featuring a series of poetic writings that explore fantasy narratives of rewritten mythologies. Mixing re-imagined trans Korean folklore, queered Biblical storytelling and pirate lore, the publication is an amalgamation of writing delivered from the lips of the artist as a trans seraphim that has left heaven to tell mortals of the other worlds.
Rin Kim, born in 1997 in Watertown, New York; is a multi-diciplinary trans chimera, demi, hydra, mutt, graphic designer, filmmaker, alchemist, performance artist, writer, and yong working around non-binary mythologies, ritual storytelling, and fantasy. Their work is a hyperfocused movement of a particular upheaval, an ongoing irruption that re-arranges every assumption of the equivalence of subjectivity and identity. https://rinkim.com/
3) Gabriel Pericàs — The History of Lubrication
The History of Lubrication explores the functions and uses of human saliva, examining it from multiple perspectives, including its physical behavior, its political potential, and its affective dimension. The project takes the form of a hypothetical, episodic radio program, where historical events, religious and mythological literature, pop culture, and personal anecdotes inform a series of monologues. Mixing various genres and modes of oral public address, it aims at creating a comprehensive cultural history of this bodily fluid where form (speech) and content (spit) emanate from inside a mouth.
Gabriel Pericàs is a Spanish artist and publisher living in Brooklyn. Recent solo shows include Une énorme langue, and Elastische Luftsäulen, both at PM8 Gallery, Vigo; or The Nipple Slip Speech Performance, at the Joan Miró Foundation, Barcelona; among others. Previous publications include Bentwood_ (2012) and_ Puff! (2015). Since 2013 he has run the independent publishing house Biel Books. http://gabrielpericas.com/
4) Jessica Vaughn — Depreciating Assets
With interests across art, architecture, civil rights and labor policy, Depreciating Assets will bring together text and photographs by the artist, open source US government documents, and job training tutorials that re-represent the residual traces and affects of office work in private and state institutions. Taking reference from the distributed print materials of the human resource industries and US Government, the project offers an institutional critique to examine the intersection of architectural forms and minimalism, and its close and overlooked relationship to late 20th century US civil rights policy in the workplace. An interview with Vaughn and curator and writer Magdalyn Asimakis links their experiences with race, diversity politics and labor in cultural institutions and museums.
Jessica Vaughn is an artist living and working in Brooklyn, NY. In a practice that is heavily rooted in research, Vaughn primarily works with discarded and mass-produced materials to create artworks that convey complex histories of place, production, and use. A recipient of a 2019 Graham Foundation Grant, and a 2017 Artadia Grant, Vaughn has exhibited at The Kitchen, Sculpture Center, Studio Museum in Harlem, Akron Museum of Art, Kunsthal Aarhus, and Pinakothek Der Moderne among others. https://jessvaughn.com
Facebook
Tweet