Dream Wheels Poems by Mark Gonzales - New Zine Launch & Signing
7-8:30PM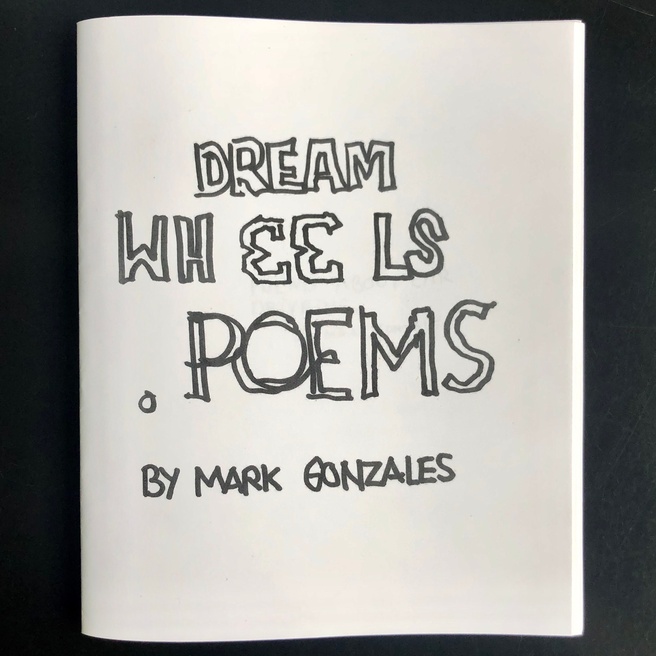 Please join us for the launch of Mark Gonzales' newest zine, Dream Wheels Poems, which is just hot off the press! The artist will be present to sign copies of his publication for the occasion.
Artist, poet, and skateboarder legend Mark Gonzales has had an extraordinary and prolific output of self-published artist zines since the late 1980s. "[They're] the most free thing to do," he says. "I can write anything and just put it in a zine, and then it's out there. It is like blogging but on paper….It's just more like splatter or like a splatter-train of thought."
Dream Wheels Poems is Mark's latest collection of splatter-trains of thought. It's a raw bundle of handwritten poems about cars, driving, wheels and roads. The poems are mostly made up of one- or two-word lines scrawled down Gonzales' notebooks and xeroxed onto the pages of the zine. DIY style in its most elemental form, the way Gonzales presents his work is quick, unfiltered and honest.
With his trademark mis-spellings, omitted articles, and absent or unconventional punctuation, Gonzales' creative writing-as-an-act-of-drawing combines to form its own dialect of sorts, one of pure spontaneity. Dream Wheels Poems is an invitation to see car culture through Gonzales' eyes, and the world we see is full of troubles and joys—both quippy and poignant.
Mark Gonzales is cited as one of the first modern street skateboarders. In 1984, he was featured on the cover of Thrasher magazine, and has been active and influential in the world of skating ever since. All the while Gonzales has had an active and prolific career as a visual artist, working across multiple mediums and disciplines, including painting, drawing, sculpture, video & film, performance, industrial design, zine publishing and more. Mark first collaborated with Printed Matter in 1994 when the non-profit organization presented an exhibition of his zines and drawings at their space on Wooster Street in Soho.
Facebook
Tweet