We Are All Things Launch and Discussion with Elliott Colla and Ganzeer moderated by Molly Crabapple
6-8PM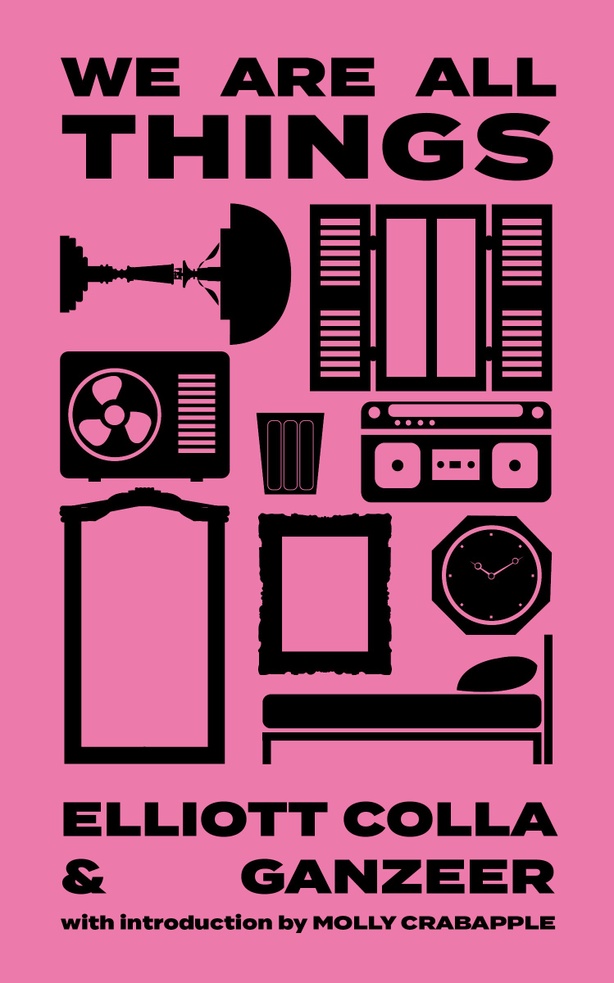 Join us for the book launch of We Are All Things , a prose poem by Elliott Colla, illustrated by Egyptian artist Ganzeer! Colla and Ganzeer will be in conversation with moderation by Molly Crabapple.
ABOUT THE BOOK
An ordinary room in Cairo. A man, now alone. An assemblage of household objects that aren't so inanimate.
The objects we own bear witness to our secret lives. In We Are All Things, a quiet room becomes a noisy backdrop to heartbreak and other forces of sentience. Here, pillows bemoan lost touch, lamps flicker with the memory of darkness, and the stereo coos a forgotten melody. This illustrated prose poem marries the rhythmic melody of poetry with the fluidity of a visual narrative and invites us to imagine the mystery of feeling and the longing nature of existence.
Equal parts Maurice Merleau-Ponty and Yahyā al-Tāhir 'Abdallah, We Are All Things is the first collaboration between Ganzeer and Elliott Colla.
ABOUT THE AUTHOR
Elliott Colla teaches Arabic literature at Georgetown University. His first book, Conflicted Antiquities: Egyptology, Egyptomania, Egyptian Modernity, explores the colonial roots of modern Egyptology and the ways modern Egyptians have viewed the Pharaonic past. His current academic projects focus on protest cultures in contemporary Egypt.
Find more of his work at elliottcolla.com.
ABOUT THE ARTIST
Ganzeer operates seamlessly between art, design, and storytelling, creating what he has coined Concept Pop. With over forty exhibitions to his name, Ganzeer's work has been seen in a wide variety of art galleries, impromptu spaces, alleyways, and major museums around the world, such as The Brooklyn Museum in New York, The Palace of the Arts in Cairo, Greek State Museum in Thessaloniki, and more.
Find more of his work at ganzeer.com.
ABOUT THE MODERATOR
Molly Crabapple is an artist and writer whose inspirations include Diego Rivera and Goya's The Disasters of War. She is the author of Brothers of the Gun, an illustrated collaboration with Syrian war journalist Marwan Hisham, which was a New York Times Notable Book and long-listed for the 2018 National Book Award. Her memoir, Drawing Blood, received global praise and attention.
ABOUT THE PUBLISHER
Radix Media is a worker-owned and operated printer and publisher, producing beautifully designed books and ephemera. They publish new ideas and fresh perspectives, prioritizing the voices of typically marginalized communities to get to the root of the human experience.
In April 2018, they released their debut anthology, Aftermath: Explorations of Loss & Grief, featuring over thirty contributors working in fiction, nonfiction, poetry, and illustration. The book received the Bronze in the 2018 Foreword INDIES Book of the Year Awards in the Anthology category.
See more of their titles at radixmedia.org.
Join the facebook event here!
Facebook
Tweet