EYEBEADS By Words Held Fast Launch and Screening with Jan Baracz
4-6PM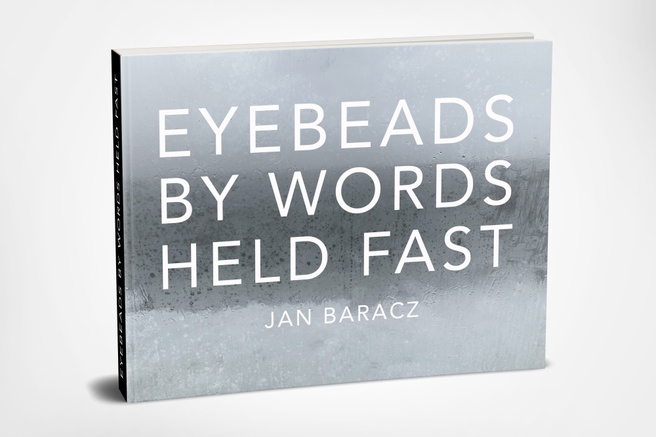 Konnotation Press is thrilled to announce a new exciting photo book project with the acclaimed Polish artist Jan Baracz; EYEBEADS By Words Held Fast, A beautiful book based on Jan's poetic photographic film EYEBEADS from 2012. Baracz's photographs take the viewer on a poetic and humorous visual journey ripe with suggestions and connotations. EYEBEADS weaves two threads -one on the left, the other on the right of the screen -entwining photographs so that each image has a brief dialogue with two consecutive images on the other side of the screen. The dissolve on one side takes place while the picture on the opposite side is static and vice versa, creating a syncopated visual pattern. The images are hints, suggestions. Some are purely formal, others are ripe with connotations, all register patterns both natural and man-made. These essential patterns are technological, architectural, domestic, sexual and social, and they manifest with regularity in disparate realms. EYEBEADS catches these transient manifestations, revealing their similarity and provenance from the same primordial and pervasive tropes. As the associations arise, our language silently binds the visual particles. Thus, EYEBEADS invents a visual syntax from a chain of juxtapositions aimed at triggering specific associations. A poem with words unspoken. The sequential aspect of EYEBEADS gives it a story-like quality that naturally belongs in a printed book, giving the viewer an intimate experience of interacting with the images and the connotations they engender.
Join us for a talk with Baracz followed by a screening of the film EYEBEADS that inspired the book.
Jan Baracz was born in Warsaw, Poland and moved to New York city in 1981. His projects include Sand Box 1.0 show at the Contemporary Art Center, in Warsaw, Poland, Life is Short exhibited at Art Basel in Switzerland and The Ghost at artMbassy Gallery, in Berlin, Germany. Baracz's sequential photographic projection Eyebeads by Words Held Fast premiered in New York in 2006. In 2008, he produced the cinematic installation Reality Cinema/LIVE VIDEO at Art in General in New York, and in 2012 he completed a first installment of the media/sculptural project How to Float Above the Psychic Stampede and Other Traditional Remedies at the Stefan Stoyanov Gallery on the Lower East Side. Baracz's latest installation On the Nature of Dust Deposits, Minerva Owl Flight Patterns and Other Commonly Overlooked Events was on view at Hudson Valley Center for Contemporary Art in Peekskill, New York. He has received grants and awards from Art Matters, the Pollock-Krasner Foundation, the Asian Cultural Council, Edward F. Albee Foundation and the Kosciuszko Foudation among others. Baracz's photography has appeared in Paris Review, American Letters & Commentary, and numerous magazines.
Konnotation Press is an art publishing and creative company, specializing in printed matter for artists, collaborating on exhibition catalogues and facilitating a platform for cross cultural endeavors. Konnotation functions as a vehicle for promoting, editing and creating art related projects.
Join the facebook event here!
Facebook
Tweet