Latent Space Launch with Federico Pérez Villoro & Nic Schumann with Paulina Ascencio
6-8PM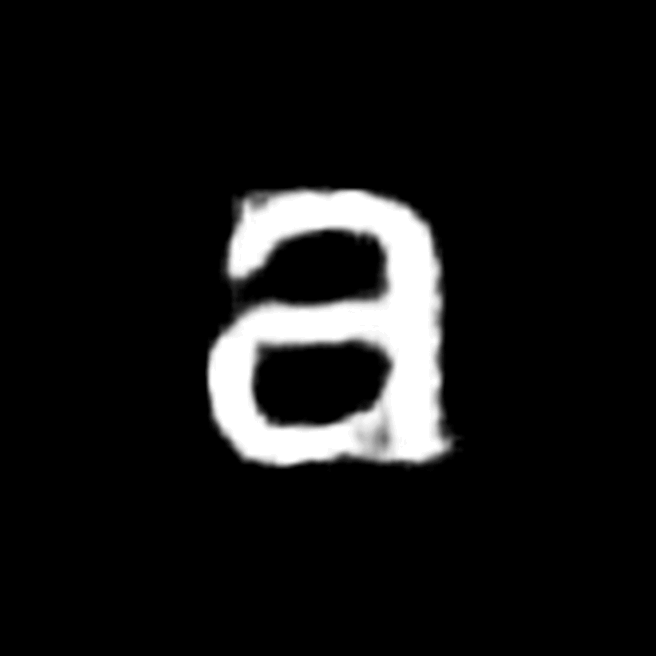 Federico Pérez Villoro and Nic Schumann will be joined in conversation by curator Paulina Ascencio to discuss their latest publication: Latent Space: Notes on Seeing Letters Like a Machine.
In a landscape where the technologies governing our lives are increasingly obscured, this publication aims to reveal the underlying processes of a machine learning program. It seeks to mediate machine "sight" and human comprehension. The book documents the technical capabilities of an algorithm trained to analyze the formal patterns of the alphabet and imagine other letters from that knowledge. The resulting outputs — letters without semantic value — embraces and emphasizes the meaningless results of the machine: it is the human input and framework that imbues "sense" to these forms. Combining expository exercises with surreal typographic characters, this book is both a grounding text on the mechanics of machine learning and a visual celebration of formal possibility.
This event is organized by Gato Negro Ediciones as part of a series of events to celebrate the end of the publisher's five-month pop-up residency at the new MoMA's bookstore.
Join the facebook event here!
Federico Pérez Villoro is an artist and researcher living and working in Mexico City. Through texts, performances, and digital artifacts, Federico explores the materiality of language and the impact of technology in socio-political behavior. His work has been exhibited internationally and published by institutions such as Printed Matter, C Magazine, Gato Negro Ediciones, diSONARE, and the Walker Art Center's The Gradient. Federico has taught at the Rhode Island School of Design and California College of the Arts. He has lectured and acted as a visiting critic at schools including CalArts, The New School, UNAM, and Hongik University. In addition, Federico has advanced a number of experimental educational initiatives. He recently founded Materia Abierta, a summer program on theory, art, and technology in Mexico City. Previously, Federico developed Second Thoughts, a series of lectures, workshops, and discussions on contemporary design at Fundación Alumnos and Museo Tamayo. Alongside Roxana Fabius, he is the co-founder of (human) learning, an itinerant study group that has been hosted in spaces such as P! in New York City, Art Center/South Florida in Miami, Florida, and ZONAMACO in Mexico City. In 2013, he received an MFA from the Rhode Island School of Design.
Nic Schumann is a Providence, Rhode Island based designer, software engineer, and computer researcher. For the past five years, he spent his time as COO of Work-Shop, a multidisciplinary design studio based in Providence, where he managed and executed projects ranging from interior architectural design builds, through large scale software design and implementation, database updates and migrations. He recently left Work-Shop to explore machine learning as a design material full-time.
Paulina Ascencio is an Independent curator and researcher based between Mexico and New York, with a background in Philosophy and Social Sciences. She is currently an M.A. Candidate at Bard College, Center for Curatorial Studies. She has been part of the Jumex Foundation Curatorial Workshop (2010); the residency program of KADIST, San Francisco (2012); the Curatorial Intensive program of Independent Curators International (ICI) in New Orleans (2015); the Curatorial Program for Research: Dimming the Northern Lights with the support of Iaspis / The Swedish Arts Grants Committee's Visiting Expert Programme, and Shanghai Curators Lab (2018). She has developed her practice in institutions, museums, galleries, and independent spaces in Mexico and the United States. Among her research and pedagogical projects are AikidoGDL (2018), Faena (2017-2018), and Archivo MMXV (2015). Her texts have been published in La Tempestad, Terremoto, and Código.
Gato Negro Ediciones has acted as a recognizably-urgent voice in independent publishing across the cultural realm since 2013. Advocating the liberty of thought, the Mexico City-based press intentionally prints titles that challenge the so-often sequestered view of contemporary society. In a new world where temporary excess and obstruction of knowledge are lived at its height, Gato Negro returns the voices of their authors to the fundamental purpose of the book. By remaining inside the economically-amicable yet unconstrained process that is risograph printing, an archive of over 140 titles has been successfully called into life ever since its inception. From political manifests to art theory and prose, the books of Gato Negro do not wish to deconstruct reality through ornamental distractions that lately seem to have become an inevitable requisite within the modern history of publishing. Instead, Gato Negro embraces the deliberately-chosen content in its most primal form: straightforward and entire. And therefore, ever-growing in context. The outcome of each publication is a dialogue between reader and creator — an ecological construction of selfhood that distills collective contemplation while all we do is live.
Facebook
Tweet