Readings with Allied Productions / Le Petit Versailles
38 St Marks Pl
6-8PM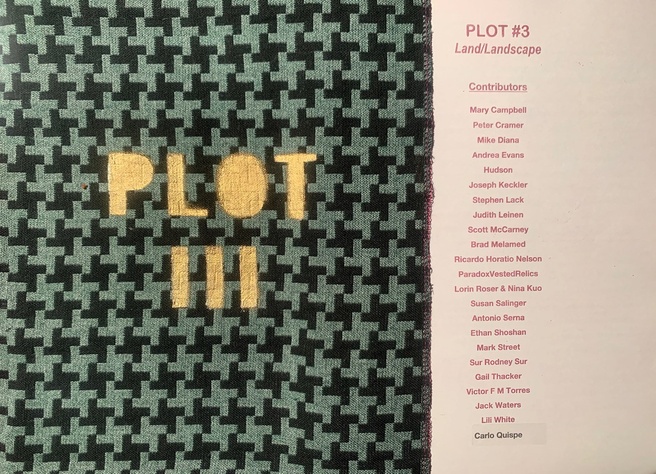 Allied Productions / Le Petit Versailles returns to Printed Matter / St Marks on January 30, to present an evening of readings from their various publications including PLOT #3-Land/Landscape, The Daily Bread and Pestilence Comic. Featured readers are Sur Rodney (Sur), Gail Thacker, Ethan Shoshan and Jack Waters. Hosted by Peter Cramer. Refreshments will be served. All publications will available for sale after the readings.
Gail Thacker is a New York-based visual artist whose primary medium is Polaroid 665. She is artistic director of the Gene Frankel Theatre. Thacker's work stems from her choice of theatrical and transgressive subjects, and her ability to find a vision on the edge of coherent perception.
Sur Rodney (Sur) is a writer, curator and archivist who works collaboratively, drawing variously on performance, his writing, and community archives. A fixture on the lower east side of Manhattan since discovering it in 1972 at the age of 17. A decade later he would be producing TV broadcasts for Manhattan Cable TV and the Mudd Club before his gallery venture and marriage to art dealer Gracie Mansion in the 80s. Shifting his practice to work with artists affected by the growing AIDS pandemic he served on the board of Visual AIDS helping to establish Archive Project and use it as source material to produce co-curated exhibitions. Currently Sur manages several archives including managing and cataloging artworks and archival material left by his late spouse the Fluxus artist Geoffrey Hendricks and managing the studio of conceptual artist and writer Lorraine O'Grady.
Ethan Shoshan is an artist, activist, and computer repair technician. Over the years with various projects, Ethan has connected with alternative venues and communities, including Queer Fist, Visual AIDS, Democracy NOW!, MIX NYC Queer Experimental Film Festival, Gay Men's Health Crisis, Food Not Bombs, WRRQ Collective, Allied Productions Inc, it/EQ Collaborative, Joan Mitchell Foundation, and Sylvia's Place, engaging beyond the experience of the art project or volunteering. He has exhibited and performed on the streets and at the Kitchen, Aljira, Envoy Enterprises, Commonwealth & Council, Bronx Academy of Arts and Dance, Judson Memorial Church, The Center for Book Arts, La Mama La Galleria, Dixon Place, Le Petit Versailles, Leslie Lohman Museum, Gene Frankel Theater, Emily Harvey Foundation, and other venues. His work has been reviewed in The New York Times, Art In America, LA Weekly, Huffington Post, BlackBook, The Brooklyn Rail, Artforum, ArtNEWS, Washington Post, among numerous other publications. He is currently the creative director of Empirical Nonsense, an art space in the Lower East Side.
Jack Waters, Artist, performer and filmmaker. He is currently creating GENERATOR : Pestilence Part 1, a multi media opus for The Downstairs @ La MaMa February 20 - March 1. His most recent video Eye,Virus was commissioned by Visual AIDS for Day Without Art premiering at the Whitney Museum of American Art with nationwide and international screenings - now streaming online at ARTFORUM.com. He received accolades for his starring role as Jason Holliday in the critically acclaimed controversial 2015 film Jason And Shirley directed by Stephen Winter and co-starring writer Sarah Schulman. Juilliard trained, Jack also composed the music and choreography for Jason's nightclub sequence in the film. Appropriate to GENERATOR's run during Black History Month, Jack's leading hand in the show shatters prevailing perceptions of the dearth of black proponents of the avant-garde, as did Ellen Stewart's radicalization of American theater in her founding of LaMaMa.
PLOT #3 -Land/Landscape, a limited edition portfolio of 24 artist works in a handmade fabric envelope designed by Ethan Shoshan. Edition of 100. Artists include Mary Campbell, Peter Cramer, Mike Diana, Andrea Evans, Hudson, Joseph Keckler, Stephen Lack, Judith Leinen, Scott McCarney, Brad Melamed, Ricardo Horatio Nelson, ParadoxVestedRelics, Carlo Quispe, Lorin Roser & Nina Kuo, Susan Salinger, Antonio Serna, Ethan Shoshan, Mark Street, Sur Rodney Sur, Gail Thacker, Victor F M Torres, Jack Waters, Lili White.
Dépense Défensive - The Daily Bread, 2018. 298 pages. Edition of 100. A compilation of revolutionary texts generated by the Paris based collective Dépense Défensive during their artist residency at Le Petit Versailles garden.
Pestilence Comic by Jack Waters. An ongoing series of comic books based on illustrations and writings by Jack Waters who presents a live happening based on these comics at The Downstairs @ La MaMa February 20 - March 1, 2020.
Facebook
Tweet