No New Theories by Kameelah Janan Rasheed
a new Printed Matter Publication
6:30 — 8pm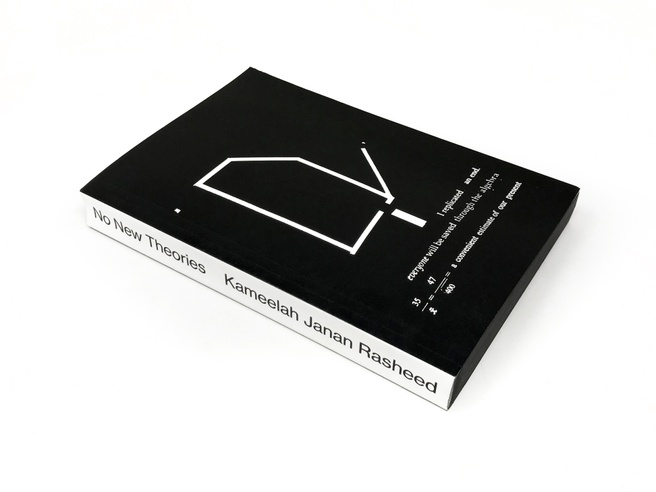 No New Theories
Kameelah Janan Rasheed
Published by Printed Matter, Inc.
Book Release — Jan 30, 6:30PM
Kameelah Janan Rasheed and Jessica Lynne in Conversation
Join on facebook here
Printed Matter is pleased to announce the publication of No New Theories, a new artists' book by Kameelah Janan Rasheed. Building on Rasheed's accretive and associative installation work, the project brings together xerox abstractions, poetic text fragments, and found as well as original photography to explore learning and unlearning as a spiritual, socio-political, ecological, and cognitive process.
With No New Theories Rasheed freely assembles her own writing, autocorrect algorithms, and Oulipian poems (short texts generated with the help of imposed constraints) alongside visuals drawn from her personal image archive, pop culture, zoological journals, quranic verses, and other sources. The work gathers these threads with an emphasis on the processes of revision and improvisation as she considers the entropic potential of meaning in place of fixed definitions.
At the heart of No New Theories is an expansive interview between Rasheed and Jessica Lynne, co-founder of the art criticism journal ARTS.BLACK. The conversation attempts to document their intellectual partnership, constructed through a layering process by which the original exchange is reworked and expanded with annotations, citations, and excerpted texts from writers Samuel R. Delany, Alexis Pauline Gumbs, Emily Dickinson, and others.
Rasheed and Lynne take on questions of epistemology and pedagogy, the nature of research, knowledge-acquisition, as well as patience and fatigue. Building on the notion of the 'organic archive' — both as a fictional organizing framework and as a score for possible experiences — the two consider various historical, sociological, and cultural facets of Americana, proposing a multi-directional discourse around the wide permutations of Black experience. The book's title — No New Theories — locates Blackness as a multivalent and porous experience that cannot and should not be neatly theorized.
No New Theories is published by Printed Matter, Inc. in an edition of 1,000 copies. Available for purchase here
Kameelah Janan Rasheed is a Brooklyn-based learner from East Palo Alto, CA. In her work, she inquires about the deeply intertwined spiritual, socio-political, ecological, and cognitive processes of learning/unlearning. She is interested in how proclamations of certainty, containment, and coherence assert themselves through language, institutional structures, and architecture. Rasheed works within an ecosystem of iterative and provisional projects including sprawling Xerox-based "architecturally-scaled collages" (frieze magazine, winter 2018); interactive publications; large-scale text banner installations; digital archives; lecture-performances; library interventions; poems/poetic gestures; and other forms yet to be determined. Rasheed has exhibited at the 2017 Venice Biennale, ICA Philadelphia, Pinchuk Art Center, Brooklyn Museum, Queens Museum, New Museum, Studio Museum in Harlem, Bronx Museum, Brooklyn Public Library, Schomburg Center for Research in Black Culture, and The Kitchen, among others. She is the author of two artist books: No New Theories (Printed Matter, 2019) and An Alphabetical Accumulation of Approximate Observations (Endless Editions, 2019). Shortlisted for the Future Generation Art Prize (2017) and the recipient of many art awards and residencies, Rasheed is currently on the faculty of the MFA Fine Arts at the School of Visual Arts, NYC.
Facebook
Tweet