Window Installation with Eugene Terry
January 18 - February 16, 2020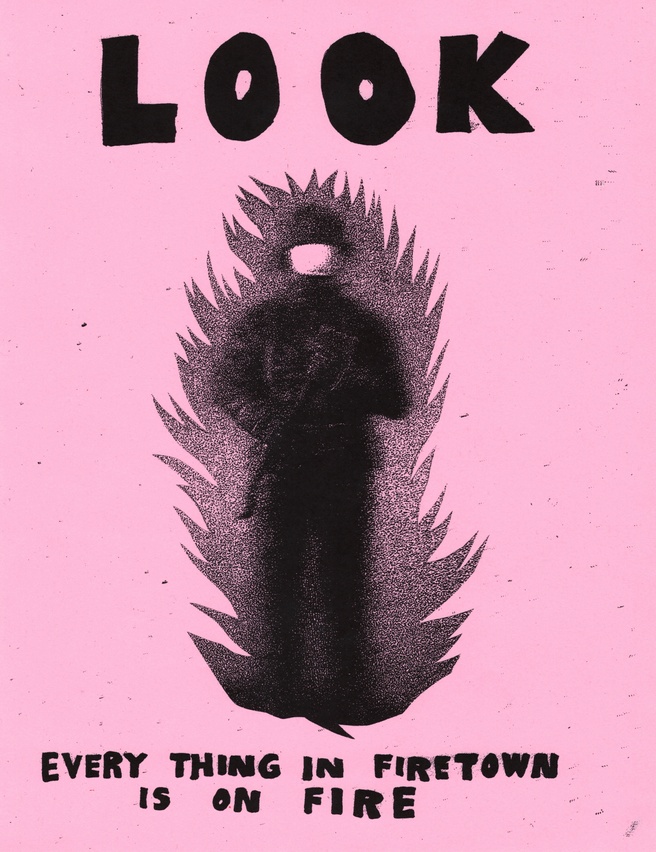 Fire Town: Everything in Fire Town is on fire. In Fire Town you are in complete control. You are the mayor, you are god. Sometimes everything must burn.
We are pleased to present a commissioned window installation by artist Eugene Terry of Papertown Company. On occasion of this installation Terry will be releasing two new zines - one called Fire Town and the other called Lunchtime in collaboration with Dollhouse. Terry will also release a new long sleeve shirt design.
Join us for the opening and zine launch on Saturday, January 18th from 5-7PM with a special performance by the band Dollhouse. View the event on facebook here!
Eugene Terry is an artist and musician from Brooklyn, New York. He has worked in and around the punk underground from an early age, playing in bands such as Crazy Spirit, Dawn of Humans, Perdition, Pinocchio, and Slender, as well as contributing countless flyers, album art, shirt designs, and zines. His work has been exhibited internationally in such cities as Montreal, Barcelona, and São Paulo, as well as in New York City.
Papertown Company was founded by Eugene Terry in 2014 as a way to release original work, untethered by the restraints of traditional publishing. It is a project that encompasses zines, records, mixtapes, video, and apparel, all created or curated by Terry. There are VHS tapes filled with fabricated commercials, promotional spots, and video art, produced by Terry and his associates for an imagined TV channel in an unusual world. There are prints on Papertown clothing that feature illustrations that range from childlike to disturbing, with a visual style that is as sure-handed as it is imperfect. His zines often entail cut-out models of buildings to create literal paper towns, referencing the familiar, but near-obsolete children's activity books. These paper cities are both a satirical nod to the supposed declining relevance of print, and a sincere reflection of the human desire for autonomy. Papertown Company is a project that plays with the fantasy of having complete control in a world where there is none.
Dollhouse is an avant-garde punk band from New York City. Themes focus primarily on the vocalist's four-year confinement in a string of mental hospitals, explores a flawed medical system, and how these flaws shape a person post-treatment. Topics range from anorexia, schizophrenia, self-injury, manic episodes, and repressed childhood memories, in a lyrical style that is both candid and enigmatic.
Facebook
Tweet